Chocolate Cannoli Cones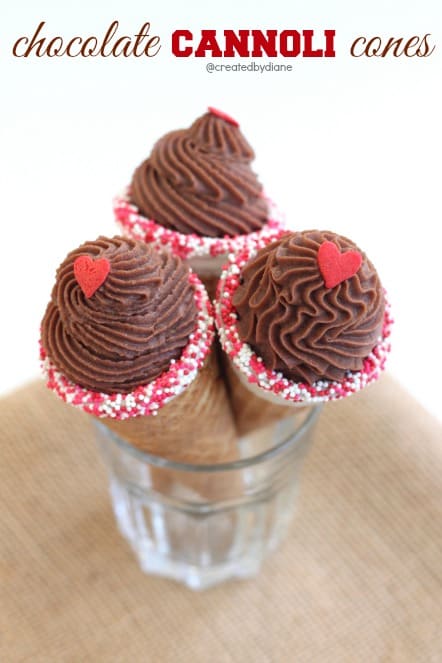 Bring out the SPRINKLES because they really cute'n up these Chocolate Cannoli Cones!
I didn't think cannoli's could get any better, but I was WRONG.
Chocolate cannoli's are AMAZING!
I couldn't even wait to take the photos, I had to eat one.
I have absolutely NO self control with these around.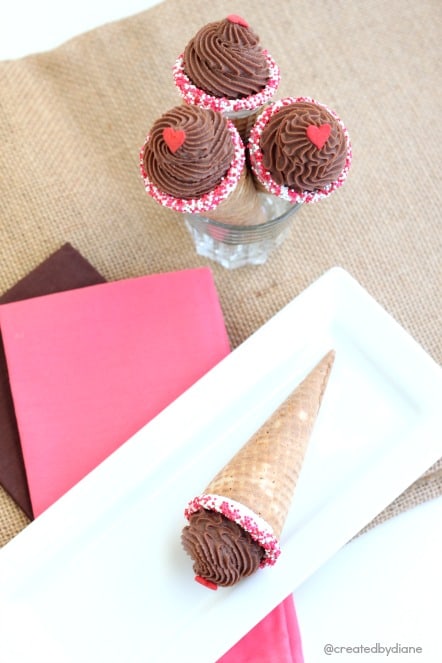 Really I think ice cream cones in general are hard to resist top them with sprinkles and this creamy chocolate filling and well…like I said, no self control. Do you blame me?
The cones can be dipped in white chocolate sprinkles ahead of time and filled before serving. If you fill the cones and put them in the refrigerator the cones will soften a bit and I prefer them crispier. The filling can be made ahead of time as well and can be placed into a piping bag and placed in the refrigerator until you are ready to fill them.

Chocolate Cannoli Cones
Ingredients
12 sugar cones
3.4 cup white chocolate melting wafers (I use Merckens)
1/4 cup red, pink, white nonpareil sprinkles
24 oz whole milk ricotta cheese
1/4 cup cocoa powder
1/2 cup powdered sugar
1 teaspoon vanilla extract
12 large heart sprinkles
Instructions
For this recipe, you will want to drain the excess water out of the ricotta cheese, place cheesecloth or paper towel into a strainer, spoon ricotta cheese on top of the cheesecloth or paper towel, allow it to strain for an hour in a bowl in the sink. If you strain it longer, place it in the refrigerator. You can do this part overnight as well.
Squeeze any excess moisture from the ricotta by twisting the edges of of the cheesecloth or paper towel and applying a small amount of pressure onto the cheese.
Melt the white chocolate and dip the edges of the cones into it, then into sprinkles, allow this to dry completely before filling the cones.
Mix ricotta cheese with sugar, cocoa and vanilla until smooth.
Pipe the mixture into the cones (I used a #195 tip)
Place heart sprinkle on top.
Serve immediately after filling for best results. If you pre fill them, the cone will become a bit soft. Store in refrigerator.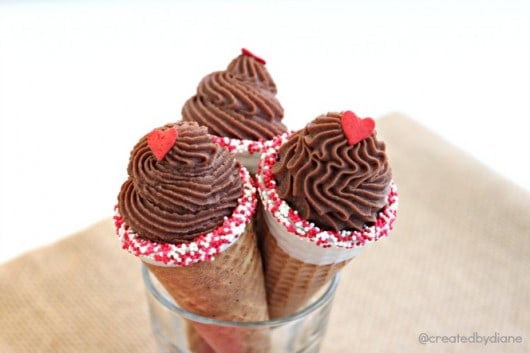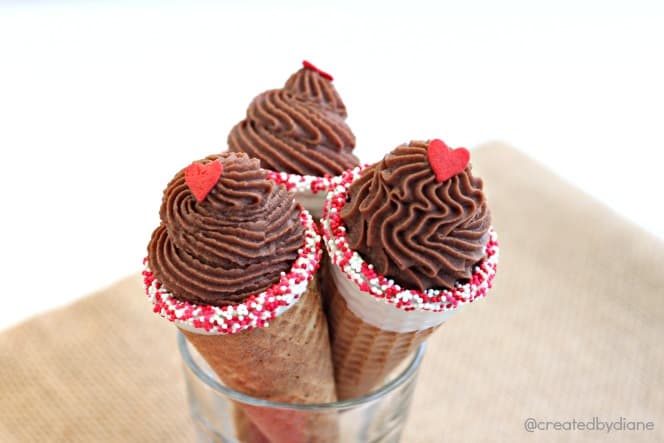 I love easy treats for Valentines Day and chocolate sure is a must, these are the perfect item to make!
Take a look at all these SUPER-FUN Valentine's Day Treats
14 food bloggers got together today to celebrate and share our new Valentine recipes for our #holidayfoodparty.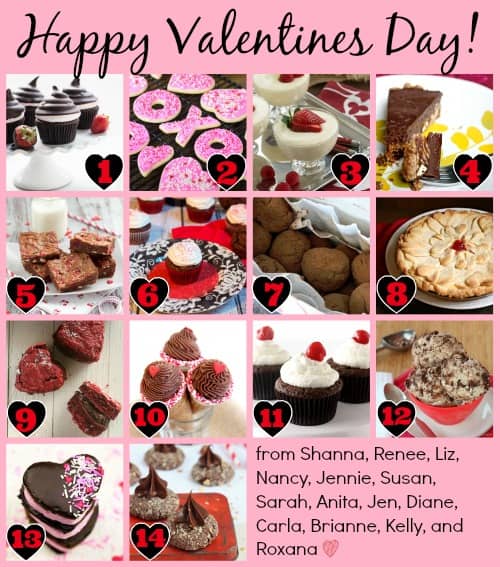 1. Chocolate Dipped Strawberry Hi Hat Cupcakes (Gluten Free) from Pineapple and Coconut
2. Frosted Cream Cheese Cutout Cookies from Magnolia Days
3. White Chocolate Mousse with Frangelico from That Skinny Chick Can Bake
4. Chocolate Caramel Pretzel 'n Chip Tart from Gotta Get Baked
5. White Chocolate Cherry Brownies from The Messy Baker
6. Chocolate Champagne Cupcakes from The Girl in the Little Red Kitchen
7. Sugar-Free Blueberry Yogurt Truffles from What Smells So Good
8. Strawberry Cheesecake Heart Pie from Hungry Couple NYC
9. Red Velvet Heart Sandwich Cookies from Jen's Favorite Cookies
10. Chocolate Cannoli Cones from Created By Diane
11. Cherry Cheesecake Stuffed Cupcakes from Chocolate Moosey
12. Nutella Brownie Cheesecake No-Churn Ice Cream from Cupcakes and Kale Chips
13. Valentines Smores Hearts from Kelly Bakes
14. Chocolate Hazelnut Cookies from Roxana's Home Baking