BBQ Chicken French Bread Pizza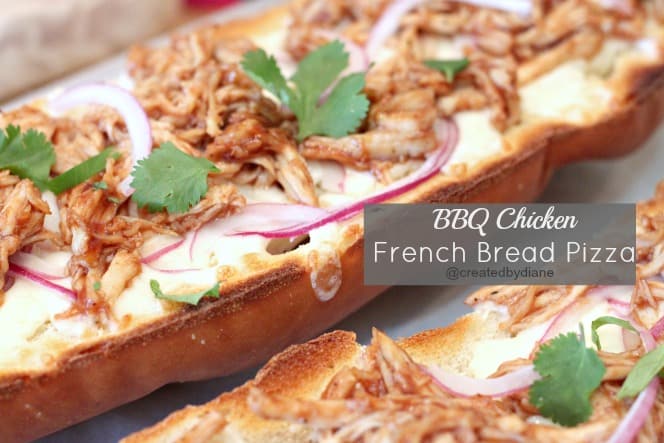 I'm all about quick easy foods,
but I really don't prefer prepared foods and try to avoid them all together.
I always have cooked chicken in the fridge.
It's my go to item to have on hand as there are endless recipes that can be whipped up in minutes if the chicken is already cooked.
If you want to make this and don't have chicken cooked and don't feel like cooking it yourself, pick up a rotisserie chicken when you grab a couple of loaves of french bread to make this,
You'll be so surprised how you can have food ready for a crowd super quick with just a few items.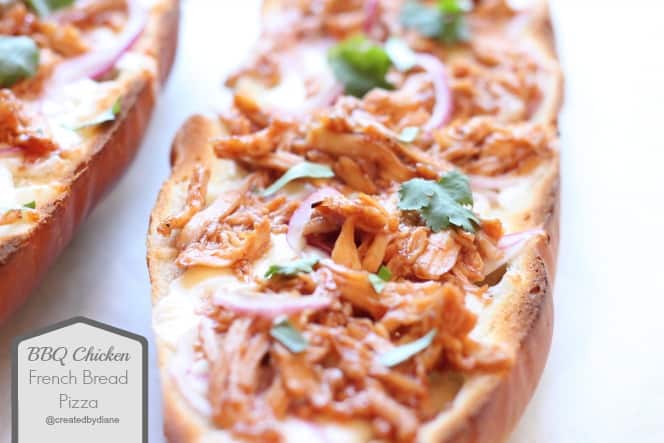 I think French Bread Pizza is a great standby by item, you know those days….the kids decide last minute to bring 3 or 4 friends over or it ends up being a last minute guy night at your house because there is a BIG fight on, or maybe it's a Football game and the neighbors cable is out. Yes all these things happen regularly around here and to SAVE the day I fly in with my cape on,  I try to think ahead and have these items on hand for the weekend or I quickly run to the store, luckily it's not far at all. I grab the necessary items and in MINUTES the hungry masses will have hot pizza out of the oven and believe me it's WAY better than any delivery in my area and WAY faster too. If by chance no on shows up and you have extra French Bread come the end of the weekend, you can always make Lemon French Toast, Gingerbread French toast, regular French Bread Pizza, Mexican French Bread Pizza, Stuffed Jalapeño Bread, really the list goes on and on
…Garlic Bread.
Yea…I love bread, can you tell.
BBQ Chicken French Bread Pizza
Ingredients
1 loaf French Bread
1 1/2-2 cups cooked chicken
1 cup shredded mozzarella cheese
3/4 cup BBQ Sauce
1/4 red onion sliced thin
2 tablespoons chopped fresh cilantro
Instructions
Heat broiler to high.
Place parchment on baking sheet.
Slice bread in half lengthwise.
Place bread under broiler 2 minutes.
Put cheese and onion on top of bread.
Shred chicken or cut it into small pieces.
Mix chicken with BBQ Sauce.
Place chicken on top.
Place bread under broiler 2-3 minutes until cheese is bubbly.
Top with cilantro.
Cut and serve.
Drizzle on extra BBQ sauce over the top of pizza when serving.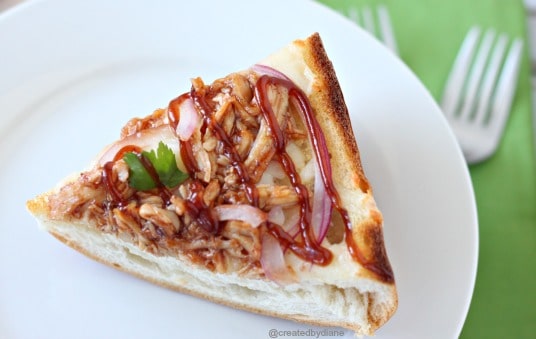 BBQ Chicken French Bread Pizza is quick and easy and ready in minutes!