Mexican French Bread Pizza.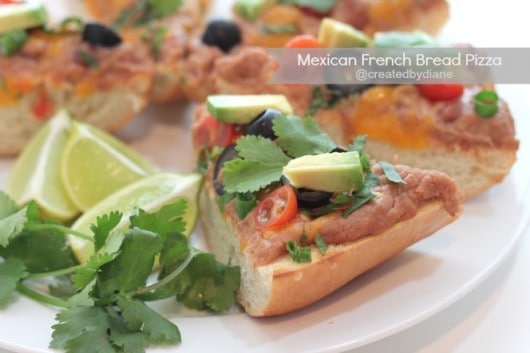 French Bread Pizza gets an updated twist.
Crusty French Bread gets slathered with refried beans and topped with some taco favorites.
A great appetizer, snack or main dish everyone will be asking you to make more of these. Perfect for parties and get togethers. They can be assembled ahead of time and only take minutes to bake.
It's very common for me to have the items needed to make this in the fridge.
I buy plenty of cilantro, scallions, tomatoes and avocados each week so usually I just need to grab some French Bread. I also seem to always have a stock pile of black olives in the pantry, tell me I'm not the only one who loves olives!
I often feel like I'm whipping up last minute snacks for impromptu company and this is a winner.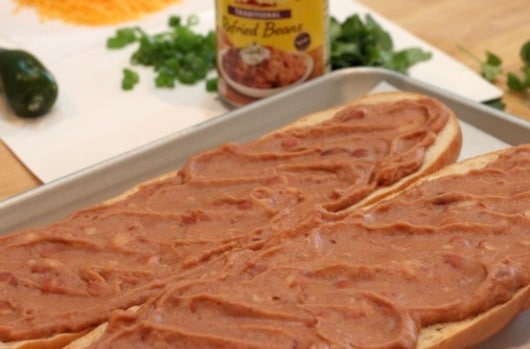 Split french bread in half and spread refried beans on each half.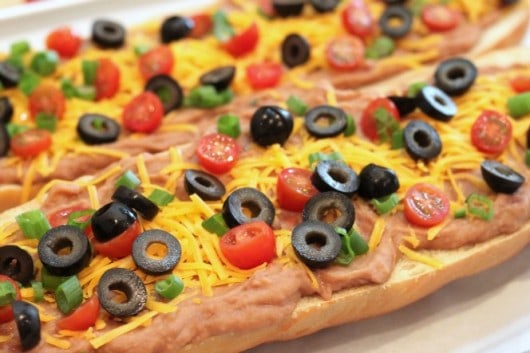 place grated cheese, scallions, tomatoes, olives on top and place them under the broiler for a few minutes.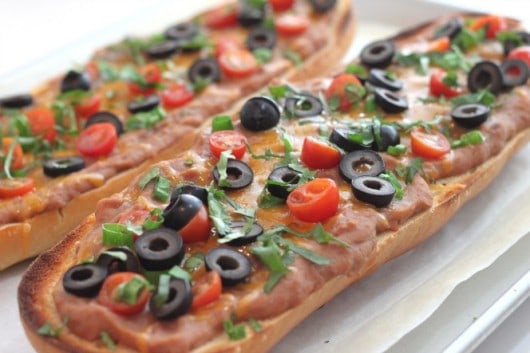 It's faster then ordering take out!
I just love this hearty snack, and everyone else seems to also and they are devoured quickly!
Mexican French Bread Pizza
Ingredients
1 loaf French Bread
1 can Refried Beans
1/2 cup shredded cheddar cheese
12 grape tomatoes sliced in half
1/2 cup sliced black olives
1/4 cup chopped cilantro
1 avocado sliced
Instructions
Slice French bread in half lengthwise.
Place bread under broiler on high for 2 minutes so the top layer of bread is crisp, but not browned.
Spread refried beans onto each half of the bread.
Add cheese, tomatoes, olives and cilantro.
Place under high broiler for 3 more minutes.
Remove from oven and add avocado, slice and serve.
Notes
Add your favorite hot sauce or salsa on top for an added kick.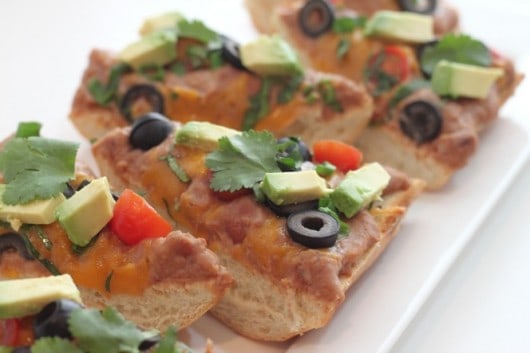 Top with avocado and cilantro.
I've tried growing my own cilantro, but haven't had the best luck, and I go through it so fast I think I'd need half my back yard planted with it to sustain us. I'm a cilantro-holic…in a good way of course.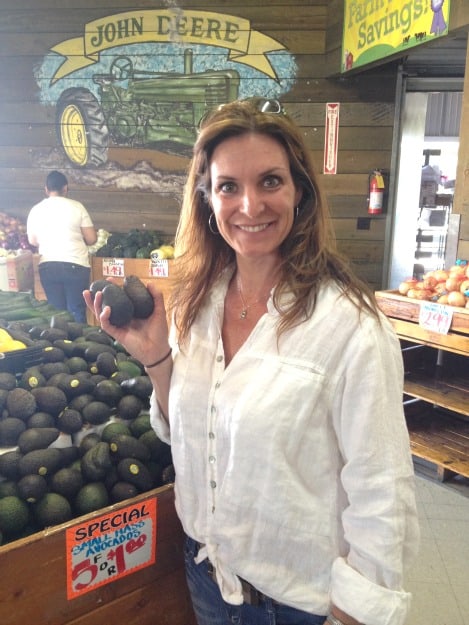 I'm glad there is a farmer's market stand in my town, it's open everyday and well since I'm always mixing up something in the kitchen, it 's a great place to get all the produce I need with their great prices and selection.
I love when avocados are a good deal. As soon as they are ripe I put them in the fridge to keep them at that ripeness for at least a week. I used to let them get too ripe on the counter, resulting in brown spots and a lot of waste. I've since learned to pay close attention to my avocados and it's great now having avocados when ever I need them in the fridge.
*I was compensated for this post, however all opinions are my own.