Grab some pasta and get making your new favorite bolognese, this sausage bolognese is bound to make it's way into your recipe rotation often.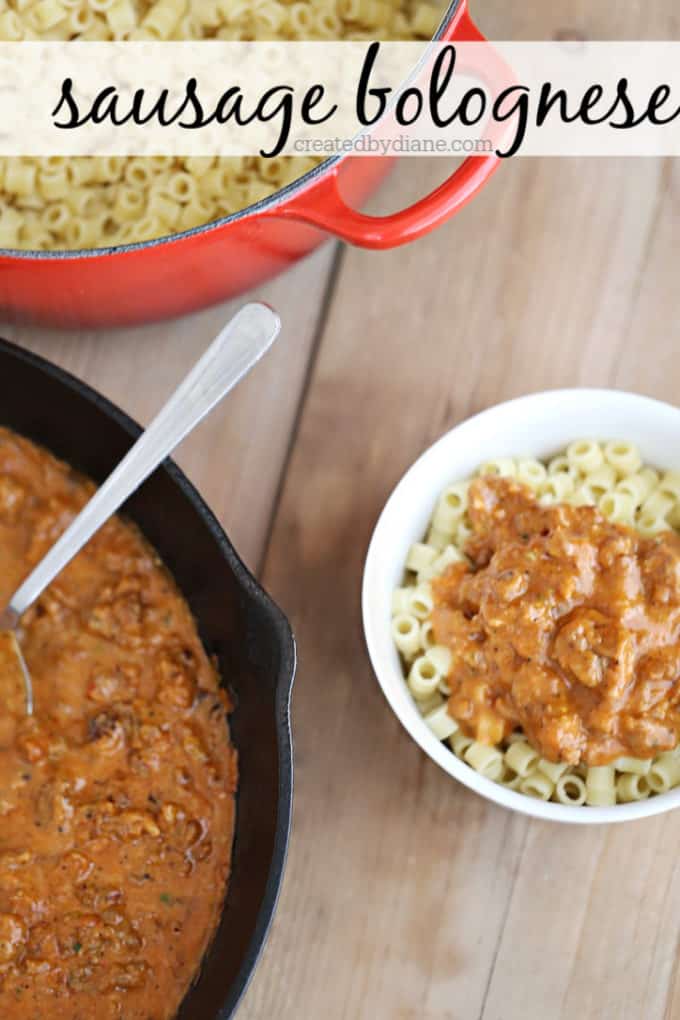 This bolognese with sausage sauce is ready quickly, you can make it in the time it takes to cook your pasta! 
There is no doubt easy recipes are the best and this Italian Sausage Bolognese will make its way onto your recipe rotation because it's THAT good!
Just as the sauce is finishing up cooking, you'll add a little cream…
OMG, this makes it so delicious. I just love foods with complex flavor, a little spice, and a hint of creaminess.
I use ground sausage (hot Italian sausage to be specific) if you only have sausage in the casing, just cut the casing off, and then you'll be able to cook it just like ground sausage. This will allow the sauce to have more flavor than if you cook the sausage and slice it.
How do you make Bolognese sauce from scratch?
You make this sauce by sauteing the meat with onion and adding in the spices as well as canned diced tomatoes, chicken broth, and finishing up the sauce with heavy cream.
What to add to Bolognese to make it tasty?
You can add peppers and mushrooms to give the sauce more flavor. But it's really flavorful as the recipe is written, it's creamy with a hint of spice and has enough acid from the tomatoes to not be overly heavy tasting.
How do you thicken a Bolognese sauce?
The cornstarch slurry in this recipe helps thicken the sauce as well as adding the cream. (a "slurry" is made with cornstarch and water or chicken broth)
By cooking the sauce in a skillet vs a saucepan the wider surface area allows the sauce to simmer off some liquid while cooking the sauce, as the sauce reduces it thickens.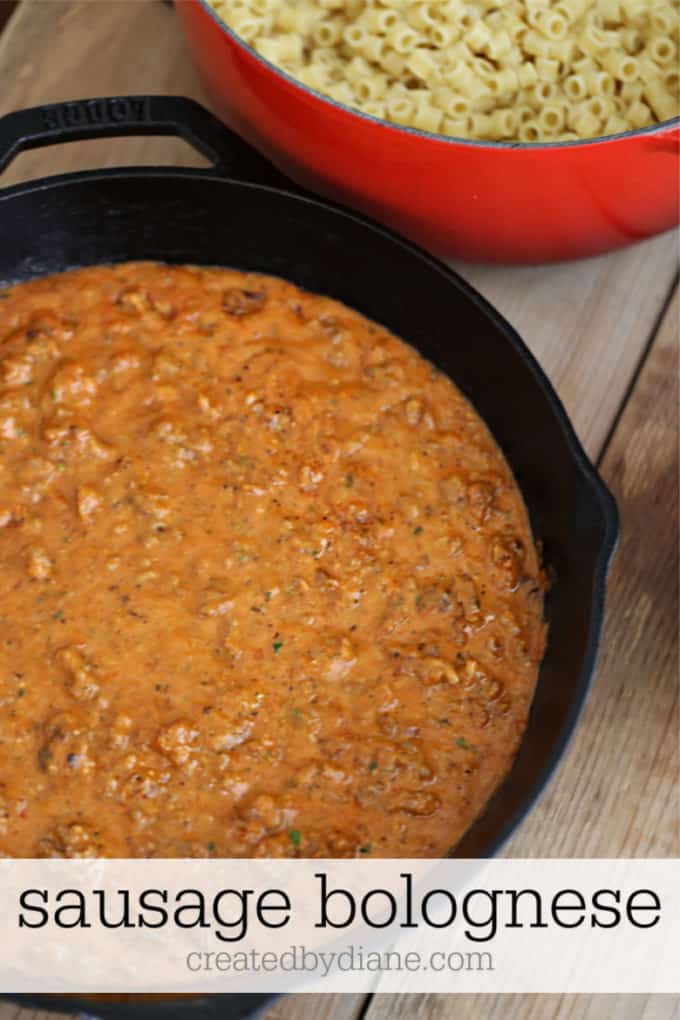 Cooking the sauce in a skillet will allow it to thicken quickly and easily.
You can then choose to portion out the pasta and put the sauce on top like I prefer it or mix the pasta with the sauce, but the pasta will absorb more liquid and won't be as "saucy".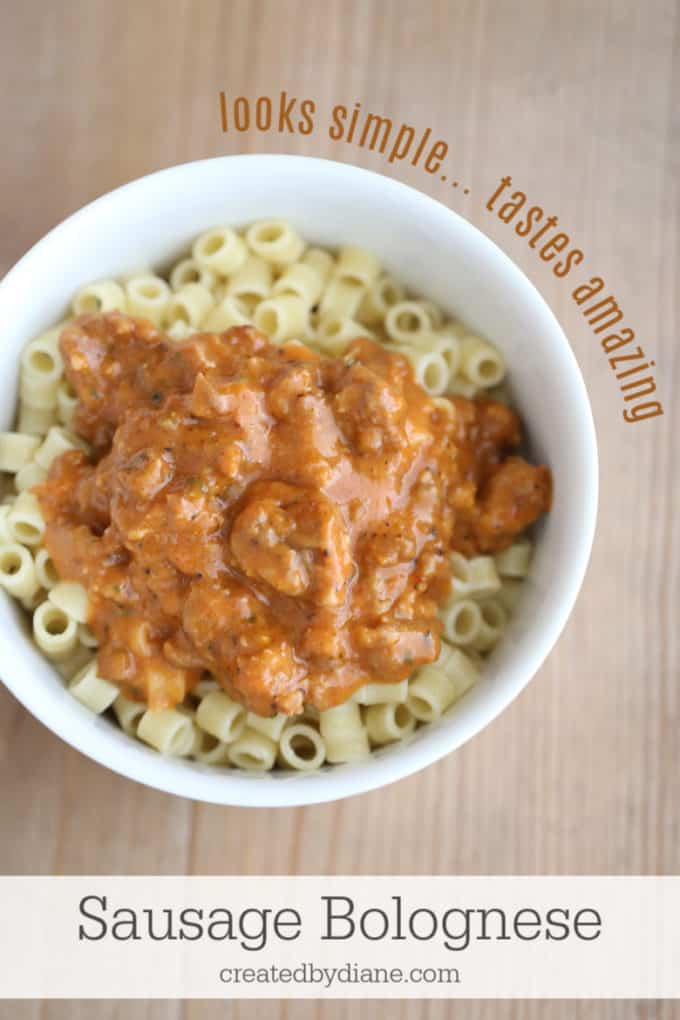 More sausage recipes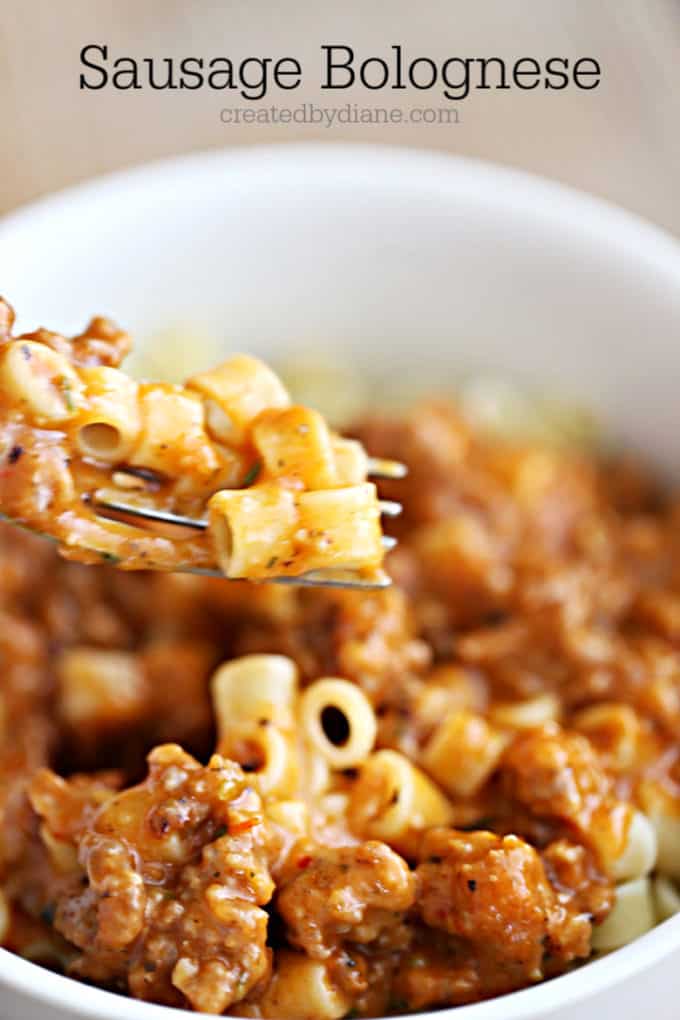 If you're looking for more pasta sauce recipes.
What are some alternatives for making this recipe?
You can make this sauce with ground beef, ground chicken, or ground turkey, or diced mushrooms for a vegetarian version. This sauce is great over zucchini noodles, spiral cut eggplant, sweet potato noodles, or cauliflower! With all those options it'll be like a new meal every time you make it, mix things up, try new combinations.   
I love using this pot to cook pasta and although I don't allow acidic items to sit in cast iron long, I do use my cast iron to cook the meat and then make the sauce.

sausage bolognese
an easy and tasty sausage and sauce recipe perfect for weeknight meals, feeding a crowd, and great for bringing someone dinner, great with pan sauteed zucchini, broccoli, or spinach.
Author:
Diane Schmidt Created by Diane
Ingredients
1 lb pasta (I used ditalini, and pasta shape is fine)
1 lb ground hot Italian sausage
1- 14.5 oz can diced tomatoes
3 cloves garlic, sliced or minced
1/2 onion, diced
1 cup chicken broth or (1 cup water and 2 teaspoons chicken bouillon)
1 tablespoon cornstarch
1/2 cup heavy cream
1/4- 1/2 teaspoon dry oregano
pinch crushed red pepper
salt and pepper
Instructions
Cook pasta according to the package directions.
In a skillet brown the sausage on medium-high heat.
Add in the garlic and onion and cook for 1 minute on medium heat.
Stir in tomatoes and chicken broth mixed with cornstarch, raise heat to bring mixture to a simmer.
Add in heavy cream, oregano, crushed red pepper, and stir to combine.
Add salt and pepper to taste.
Plate the pasta into serving dishes and top with the sausage bolognese sauce.
You can top each dish with grated Parmesan or Romano Cheese.
Add cooked zucchini, broccoli, or spinach to complete the meal.