Where's my MUMMY?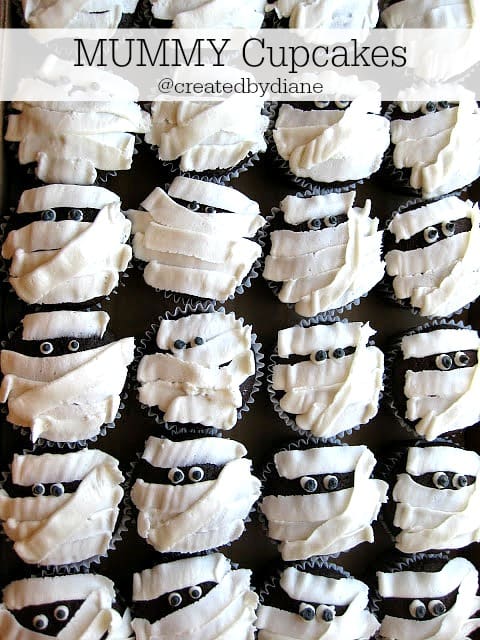 oh what a cute little cupcake
I made 4 dozen of these cute little guys for a bake sale, when I dropped them off I noticed they didn't have very many donations. I went home and made a few more dozen. The next day a friend told me she heard the mummies were the first to go.
The first batch was chocolate cake with vanilla cake on top (tinted orange) then iced with vanilla buttercream. The second batch was all chocolate and my super coupon was happy to have some to bring to work with him, who isn't happy when there are dozens and dozens of cupcakes.
These Mummy cupcakes are easy to make, just bake up your favorite chocolate cupcakes, then place white buttercream frosting into a piping bag with a flat tip, or angled tip (a leaf tip is great) and drape strips of frosting over the cupcakes, make eyes and you're all set. These are always a huge hit at Halloween Parties.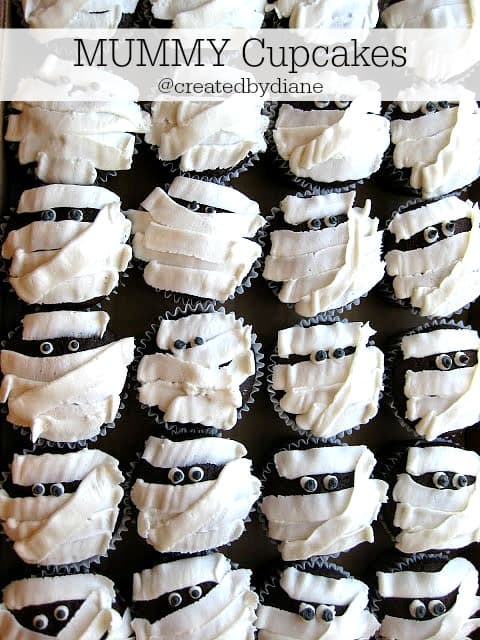 and if you know me well you know it drove me nuts that they weren't all exactly the same
and these were a snack for a scout meeting.
I love these disposable cupcake trays
especially when I have to bring cupcakes
and I'm not sure if I'll remember the container
…more on that later,
I got a great deal,
but need a photo before I use them all.