A caprese that's more like a meal!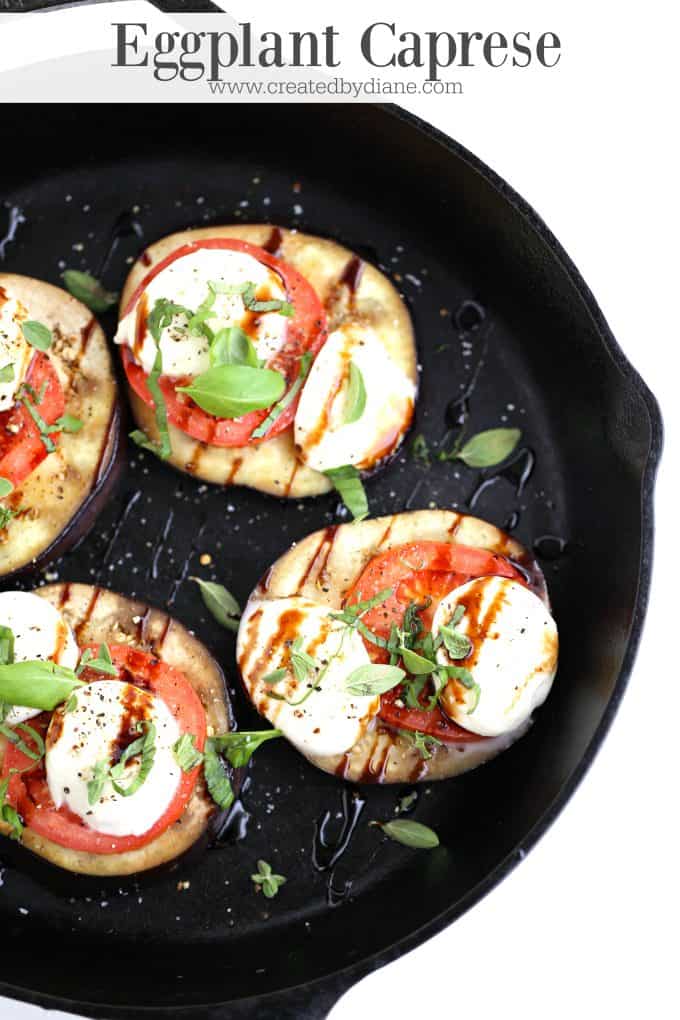 Eggplant, maybe the most underrated vegetable,
I love eggplant, always have always will.
This dish is great with the "regular" eggplant or even Japanese eggplant (if you are serving this for an appetizer, the Japanese sized eggplant is great as the diameter of the eggplant is small providing a bite-sized serving.
There are many options when making this to fit your preference, and what's in your fridge!
If you don't have tomatoes,
you can top them with tomato sauce, which won't be a caprese, but certainly tastes yummy too and shredded mozzarella on top makes it more like a pizza… a totally healthy pizza!
Sun-dried tomatoes are also a great option if you have those on hand as well.
It's fun to mix it up, add a few slices of peppers and onions if you are making it with sauce and grated cheese, but serving it with sliced tomato and cheese is my favorite. I even like it cold, which means I typically make extra and enjoy the leftovers the next day!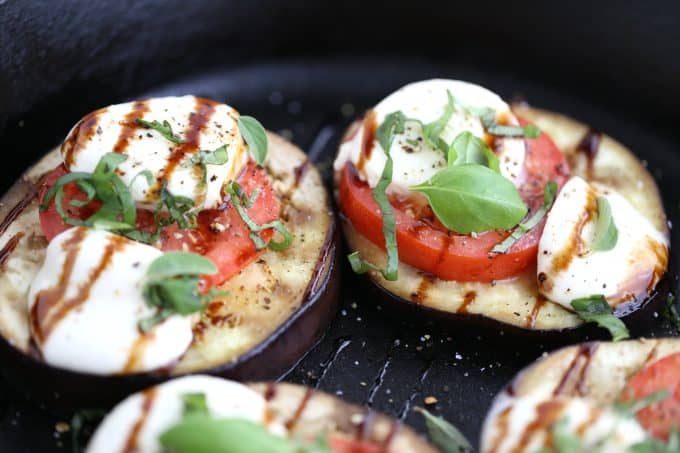 This is my anytime recipe, I like it for breakfast, lunch, and dinner!
You'll find my favorite cast iron pan HERE! I love it so much I have 3 of them and others in different sizes too.

Eggplant Caprese
Ingredients
1 eggplant sliced in 1/2" slices
2-3 tomatoes sliced in 1/4" slices
whole mozzarella log/ball sliced in 1/4" slices
balsamic glaze
fresh basil leaves
pinch dry oregano
minced garlic if desired
Instructions
In a skillet (I use cast iron) heat on high then lightly oil pan,(add minced garlic if desired) place eggplant on the pan for 1 minutes, turn over then place a few drops of water and cover with a lid for a minute or two until eggplant is softened.
Top with tomato and mozzarella cheese, melt cheese by covering with a lid for 20 seconds)
Drizzle with balsamic glaze and top with finely chopped basil and a pinch of oregano (I often use fresh oregano also)
Notes
Balsamic glaze is thickened balsamic it's great on dishes like this as it doesn't "run" of the food.