Served with a baguette or alone, this marinated Caprese salad is simple and delicious, and it's ready in minutes!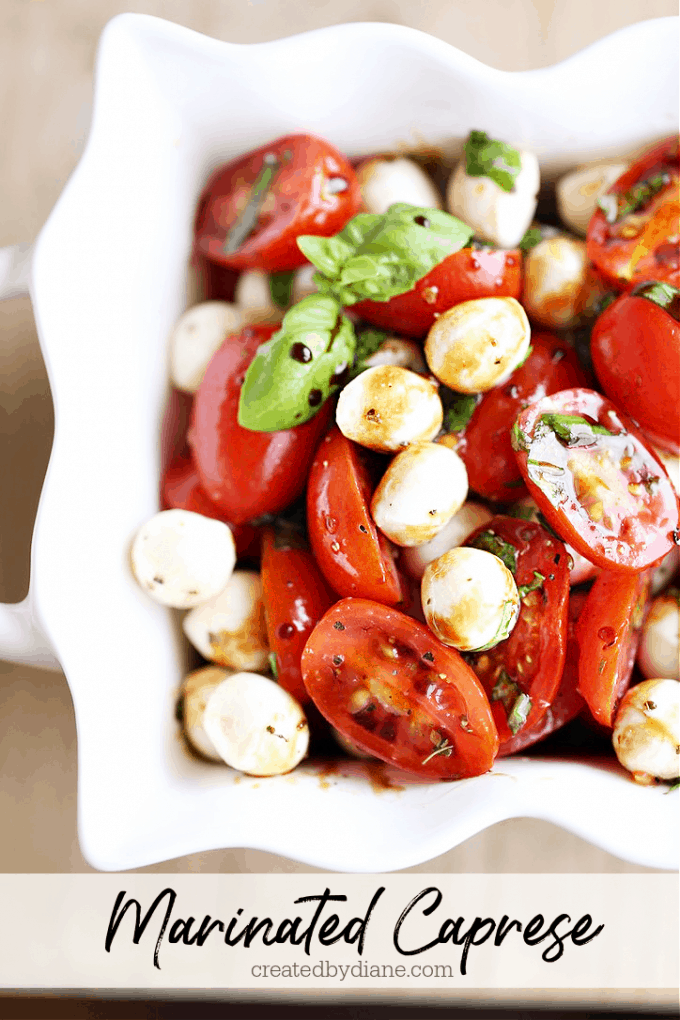 I love simple things. Especially when they're flavor-packed and require few ingredients.
And Caprese Salad hits all those notes and more. 
Originally an Italian dish, as the food colors represent the Italian flag, this salad can be served all on its own as a light but nutritious and filling lunch or dinner, or it goes great with a warm and crusty baguette or just grab a fork and enjoy it for lunch.
Be sure to check out these other Caprese recipes you're bound to find some new favorites.
One of my favorite ways to incorporate it is with a charcuterie board – it pairs amazingly with salami, prosciutto, and soppressata. Add a glass of your favorite red wine and you have a meal fit for a queen.
Fresh mozzarella, grape tomatoes, basil, and balsamic vinegar were meant for one another. The basil adds a nice zip, while the tomatoes bring their fresh out of the garden game. And the balsamic is sweet, but balanced with the red wine vinegar – they sing together to create a pleasant flavor that marries well and adds to the creaminess that fresh mozzarella brings. It's funny basil is one of the items I can actually keep alive in my garden… I do not have a green thumb, but luckily basil thinks I do!
And I love these ingredients so much that I've created different ways to serve them such as my Eggplant Caprese – if you don't think you like this purple vegetable, think again! This recipe will make you mad for it!
If you're craving something with a little protein but want to still keep the light aspect of this salad, then this Grilled Chicken Caprese Salad is just the thing.
A nutritious way to feed your body and soul, tomatoes are linked to heart health, according to Japanese researchers, tomatoes may contain important compounds that help protect you from a form of cardiovascular disease that affects the blood vessels.  And Basil provides macronutrients, such as calcium and vitamin K, and a variety of antioxidants. You can alter the flavor of any dish just a tad by using different forms of basil, for example, Sweet Basil has a clove-like scent, and Lime and lemon basils have a citrusy scent. So, get creative with your basil, and your taste buds!
And now let's put together this salad!
Grab a medium-sized bowl that will be used for mixing all your ingredients.
With a small knife, cut your grape tomatoes in half, and add them to your bowl.
Now add the rest of your ingredients, including the oil and vinegar.
Mix all the ingredients together!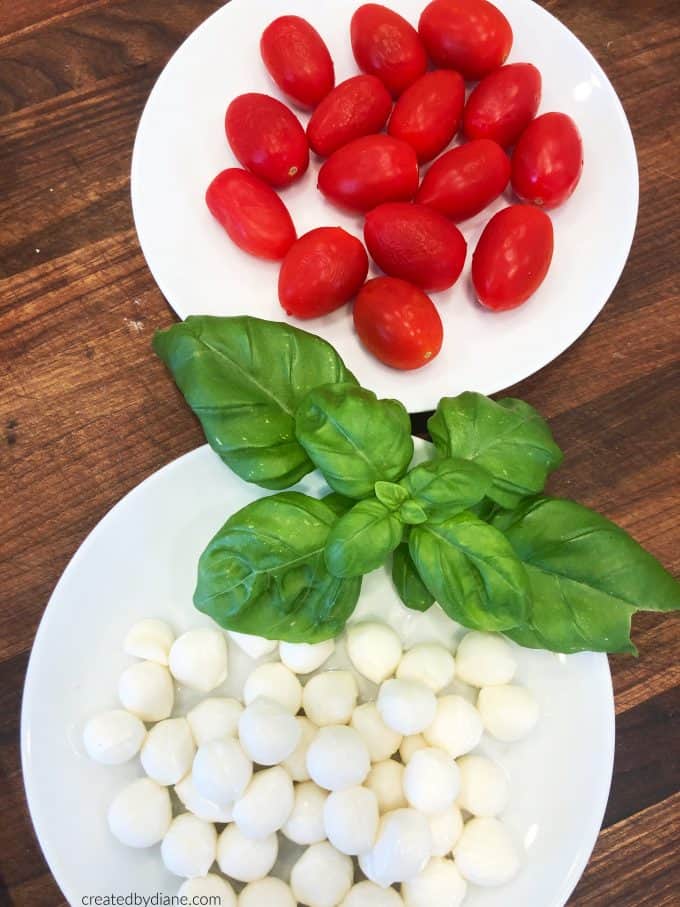 You're done. How easy was that?!
You may choose to eat it right away – it will be hard not to. Or you can store it in a glass jar until cold. This is the best option in my opinion. I like to allow my salad to marinate a little while – it really allows the flavors to mix and mellow, bringing out the best in each ingredient and ensuring each bite tastes the same.
You can store your salad in a glass ball jar, and it will keep it fresh.
Being a simple salad there still can be oodles of questions to answer, and I try my best to accommodate them!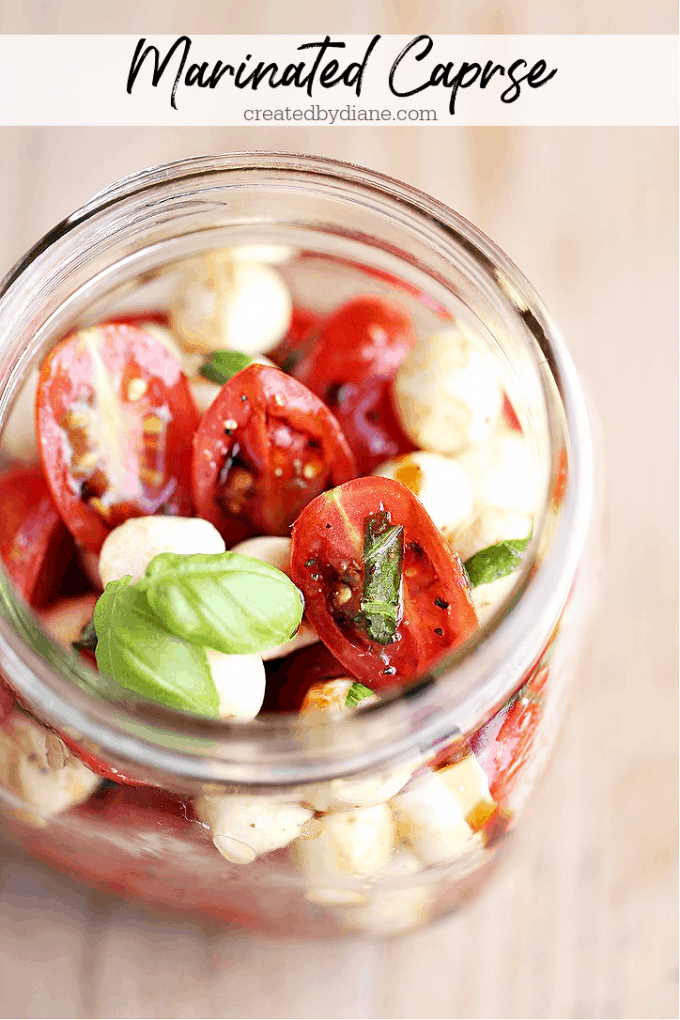 What kind of oil would you recommend using for this salad?
You can use whichever suits your taste buds best, I like avocado oil or light olive oil. 
How long will this salad last stored in the fridge?
I feel a week is about its shelf life stored in your refrigerator. If you don't eat it all before that! This dish is full of acids and after a time, they start to break down the other ingredients. It's hard no to eat it all right away 🙂 Multiply the recipe for more servings.
Why use fresh mozzarella? Can't I use just block Mozzarella instead?
Theoretically, yes. However, this dish is all about flavor and fresh mozzarella though subtle and light in taste provides a creaminess not given by the block version of mozzarella cheese. And because it's so soft, it will absorb the basil and balsamic flavor- something blocked cheese doesn't offer.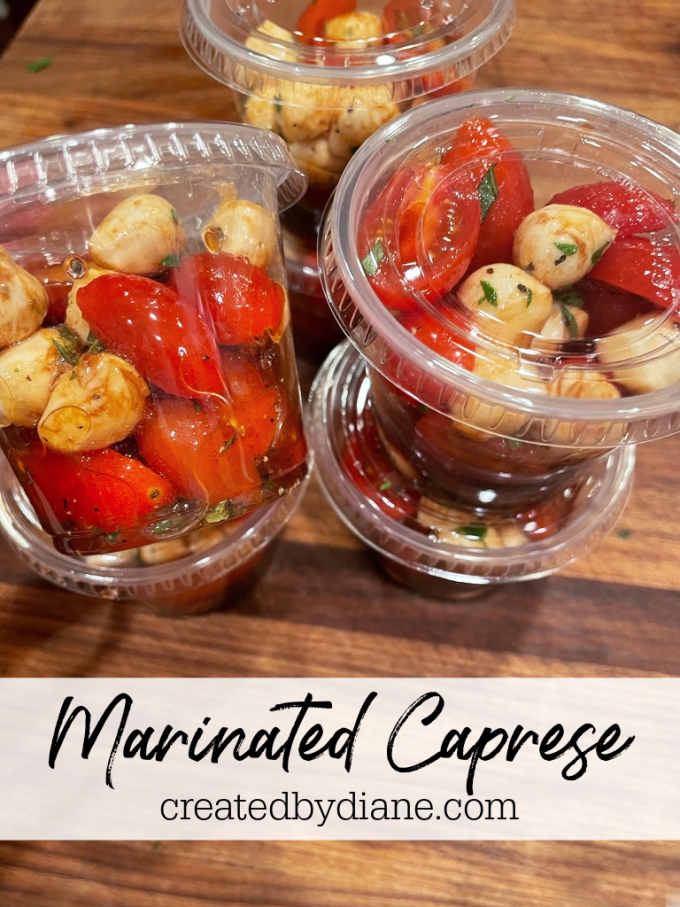 Pile 4 oz plastic cups with this and have the perfect to-go snack!
Marinated Caprese
A delicious cold salad made with tomatoes and mozzarella that you can enjoy all year long. Great with bread or straight off your fork.
Author:
Diane Schmidt Created by Diane
Recipe type:
Salad, Appetizer
Ingredients
4 oz pearl mozzarella
5 oz grape tomatoes
6 basil leaves
1/4 cup red wine vinegar
2 tablespoons balsamic vinegar
2 tablespoons oil
salt and pepper
Instructions
Mix all the ingredients together and store in a glass jar for the best freshness.
Place in the refrigerator until cold.