You may be asking yourself, what on earth is SPATCHCOCK? Maybe you know what it is and are wondering why I would blog how to spatchcock a turkey when I already have shown you How to Roast a Turkey Overnight, well let me tell you…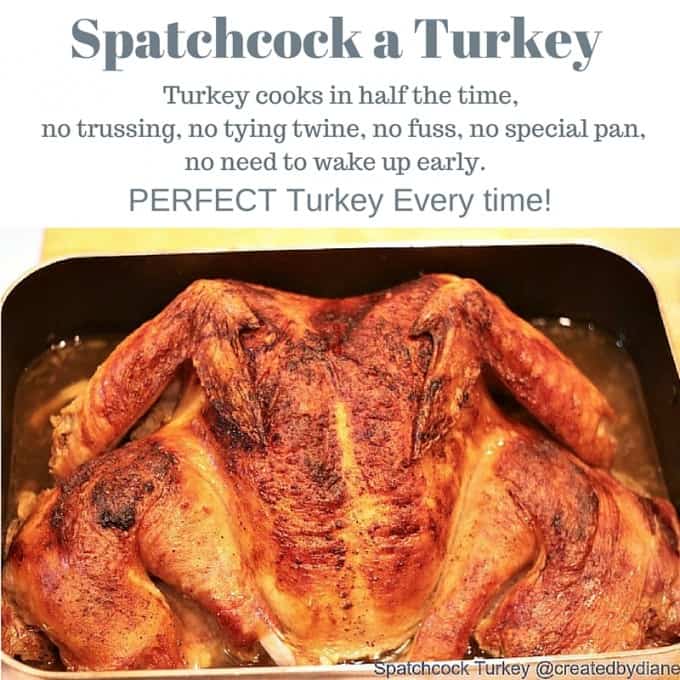 I had heard of spatchcocking, but never really knew what it meant.
I looked it up.
It means you removed the backbone for roasting.
Yep, that is it.
Well, almost…
You'll need a sharp pair of scissors. That is what I found is the easiest way to remove the backbone.
Begin by unwrapping your turkey and removing the giblets and neck.
Rise the turkey with cold water inside and out.
Pat dry with paper towels.
Place turkey on cutting board.
Cut the skin about an inch from the spice on each side with the scissors, the length of the turkey (photo below)
Then begin cutting deeper,
Cutting the skin first will give you a guide, just cut below the area you already cut. You will be cutting tiny bones, but it's fairly easy cutting with sharp poultry shears.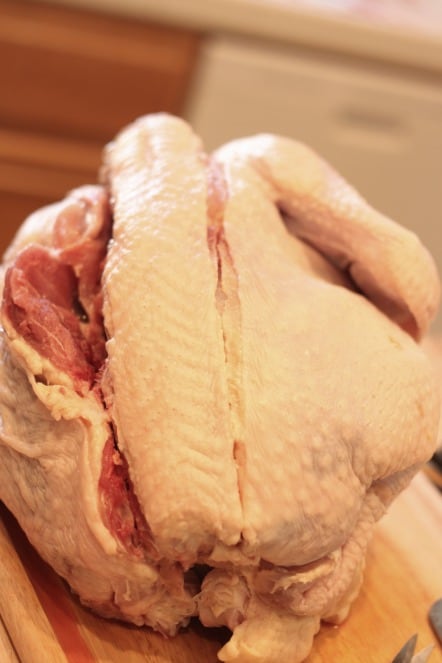 Do the same on both sides of the spine. Remove the spine.
Turn the turkey over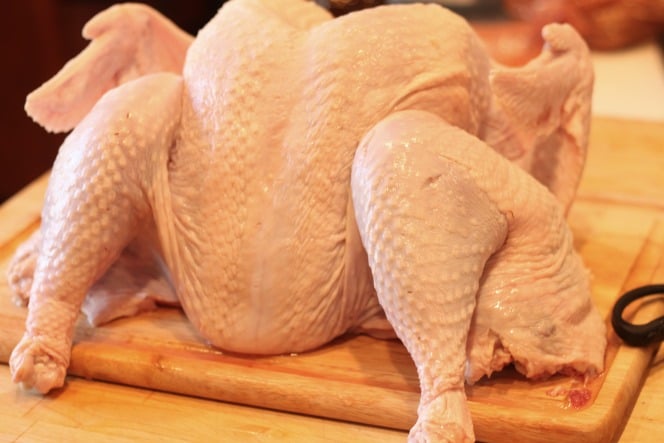 It will be floppy, but you'll want to position it so that you are able to get it as flat as possible. Not sitting up, like in the above photo!
The easiest way I found to flatten a 24-pound turkey is to cover it in plastic wrap, this will make clean up easy and reduce the mess.
Place a clean cutting board on top of the plastic wrap that is laying over the turkey and apply pressure. Now if I were my husband, maybe I could press and the breast bone would break and I'd be about done, but I have no upper body strength and no one was around both times I did this. So I sat on the turkey. You heard me correctly. I pulled up a chair and stood on it, then turned around and sat on the cutting board on top of the turkey. I did it twice. That was all it needed to break the breast bone and get flattened.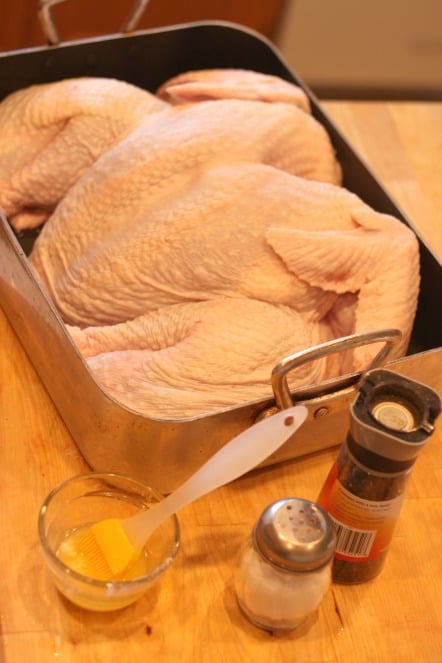 I then uncovered the turkey and placed it in the roasting pan.
I melted 2 tablespoons of butter with 1 tablespoon garlic and spread that all over the turkey and added salt and pepper.
I placed it in a 350 degree preheated oven for 3 and a half hours (This was a 24 pound turkey) another turkey I did was done in 3 hours and 15 minutes and that turkey was 22 pounds. I would check If you turkey is between 20-24 lbs I would check it at about 3 hours with a meat thermometer, when it reaches 165 degrees take it out. If you have a much smaller turkey, it won't take as long.
I use a roasting pan, not a flat pan. I'm glad I did, I had lots of drippings and it made for great gravy.
I had looked up ways to spatchcock here and here and here and found the roasting pan worked well for me so did 350 degrees. The links I referred to I believe were all using much smaller turkeys maybe 13 lbs.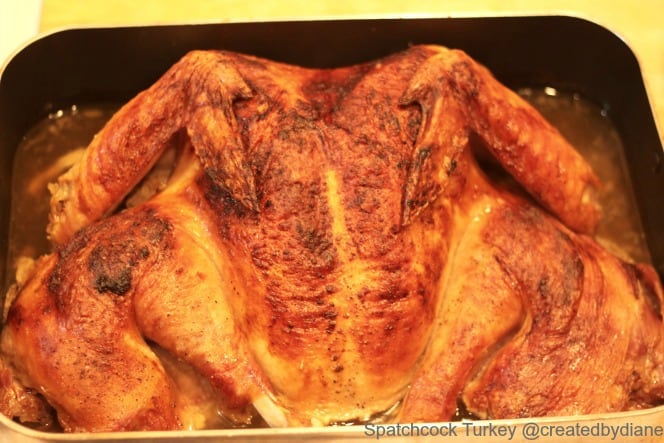 The skin is perfectly crispy and the meat is juicy.
I love that it doesn't take so long to cook a turkey.
Go ahead make a spatchcock turkey and find out how great this method is.
Looking for recipes to go along with your TURKEY




CLICK HERE for my post on Holiday Recipes