Have you ever had a Banh Mi sandwich? It's so delicious so even if you haven't you may just fall in love with this delicious salad!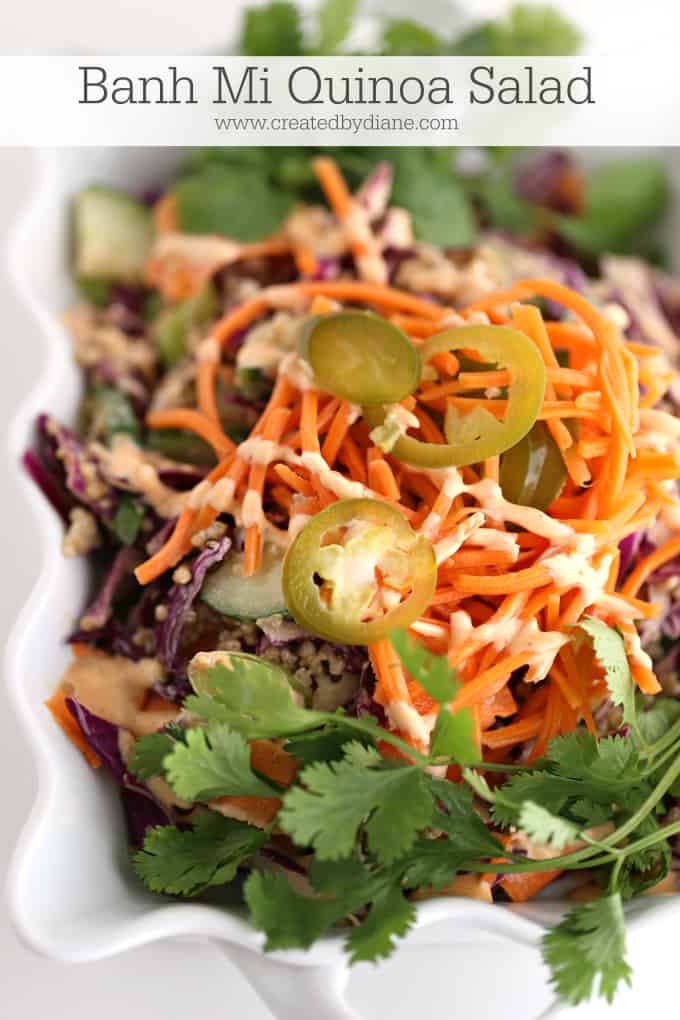 Two great things about a Banh Mi is the pickled veggies and the sauce if you ask me.
Typically there is a protein involved, so feel free to add some pork or chicken to this dish as well.
Now the sauce is so quick and easy.
And don't forget the fresh cilantro!
As you can see there are many items in this dish that will win you over.
This is my go-to item to enjoy for lunch, bring to the beach, and make for dinner on those hot summer nights. I usually have cooked chicken in the fridge so adding some makes it a great dinner.
other great Banh Mi Style Dishes: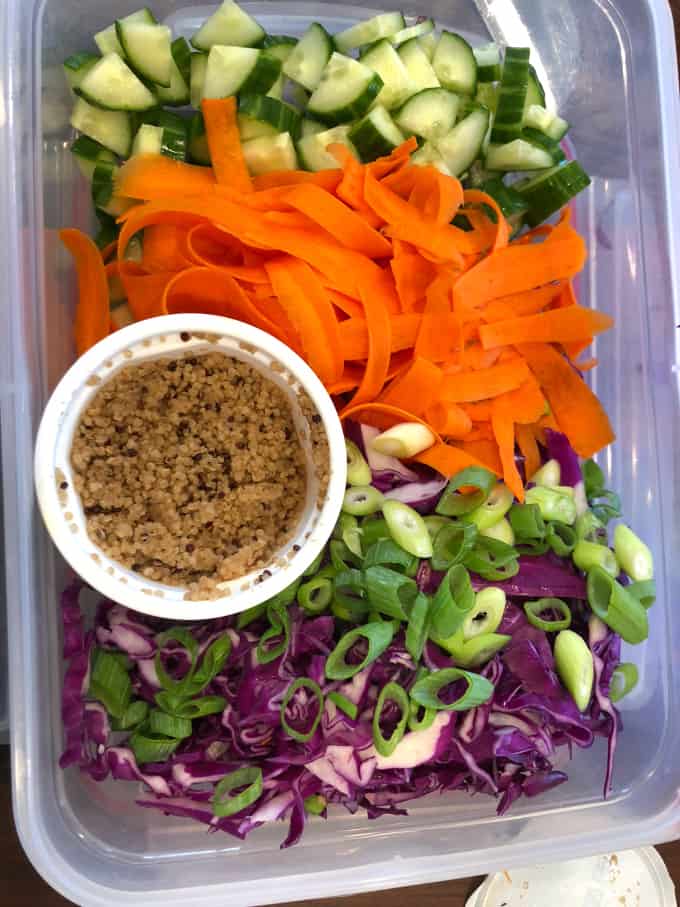 I prepped this out the day ahead and mixed it with the sauce in the morning so the veggies were nice and crisp upon serving.
See that cup of quinoa, well to make this recipe super fast, I purchase cooked quinoa they sell it in the rice aisle and it's really convenient. Alternatively, cook quinoa and get ready to enjoy a delicious recipe.
1 hour quick pickled vegetables (carrots and jalapenos) instructions HERE
One of the key ingredients to making this dish so delicious is the pickled veggies.
Be sure to make these first, they take at least an hour to "pickle' you can make them sooner and have them in the fridge.
If you like veggie and quinoa salads, THIS Quinoa Carrot Salad with Peanut Sauce is delicious.
You can easily make this recipe larger by multiplying the ingredients to make a larger batch for parties and get-togethers.
Banh Mi Quinoa Salad
Ingredients
1 cup cooked quinoa
3 cups shredded red cabbage
2 medium carrots "peeled" in strips with a vegetable peeler or grated
2 green onions sliced
2 cucumbers cut into fourths
1/2 cup chopped cilantro
Pickled Carrots and Jalapenos (how to quick pickle vegetables here in 1 hour) these are the grated carrots and jalapenos on top of the dish.
sriracha mayo sauce
1 tablespoon Mayonaise
1 teaspoon Sriracha sauce
(mix a small amount more to drizzle on top when serving)
Instructions
Place quinoa, red cabbage, peeled carrots, green onions, cucumbers into a bowl.
Mix sriracha and mayo together and blend with vegetables and quinoa.
Top with cilantro and pickled vegetables (carrots and jalapenos) and drizzle with more sriracha mayo and serve.