There is something so irresistible about the smell of maple, maple syrup heated on the stove and poured over some hot waffles or pancakes…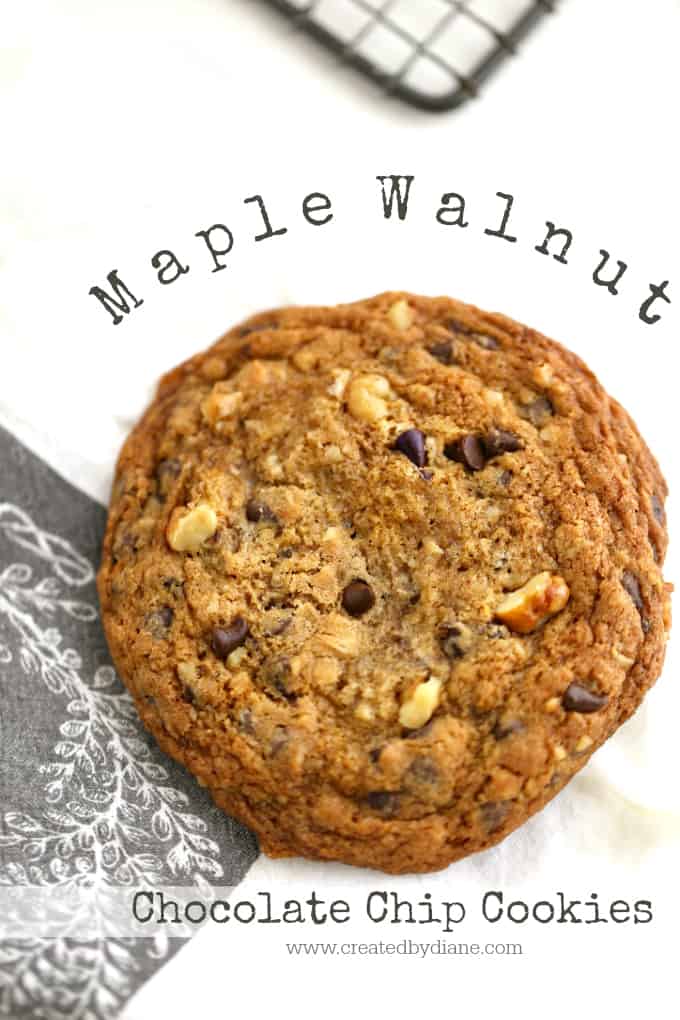 Oh my god… that is the smell that dreams are made of!
Now today I'm sharing these fabulous cookies.
You will make batch after batch of these beauties!
They have become one of the most requested batches of cookies here, and I'm sure they will be in your home too.
I'm a huge maple walnut fan…
to mention a few of my favorites.
So the combination of chocolate chips cookies baking int he oven and the aroma of the maple flavor combined to make an outstanding combo!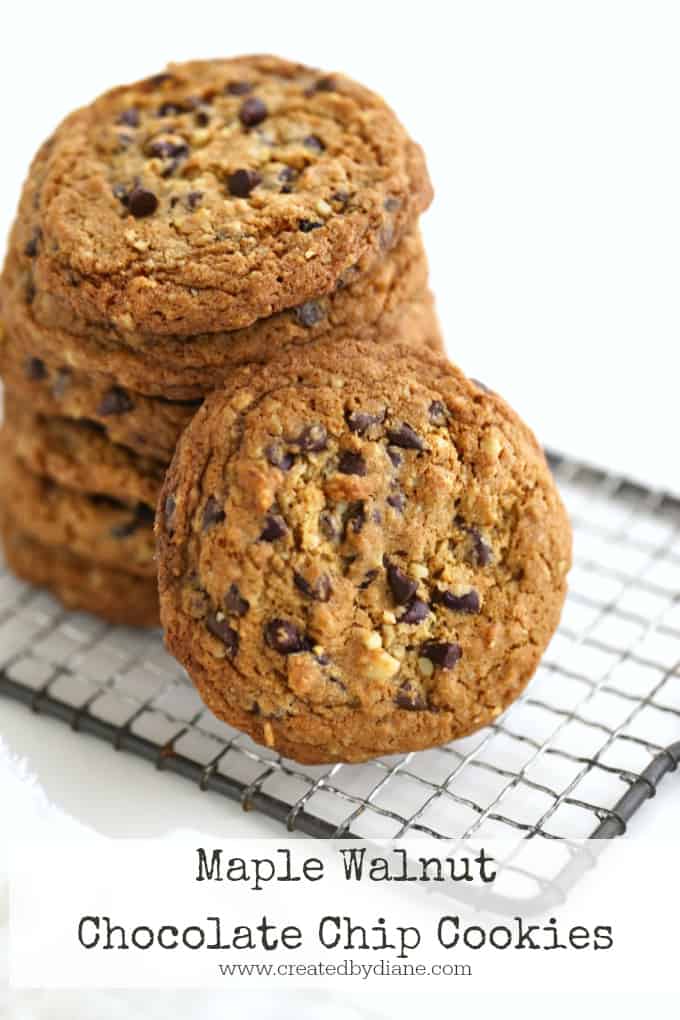 I LOVE… mini chocolate chips, big cookies, and big flavors!
I used a large 3 tablespoon scoop to make these and the batch of dough made 22 cookies.
These cookies are full of mini chips!
I just LOVE big cookies, don't you?!?
And the flavor in these is incredible, the maple, the walnuts, the chips, and the oatmeal make the cookies nice and dense and full of flavor!
Maple Walnut Chocolate Chip Cookies
Ingredients
1 cup butter
3/4 cup sugar
3/4 cup brown sugar
1 teaspoon vanilla extract
1-1/2 teaspoons maple extract
2 eggs (large)
1/2 cup oats (regular oats) pulsed in a food processor until small
2-1/4 cups flour
1-1/2 teaspoons bakings soda
1 teaspoon salt
1/4 teaspoon cinnamon
2 cups mini chocolate chips
1 cup chopped walnuts
Instructions
Preheat oven to 350°
In a food processor or chopper grind oats until they are smaller and powdery. Set aside and add when adding flour.
In a large bowl with a mixer cream butter with sugar and brown sugar.
Add the vanilla extract, maple extract, and eggs mix completely.
Add the oats, flour, baking soda, salt and cinnamon, mix on medium.
On low add in mini chocolate chips and walnuts.
Use a 3 tablespoon size scoop and place the balls of dough on a parchment lined cookies sheet. (6 scoops per sheet) the cookies will spread allow room so they don't touch.
Bake the cookies for 12-14 minutes or until the bottoms are golden brown and set.
Cool the cookies on the baking sheets.
The centers of the cookies will firm up as the cookies cool on the baking sheets.
Be sure to get my GUIDE on COOKIE TIPS HERE!
If you like this or any other recipe on Created by Diane be sure to share the post with the ones you love. You can click on the "share" buttons on the top and the bottom of each post, you can share it on social media or in an email.
~Sign up for email updates and GET delicious recipes delivered right to you! Plus get my free e-cookbook too.
Thanks ~Diane