Whether you'll be watching the BIG GAME or celebrating with someone on a local team.
Football treats are always popular. Here are some fun, yummy recipes for you to try.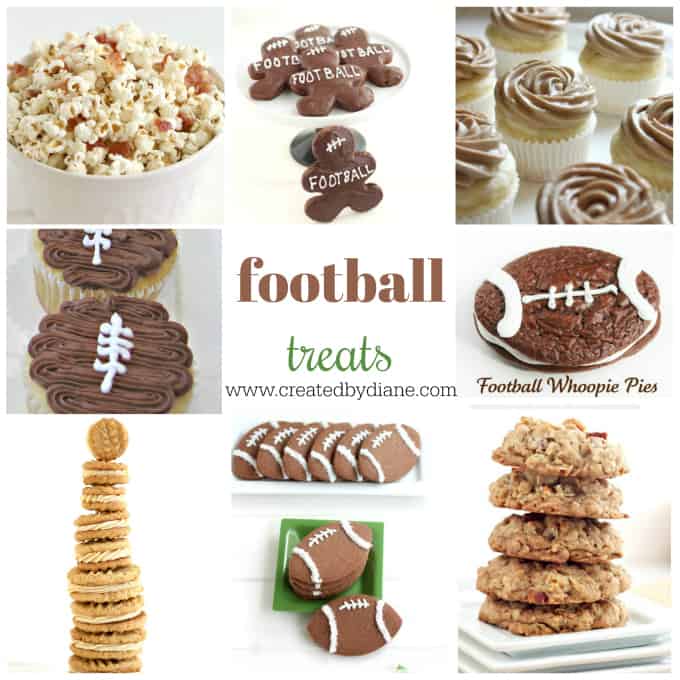 this fun sweet and salty snack that will soon become your must make snack!
Maple Bacon Popcorn Oh, the salty sweet combo in this fun popcorn is irresistible
Chocolate Football Player Cookies These are so fun to serve for all your football parties. No matter what team you're supporting, these have you covered, in chocolate!
Pancake Cupcakes with Maple Frosting These cupcakes are simple and flavorful and apparently, they go well with beer too!
Football Frosting on Cupcakes Decorate any cupcake you like to look like a football!
Football Brownie Whoopie Pies These brownie whoopie pies with a creamy filling are always a hit!
Easy Peanut Butter Sandwich Cookies Peanut Butter Cookies with a kick, filed sandwich style or make them on their own, they are so tasty.
Chocolate Coconut Football Cookies the chocolate and coconut combo is not only yummy but cute too!
Oatmeal Maple Bacon Cookies Game days start early here on the West Coast, so these could be considered "breakfast cookies" if you like.
After compiling the list I would share, I laughed when I realized there were many maple-bacon items on the list. For some reason, they work really well for game-day. The salty sweet combo is always a winner and these are some of the most requested items I get asked to make for game day.
The football-themed items are all chocolate and then there is one peanut butter cookie in the bunch, which are SO yummy and super easy to make even if you don't want to make them into sandwich cookies. The cookies only have 3 ingredients. Which makes them simple to make and they have such a great peanut butter flavor you'll end up making them all the time. (or maybe that's just me)
I'm working on a post of some GAME DAY Eats that will feed a crowd easily, look out for that post so all your football festivities will be full of not only delicious treats but all around good food to serve everyone too.