This meal is perfect anytime and I love that I can make it in minutes as I often have everything in the fridge already.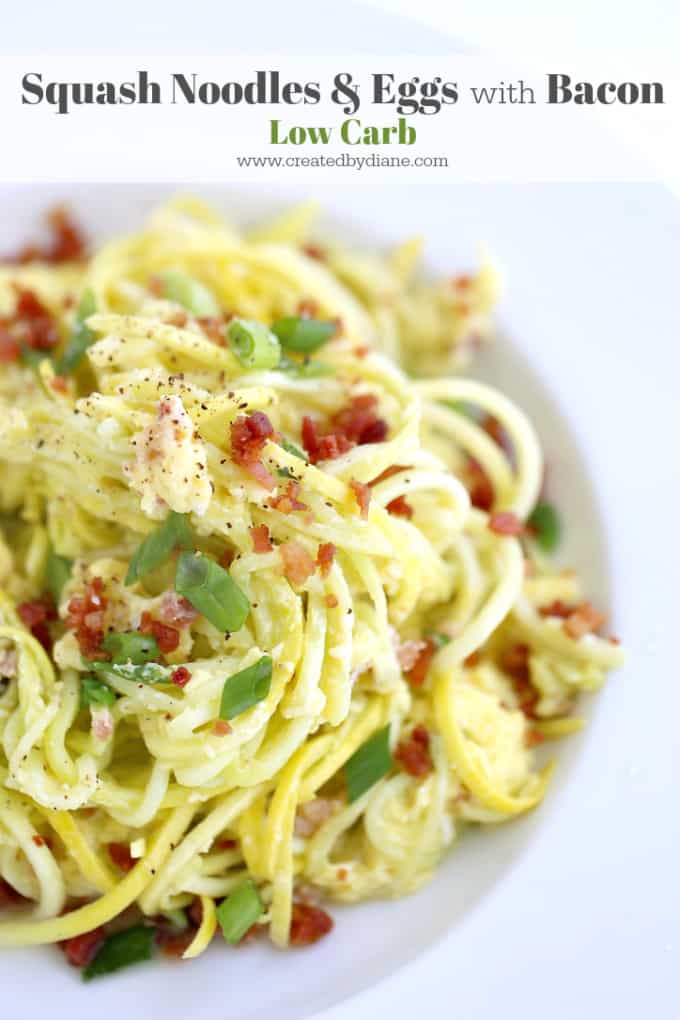 This looks like spaghetti…
it's not it's yellow squash cut with a spiral cutter to look like noodles and it's a great low carb which means it's filling without wrecking your diet, raising your blood sugar and tastes AMAZING!
This is a low carb breakfast option perfect for someone who wants something delicious to eat and that isn't full of sugar!
One of my all-time favorite breakfasts is Spaghetti and Eggs, I've made it more times than I can count.
This recipe is the low carb version and its' equally delicious, even if you're not eating low carb.
More Egg Recipes:
When I'm eating low carb, this is one of my go-to breakfasts. It fills me up and it's so delicious!
I also love this for a late night raid of the fridge, I always have everything to make it and it always hits the spot.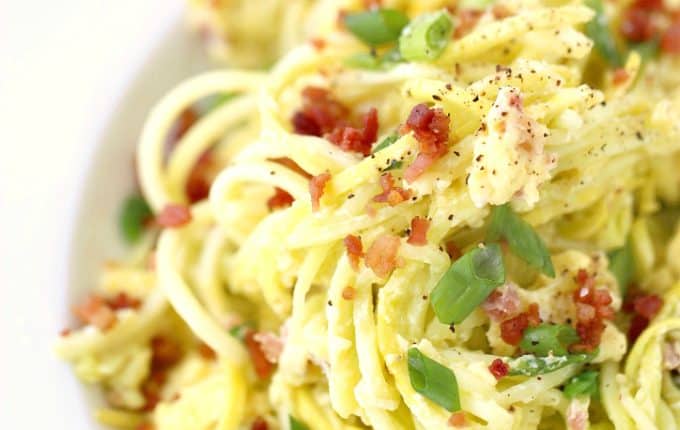 This is a great vegetarian option if you omit the bacon.
And you can add anything you like to it to customize it to become you're favorite, maybe tomatoes, or asparagus.
I use a spiral cutter, this one actually. If you don't have one you can either use a julienne peeler or a potato/vegetable peeler.
This is real food fast, and from everything we all know, eating more vegetables is always a good thing, so grab your skillet and get cooking!
Squash Noodles and Eggs with Bacon
Ingredients
1 medium yellow squash
1 teaspoon butter
1 egg
1 tablespoon water
2 slices cooked bacon, crumbled
1 green onion, chopped
Instructions
Mix egg and water with a fork in a small bowl.
Cut the squash with a spiral cutter or use a julienne peeler, or potato/vegetable peeler to create the "spaghetti noodles"
Heat a skillet, then add butter.
Place noodles in pan, then add mixed egg.
Coat the squash with the egg and place a lid on it.
I keep the heat pretty high so it cooks quickly.
Add the bacon to heat it slightly,
serve topped with green onions, salt, and pepper.
(I do not cook the squash and longer than I have to, the more you cook it the more it will get watery)