Nectarine and White Chocolate Chip Scones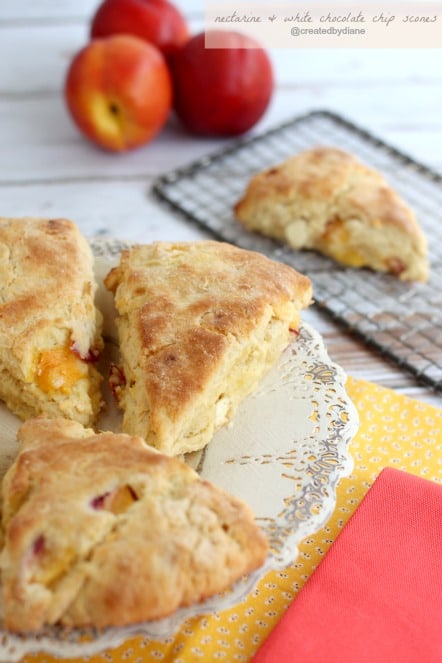 I think I should live in Europe.
I hear they have a pastry for breakfast, well that would suite me just fine.
A croissant or scone is a perfect way to start the day if you ask me.
I bought a large bag of nectarines and wasn't sure what I was going to make with them, but I knew they would be delicious they usually are when you can purchase them in a large bag and they all look perfect.
Oh I was right, they were delicious. There were more than a dozen nectarines so I knew I had plenty to bake with since I had already eaten two of them.
In Europe hear they take a siesta in the afternoon too…
Genius!
I wish I could take a siesta every afternoon. I prefer to stay up late and that really sounds like a great idea to me.
Ok who is moving to Europe with me?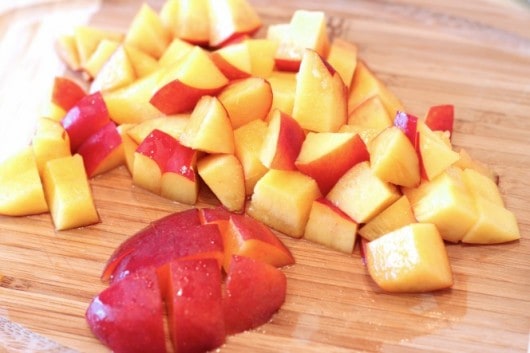 I used two nectarines for this recipe, I diced them up and they were just about ready to go into the scones. I toss them in a tablespoon or so of flour so they don't stick together. It also helps that the dough doesn't get overly wet.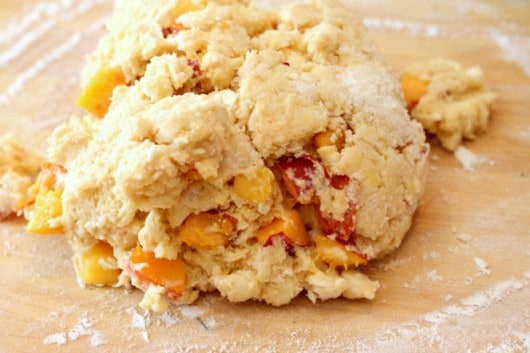 Once the dough is mixed. I place it on a floured board and sprinkle it with a couple tablespoons more flour, then pat it into a circle and cut it into triangle with a large knife. The less mixing the better for fluffy scones. Just flour your hands so they don't stick to the dough and begin patting it.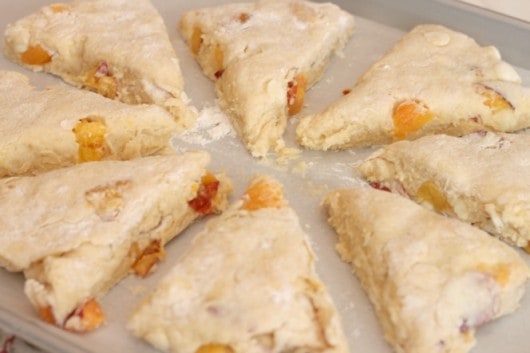 I separate them a bit on a parchment lined baking sheet so they don't stick together.
Nectarine and White Chocolate Chip Scones
Ingredients
2 cups flour +1/2 cup flour
1/4 cup sugar
3 teaspoons baking powder
1 teaspoon salt
1/2 cup COLD butter
1/4 cup skim milk
1 tablespoon dry buttermilk
1 teaspoon vanilla
2 eggs
1 cup diced nectarines (about 2 nectarines)
1/2 cup Ghiradelli White Chocolate Chips
Instructions
Cut the nectarines into small pieces and toss then in a tablespoon of flour. Set aside.
Mix together flour, sugar, baking powder and salt.
Cut in butter until mixture resembles coarse crumbs.
Add milk, vanilla eggs.
Stir nectarines and white chocolate chips into the mix.
Knead on a floured surface (or parchment) lightly and pat into a circle, cut with knife.
Add additional flour and flour your hands so dough doesn't stick so much.
Transfer to parchment lined baking sheet. (I use two pastry scrapers to transfer the cut circle, then I separate them on the parchment lined baking sheet.
Bake at 400 degrees for 15 minutes or until lightly golden.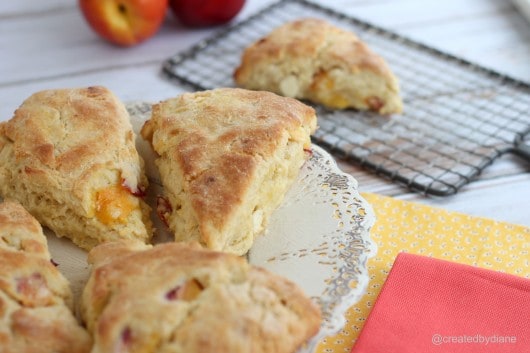 Breakfast is served!
By 10 or 11 I'm ready for eggs and bacon, don't think I could live on a pastry all morning.