Sprinkle Scones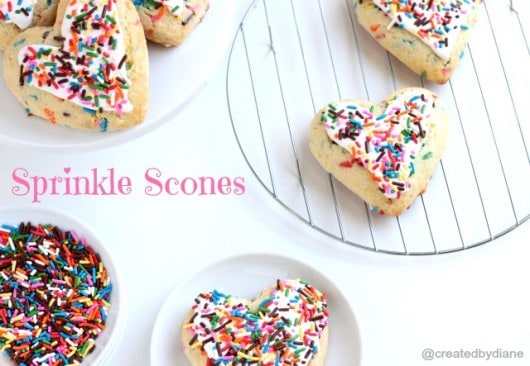 Sprinkle Scones are perfect for birthday breakfasts or really any day you would like to add some extra sprinkles to your day.
Today just happens to be a day that extra sprinkles are certainly in order.
It's my birthday!
Birthday Scones seemed to be the perfect thing to start my day.
I'm thinking maybe I should start every day with a bunch of sprinkles, they are so pretty and fun!
These have the wonderful taste of birthday cake, and all those colorful sprinkles really make it seem like a party and you can eat them for BREAKFAST…..Yippee!
Every day should start with sprinkles.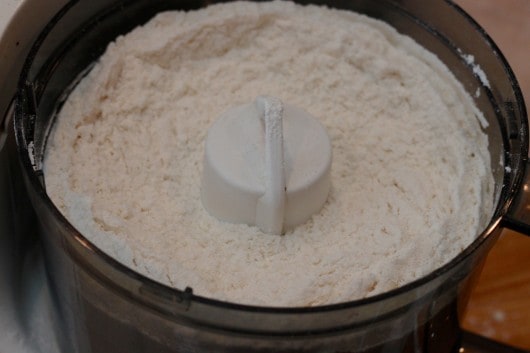 I made these using by starting the dough in a food processor, they scones turn out a bit lighter and fluffier which is what I wanted for these cake batter tasting fluffy birthday cake texture I recall all yummy birthday cake having as a kid. The butter gets cut into smaller pieces creating tinier pockets of air when they bake resulting in a fluffier scone.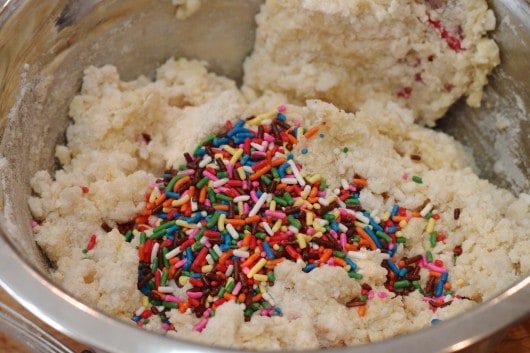 after the batter is mixed up add in the sprinkles.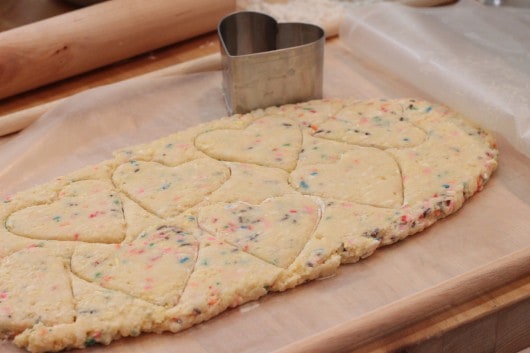 then roll out the dough on  a floured surface or between wax paper with a little flour so it doesn't stick. I rolled out the dough with the rolling pin resting on two 1/2″ dowels on the ends so the scones would be even. I just love this trick. I use it to get even cookies too.
Sprinkle Scones
Ingredients
2 cups flour
3/4 cup sugar
3 teaspoons baking powder
1 teaspoon salt
1/2 cup cold butter (diced)
1/2 cup heavy cream
1/4 teaspoon LorAnn's Cake Batter Flavor (can be omitted)
1 teaspoon Butter Vanilla Extract (Vanilla Extract can be substituted)
2 eggs
1/2-3/4 cup rainbow sprinkles (divided)
icing
1 cup powdered sugar
1 tablespoon corn syrup
2 teaspoons water
6 drops white Americolor food coloring for a bright white color
1 teaspoon vanilla extract
Instructions
Place flour, sugar, baking powder and salt into food processor along with cold butter.
Pulse until mixture resembles coarse crumbs.
Add heavy cream, flavors and eggs, stir until incorporated, then add 1/4 cup of the sprinkles.
Roll scone dough ½ inch thick either on floured surface or between floured wax paper.
Cut with cookie cutter.
Place scones on parchment lined baking sheet.
Bake at 400 degrees 8-10 minutes.
Prepare icing
Mix powdered sugar along with corn syrup, coloring, vanilla and water until smooth and the consistency you can work with. Add water to thin it or powdered sugar to thicken the icing.
Pipe icing onto cooled scones, and add remaining sprinkles immediately before icing hardens.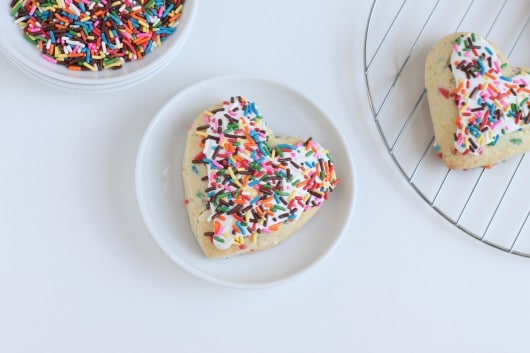 I like LOTS of sprinkles. I originally  portioned out 1/4 cup sprinkles to top the scones with, but increased the measurement because I added more….can you blame me?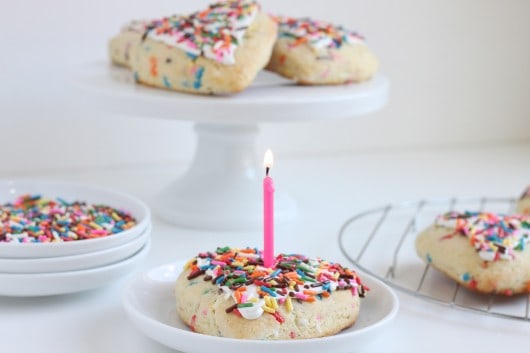 Yeah, this is the way to start a birthday!
Making wishes for a great year ahead….looks like the party is about to start!
Want to get to know me better or see what I'm up to:
I'm on Instagram and post lots of photos from my life out from behind the computer…..
You'll also find me on Facebook
If you'd like to know when I post a new recipe, you can sign up for email subscription and get it delivered right to your inbox!