Grilled Romaine BLT.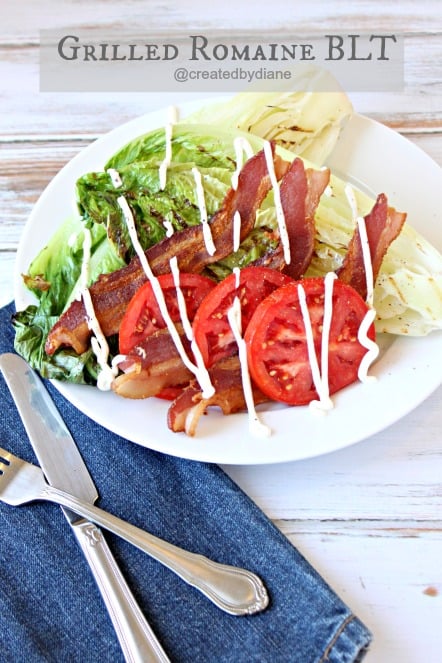 This has become one of my go-to salads.
I just LOVE BLT's.
I'm cutting back on some of the massive amounts of bread I tend to consume and eating more salads.
I like salads that fill me up, not the type that I'm hungry minutes later.
Lucky me I didn't give up BACON.
I'm not sure I could ever really give it up.
I often cook bacon one day and just reheat it on the day I'm surveying it so I don't have to smoke up the house again. Sometimes I heat up the grill and cook it on a pan outside.
There are many things I realized I can give up.
Bacon is not one of them, neither is chocolate. You're with me, right?
Most things can probably be given up, both those two, well they are real keepers!
Grilled Romaine BLT
Ingredients
1 romaine heart
1 medium sliced tomato
3 slices cooked bacon
2 tablespoons Greek Yogurt
2 tablespoons dry buttermilk
salt and pepper
Instructions
Cut romaine in half lengthwise (leaving the core in tact)
Heat grill pan, or grill.
Lightly oil the grill pan if needed.
Grill the romaine cut side down for 3-5 minutes.
Until it starts to char.
Remove romaine and place on serving plate.
Add bacon and yogurt.
Mix yogurt with dry buttermilk and add salt and pepper.
Drizzle dressing onto salad.
I just LOVE this dressing. I love that I can really put a lot on if I'm in the mood for smothering the salad or that just a drizzle will do because of the delicious flavor.
If I don't have any whole pieces of bacon, I improvise and use crumbled bacon that I buy at the popular warehouse stores. I simply heat them up in the microwave, they taste really good that way!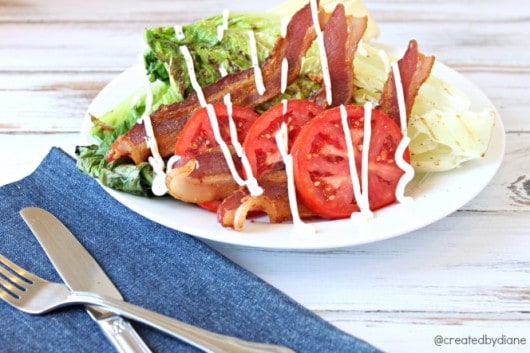 So I can take eating more salads as long as I can have bacon on them!
For more BACON yumminess take a look at,
Buttermilk Pancake Cupcakes with Maple Frosting
Stuffed Jalapeño Bread with Bacon
Cornbread Tamale Bites with Jalapeño Cheese and Bacon