Chocolate Pumpkin Cupcakes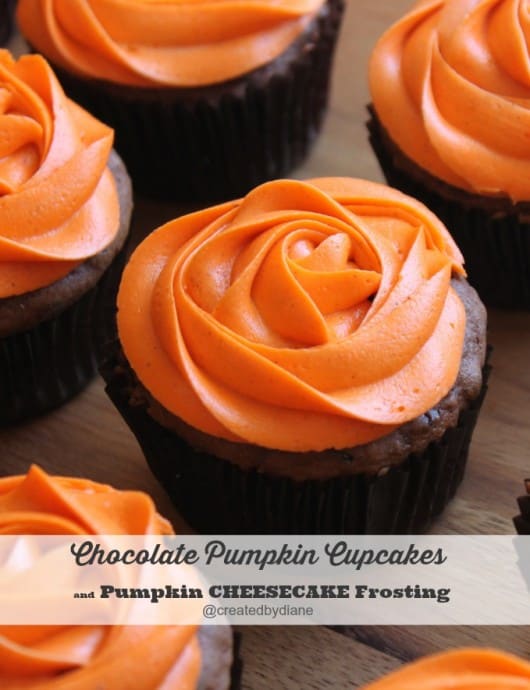 For the chocolate lover and pie crust struggler, these Chocolate Pumpkin Cupcakes with Pumpkin Cheesecake Frosting may be the perfect solution for Thanksgiving dessert.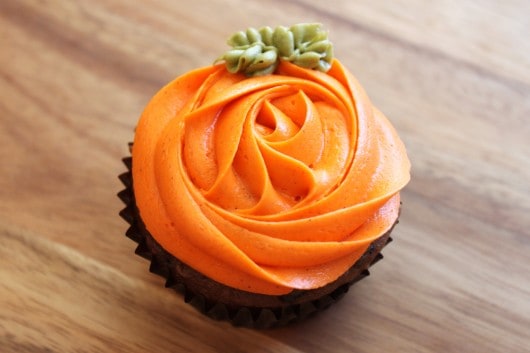 I'm so thankful this time of year for so many things.
I may not pay attention to the tiny things at all times,
but at this time of year I'm reminded of all my blessings.
It's a wonderful time of year.
Giving is fulfilling.
I prefer to do or make something rather than buy something, but if buying something is the best option I try to choose something I would like to receive.
I don't look forward to shopping, crowds or hectic traveling.
I do look forward to giving, sharing, and spending time with people who mean something to me.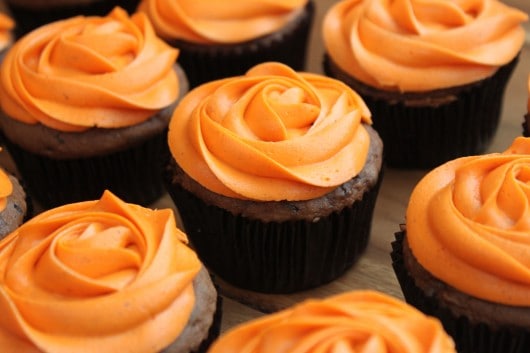 Some days I drop off cupcakes to friend who live close by,
Most days I wish I could share with everyone I'm thinking of.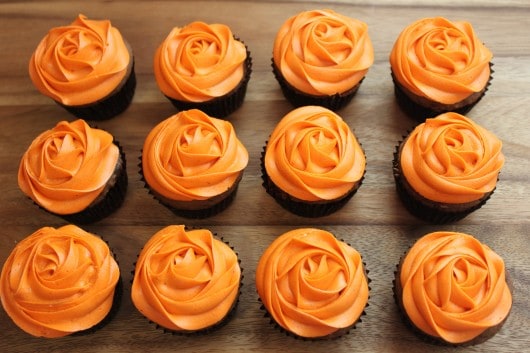 Pumpkin and chocolate have a really warm flavor combination together and top it with a the flavor of pumpkin cheesecake, oh yes…..these are a true gift!
Chocolate Pumpkin Cupcakes
Ingredients
1 box German Chocolate Cake mix
3 eggs
1/2 cup butter
1 cup pumpkin puree
1 1/4 cups milk
2 teaspoons pumpkin pie spice
1 cup mini chocolate chips
Instructions
Place cake mix, room temperature butter, eggs and milk, pumpkin and pumpkin pie spice into mixing bowl and mix on medium speed for two minutes, scrape down sides after one minute. Stir in chocolate chips. Use a large scoop (3 Tablespoon size) it helps them to all come out in a uniform shape, into your lined cupcake pans. Bake at 325 degrees for 20 minutes. Let cool completely.
Pumpkin Cheesecake Frosting
Ingredients
4 oz cream cheese
1/2 cup butter
5 cups powdered sugar
2 teaspoons pumpkin pie spice
3 Tablespoons milk
(optional) 1 teaspoon cream cheese extract or 6 drops cheesecake flavor
Instructions
Beat cream cheese and sugar then add powdered sugar pumpkin pie spice and milk and mix until fully blended together and fluffy.
Color you frosting. I used 6 drops Americolor Orange. I had removed 4 Tablespoons frosting for the green stems and mixed two drops of Americolor Avocado for the green stems.
I placed the orange frosting in a piping bag with a #2D tip and started piping the rose shape in the center and swirled the frosting about two times around the center to create the rose. The green stems I applies with tip #66.
My mom always said edible gifts were best, I think she was right!
Do you have a favorite go to dish or dessert that you make for giving? I'd love to hear about it.
Last week I made Baked Ziti as a thank you to some friends. I made 5 times my usual recipe and it worked out so well, it really is barely any more work to make multiplies of that recipe as it is to make one batch. I was finished and cleaned up within 2 hours. The meal was enjoyed by all! 
Here is a link to my video showing how to frost the rose on a cupcake.
Here I posted Chocolate Pumpkin Cut Out Cookies if you like Chocolate and Pumpkin like I do, these were irresistible!