Zucchini Pizza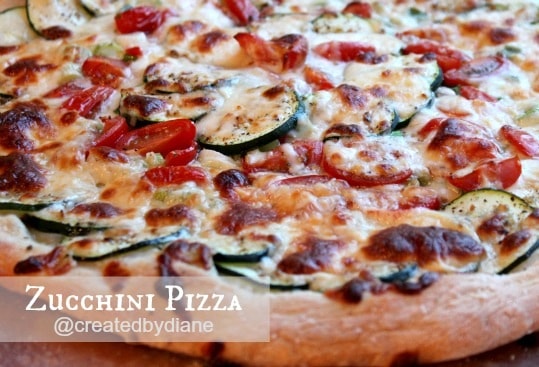 YIPPEE!!!!
It's Friday, I just love the end of the week and as a kid that meant chances were there was going to be pizza.
Yeah, Fridays are SO great that way.
We don't always have pizza on Fridays but I really wish we did, don't you? I never get tired of pizza, the endless possibilities.
Recently I shared Spaghetti and Meatball Pizza don't miss that one!
Oh and there is lots of others, Green Chile Chicken Pizza, Jalapeño Pizza with Avocado, Buffalo Chicken Pizza, even Dessert Pizza and that link has 4 other pizzas I've made for you to see also.
LOTS and LOTS of options.
If  you grow zucchini this is a really quick and easy way to use some zucchini. Oh how I wish I had a garden like when I was young and veggies exploding from it!
So get your dough ready to make some pizza!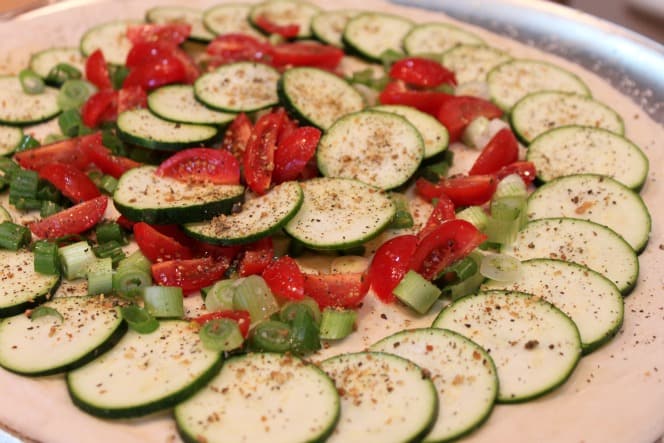 I put the cheese top of the zucchini, so that they would be able to cook without getting too dried out. If they were on top they may have. Yes I think a cheese "blanket" should go on top of everything….just imagine how cozy and comfy things would be. It sure works on hot sandwiches.
Zucchini Pizza
Ingredients
14 oz pizza dough (this is a little smaller than the pizza dough I normally use, so adjust ingredients accordingly if using 16-18 oz dough)
2 medium zucchini, sliced
10 grape tomatoes, quartered
2 scallions, sliced
1 cups mozzarella cheese, grated
2 teaspoons Weber kick 'n chicken seasoning
olive oil
corn meal
Instructions
Place cornmeal on pizza pan
Stretch dough out on pan, brush with olive oil about a tablespoon.
place zucchini slices on pizza in a large and small ring and then place tomatoes and scallions in between them and some in the center.
Sprinkle with seasoning and top with cheese.
Bake at 450 degrees for 12-15 minutes or until golden.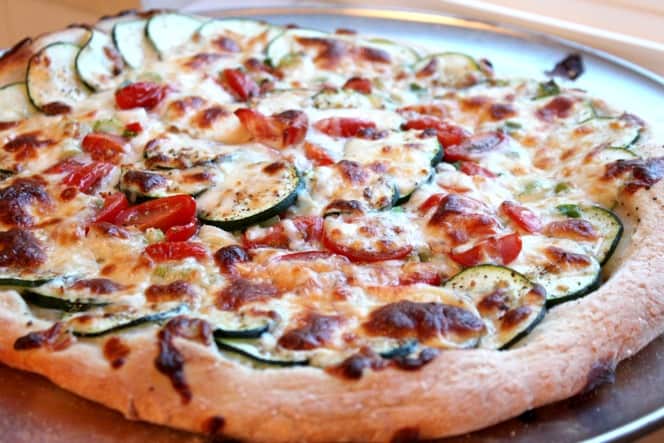 Hope you have a great weekend!