Easy Chocolate Peanut Butter Whoopie Pies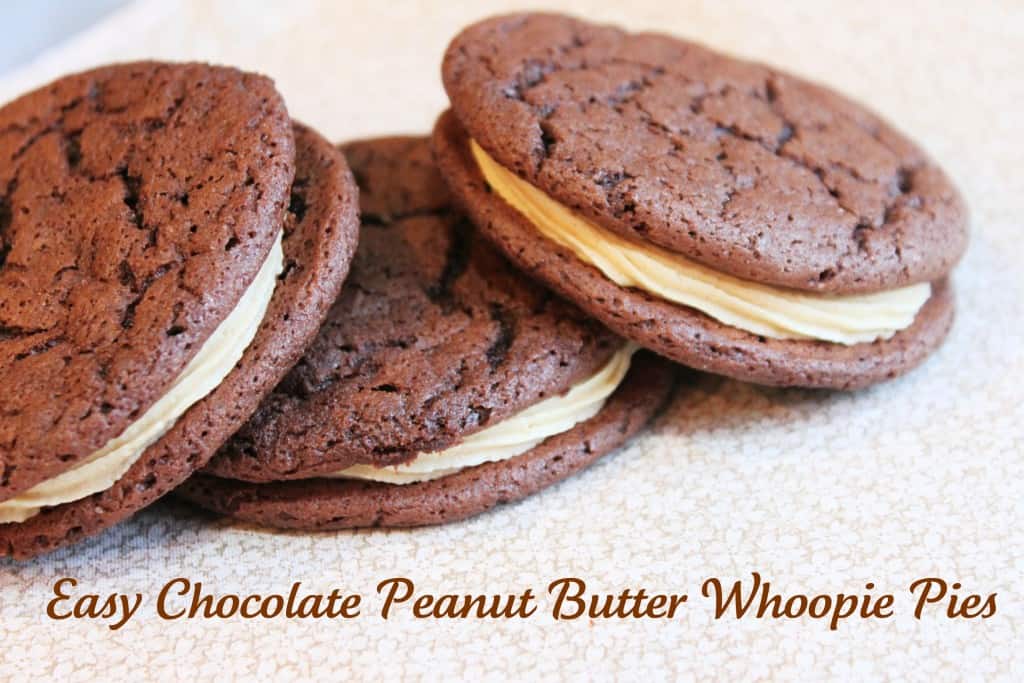 Chocolate and peanut butter are so great together, aren't they?
This kind of remind me of those oatmeal creme pies from Little Debby, but in Chocolate Peanut Butter flavor. Hmmmm…maybe Little Debbie will get wind of these and start making them too. Come on…..Chocolate and Peanut Butter, they just go so well together! Maybe this isn't technically a whoopie pie, but it does say that whoopie pies may be considered cookies, pies, or cakes and so I think this counts, but call them creme pies if you must.
I love how fast and easy cake mixes can be made into lots of great treats, so these are Whoopie Pies the Easy Way!
Some days I love easy…..some days are hectic and the thought of measuring may just put you over the top, these are perfect for those days. You've had those days, right? Well, a few days ago that is what my day was all about.It didn't seem to go as planned, I cut my index finger with a razor blade, ouch and you never realize how difficult some things are to do with a band-aid on until of course you are forced to do them. I also dropped my phone, and this time it wasn't like all the other times when everything was alright. This time I shattered the screen well, let's just say it wasn't my best day. Well, maybe it's just me. Rush, rush, rush the day is flying by and you realize you needed to make some really great cookie to bring…who knows where….well you know, it's on your calendar along with 500 other tasks for that same day. These are just the thing for "those" days, or any day you'd like to take it easy. That is what I'm going to start doing, take it easy. Who's with me? Let's make 2012 the "Take it Easy Year". (how hard are you laughing? Me take it easy….for a whole year, don't think it will happen, but it's worth trying)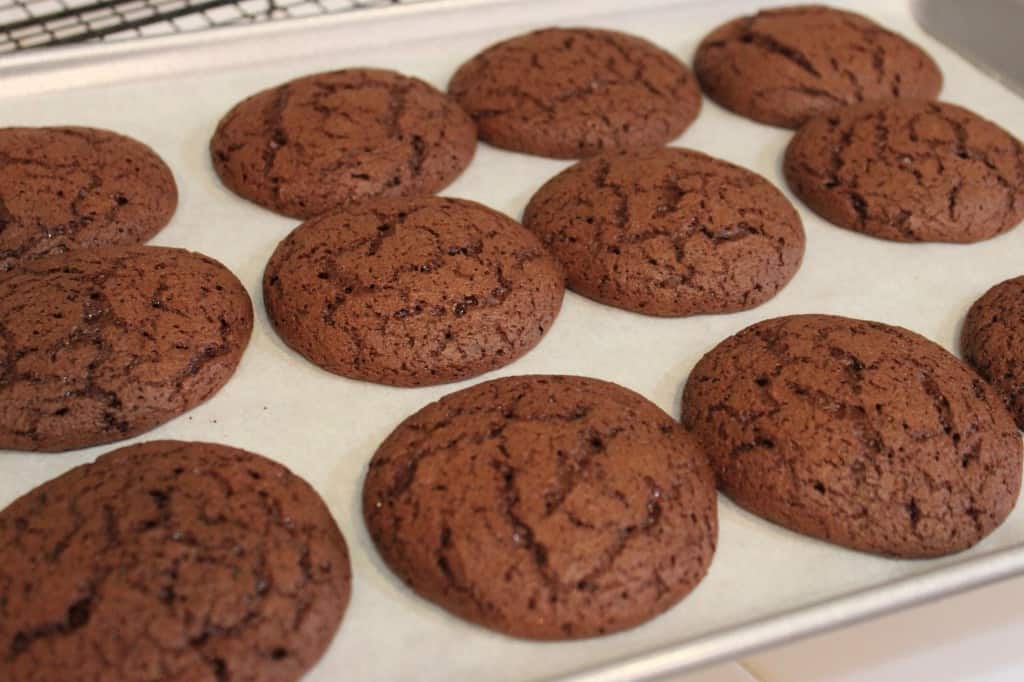 I was in such a hurry, I didn't even space them out enough, but luckily you can cut them apart when they are warm and it won't matter, well at least it didn't matter to me there were still 499 things left to do!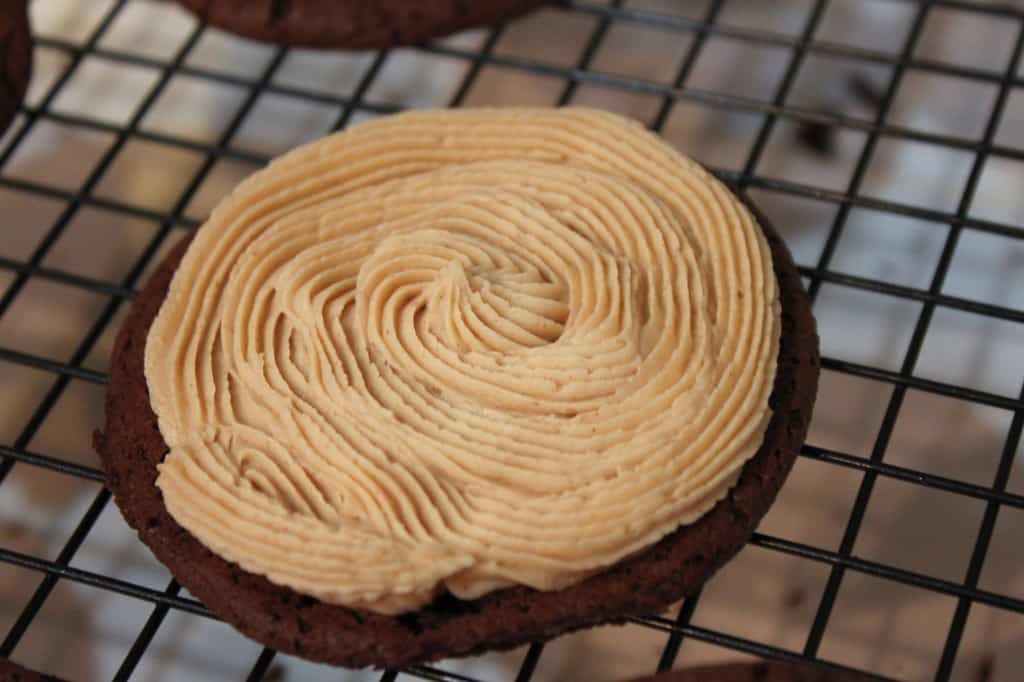 Fill a piping bag and swirl the filling onto the cooled cookies.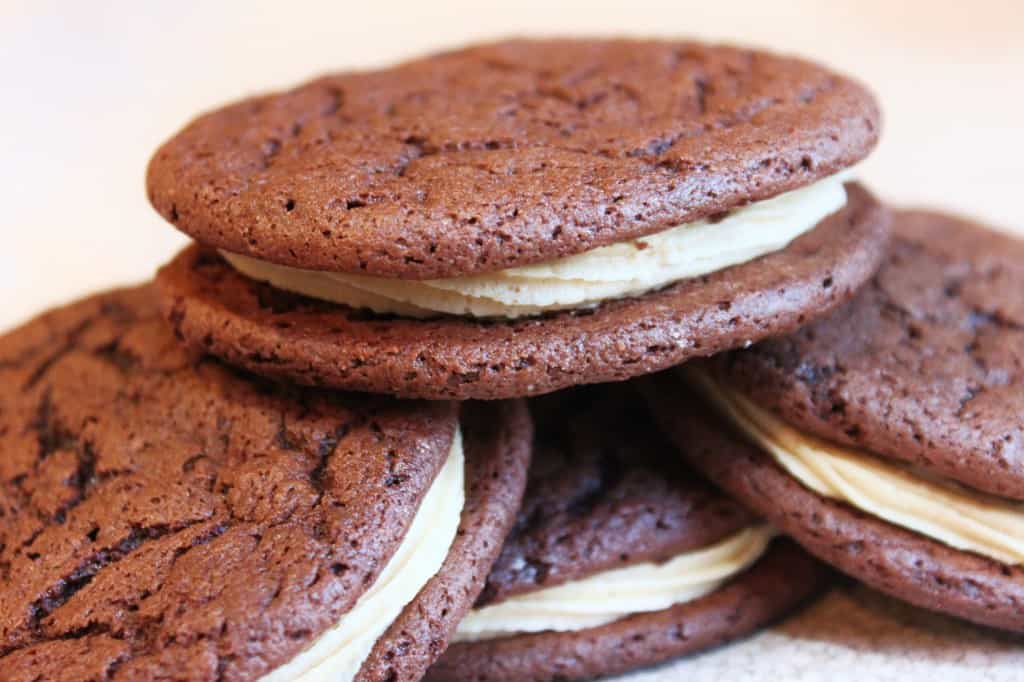 I made 12 whoopie pies, I may have eaten a few so might count may be off. It was for quality control reasons would consume them when warm of course.

Easy Chocolate Peanut Butter Whoopie Pies
Ingredients
Chocolate Peanut Butter Whoopie Pies
1 box chocolate cake mix
(and ingredients on package minus the water)
1/2 cup oil
3 eggs
Instructions
Mix all three ingredients together and place on cookie sheet by two tablespoons sizes balls. Bake at 350 for 10-15 minutes, depending on how crispy you'd like them. I baked my for 12 minutes, a little crispy on the outside and chewy on the inside, perfect for whoopie pies.
Peanut Butter Filling for Whoopie Pies
Ingredients
1/2 cup peanut butter
3 tablespoons butter
2 cups powdered sugar
3 tablespoons milk
Instructions
Beat peanut butter and butter together then add powdered sugar and milk and mix until creamy.
Fill a piping bag and swirl the filling onto the cooled cookies.
If you like to "take it easy" here are three other easy and yummy chocolaty treats.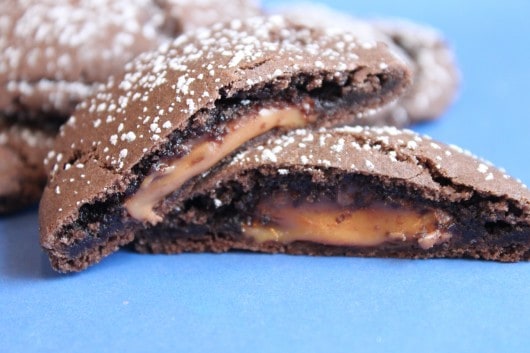 Easy Caramel Filled Chocolate Cookies
easy chocolate peanut butter treat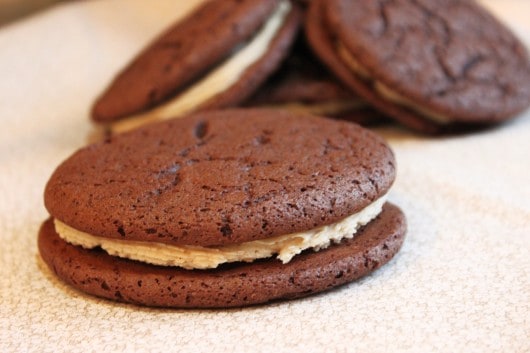 So when your day gets hectic, TAKE IT EASY and make some of these!