Chicken with Prosciutto in Lemon Sauce with Capers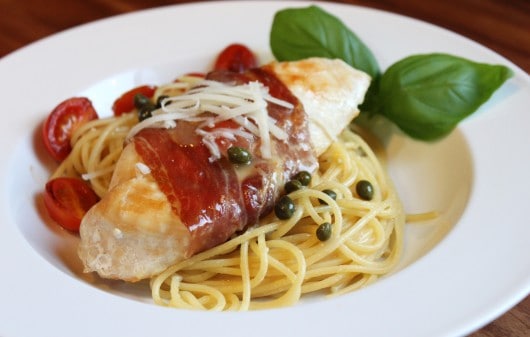 Chicken with Prosciutto in a Lemon Sauce with Capers
I love making sauce for all types of meals. Whether it's to top a cheesecake with a delicious blueberry sauce, or a clam sauce over pasta. Plain and simple I love sauce. Don't even get me started on how delicious hot fudge sauce is on ice cream.
One key ingredient in making sauces for chicken dishes is chicken broth. But I truly love the rich taste of stock. Knorr just came out with Homestyle Stocks
These are going to come in real handy since I love soup and as soon as it cools down here I'm sure I will be whipping up some new soups using these.
Chicken Wrapped in Proscuitto
4-6 chicken boneless skinless chicken breasts
1 package Columbus Prosciutto
1/2 cup grape tomatoes
Place one piece of Prosciutto around each piece of chicken, if you chicken breast are too thick, filet them so they cook evenly.
While you are heating a skillet to cook chicken, begin boiling water for pasta and cook as directed.
In a hot skillet place thin sliced chicken breasts (filet them if they are too thick so they cook evenly) wrapped in Prosciutto with a tablespoon olive oil, turn over to cook evenly on both sides, then place a lid on it for a few minutes until the chicken is cooked thoroughly. Remove lid and place grape tomatoes you've sliced in half in pan and toss until heated.
Lemon Chicken Sauce with Capers
3 1/2 cups water
1 container of Knorr Homestyle Stock
1 lemon (juiced)
1 1/2 Tablespoon corn starch
1/4 cup capers
Combine 1/2 cup cold water with corn starch add to the remaining 3 cups of water with the container of Knorr Homestyle Stock. Heat and stir until thickened, add capers.
Serve chicken over spaghetti with sauce and tomatoes, garnish with fresh basil and grated Parmesan or Romano Cheese.
This sauce was so rich and delicious tasting made with the stock, I can't wait to use Knorr's Stocks in more recipes.

*This project has been compensated as part of a social shopper insights study for collectivebias all opinions are my own. #NewKnorrStock