Goat Cheese and Balsamic Pizza.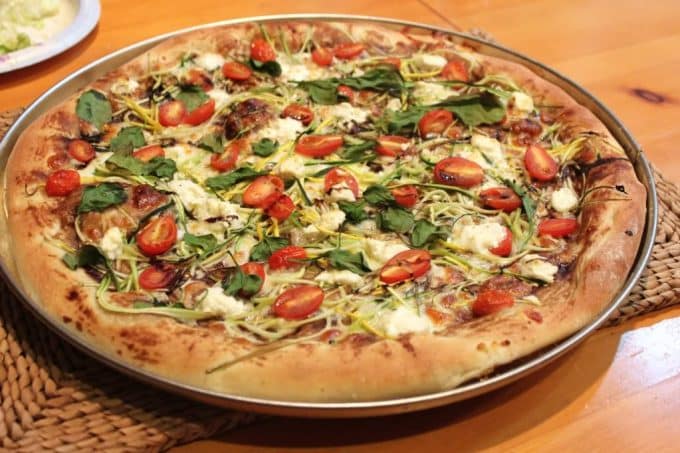 Sounds more like a salad than a pizza, but believe me this is no salad!
The combination of goat cheese, balsamic, veggies on a pizza is so delicious. It's a little surprising to even me considering I really love a great plain pie, but a girl has got to have options, right?
I love goat cheese!
This brand is available at my Costco and it's a great value.
I tossed the pizza dough on top of some cornmeal on my pizza baking pan and began to load it up. Sometimes I make the dough, sometimes I buy it. My local market has semolina dough and it's delicious and light and cooks up nice and crispy.
I added balsamic cream first, then tossed on some dried oregano. Next, I added a light layer of mozzarella cheese then, Julienned zucchini and squash, sliced grape tomatoes, lots of crumbled goat cheese, then a bit more balsamic cream and almost forgot to put on the spinach, I did remember and I'm so glad. It was the perfect finishing touch.
I love this Balsamic Cream! I liked to a couple places to order it in this post. It's thick and delicious, don't know what I did before finding it. Oh yea, I know….had runny balsamic on everything. It's also great on sandwiches!
My kids don't prefer my pizza, which only means one thing….
more for ME!
This one is for them:
half cheese, half pepperoni.
Pizza is a big favorite at our house!
I bake my pizza at 450 degrees for about 15-20 minutes.