Pancake CAKE,
ok… this may just be the fastest way to make a cake.
It's full of fun and fruity flavor.
Bananas, strawberries, topped with icing and yes BACON!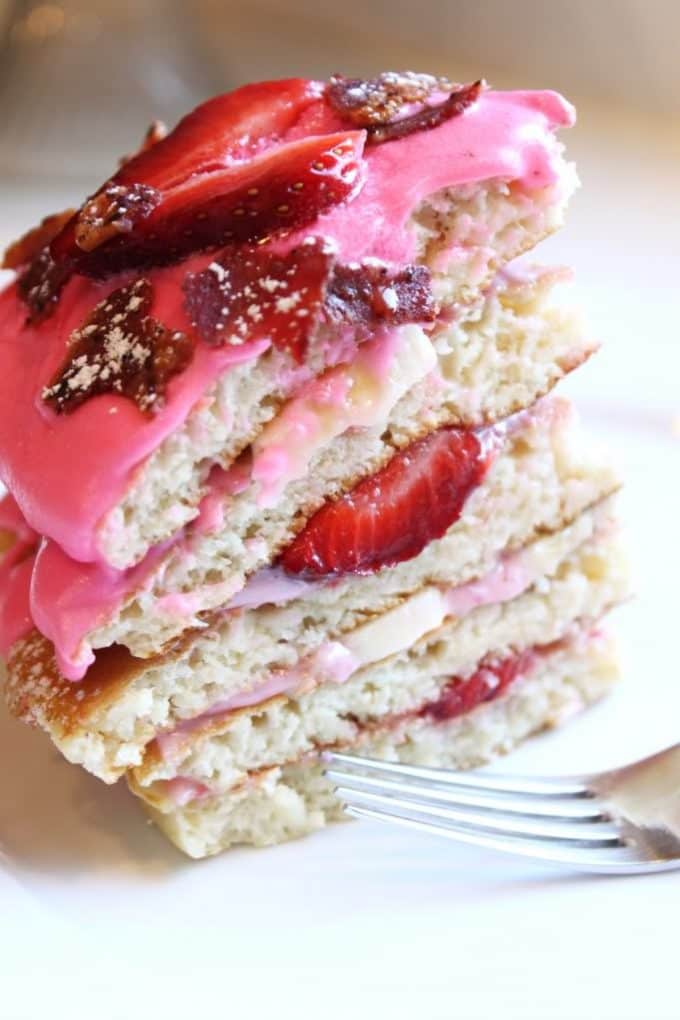 If you like pancakes…and fruit….you will really want a piece of this fruit-filled pancake cake.
You heard right, I made a pancake cake and what a fun cake it was to make.
Lots of layers of fruit filled goodness!
My family really enjoys pancakes and I make them often, I've posted my favorite pancake recipe.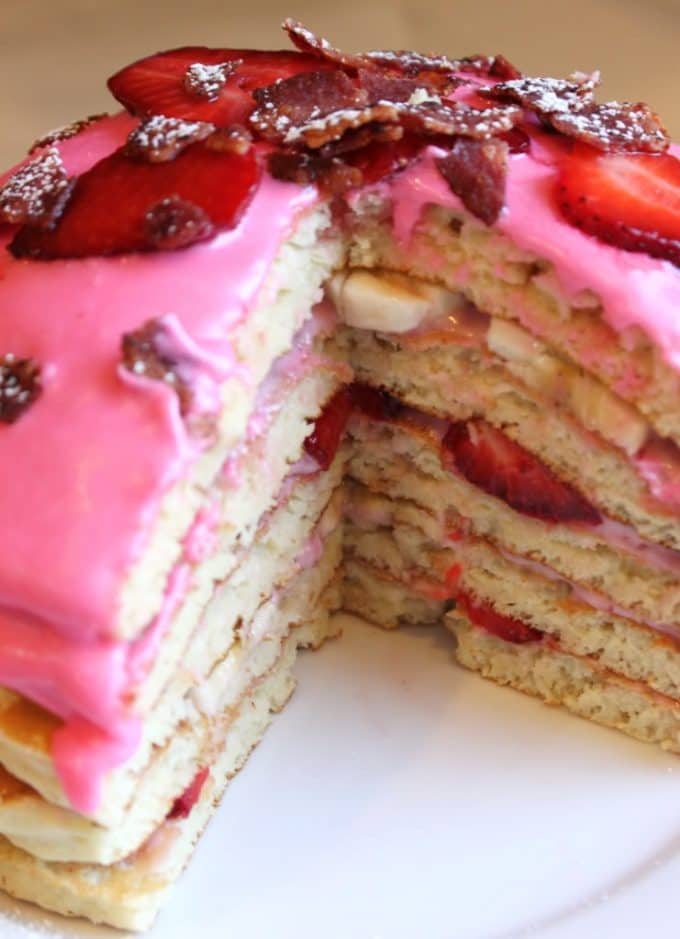 I thought since we enjoy pancakes for breakfast and sometimes for dinner, you know "Brinner" breakfast for dinner, that it would be fun to make a pancake cake dessert (but you can eat it anytime!)
To cook the pancakes I poured the batter using a 1/2 cup measuring cup for each pancake. My recipe made 6 pancakes this size, I used 5 to make the pancake cake and ate the other one 🙂 I was hungry and just couldn't wait!
In between the layer I used leftover strawberry cream cheese frosting that I used to make Strawberry-cupcakes, fresh sliced strawberries,
then a bit more frosting and sliced banana.
Alternating layers until I got to the top
Now for the top
I thought a pretty pink top would be just perfect.
I made icing with 2 tablespoons butter, 2 cups powdered sugar 2 tablespoons milk, 1 teaspoon vanilla extract, pink food coloring.
And no pancake would be complete without being topped off with some crisp turkey bacon.
What a fun cake!
Pancake-Cake that is.
I can see it now pancake cakes will be served everywhere…..well okay maybe not everywhere, but they will be served in my kitchen again!
Are you on twitter or facebook? I am, follow me there to see what I'm stirrin' up next!