If you like sweet potatoes you're going to love this sweet potato with pecans and brown sugar casserole. It's a one-step recipe, no need to pre-cook the sweet potatoes which makes it a real winner!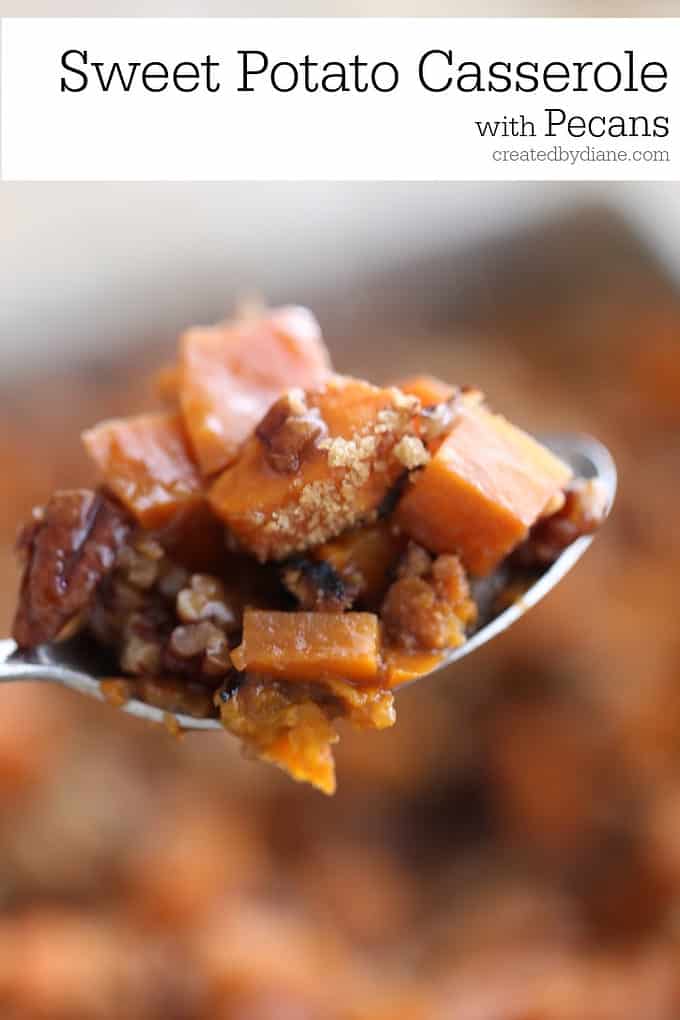 Everyone will be diving into the sweet potato casserole with brown sugar topping!
Sweet potatoes are extremely popular around Thanksgiving this casserole is perfect. But there is no need to wait until Fall rolls around to enjoy it. This is great any time. A great side dish to ham, pork chops, and even a great side for grilled chicken.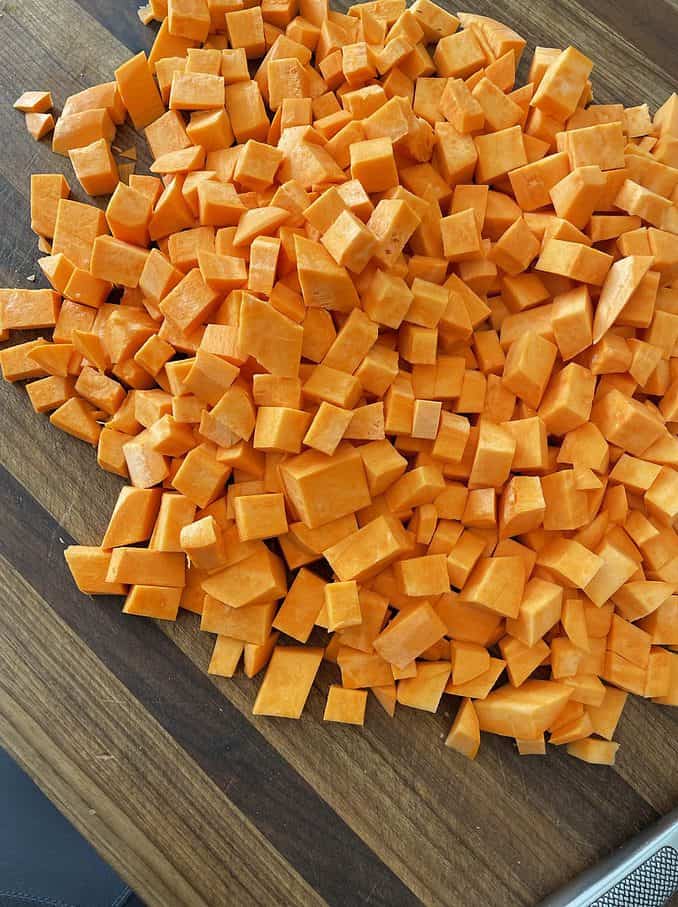 Why is this the BEST Sweet Potato Casserole?  
As soon as everyone took their first bite, it was unanimous… they loved it. No matter if they prefer plain sweet potatoes or the syrupy type piled with marshmallows they rated this TOPS! Everyone said they want it again and prefer it to the syrupy sweet marshmallow version. But the good news is you could always add marshmallows to 1/2 the dish and broil for 2 minutes if you have some who just have to have marshmallows.
This has been put on the new rotation of side dishes for holiday meals. If that isn't the most amazing response I don't know what is. I've made it again and again and it's a winner every time. Great with beef, turkey, chicken, and ham, so delicious and easy to make year round no matter what's being served on the dinner table.
This sweet potato casserole is dairy free and can easily be made gluten-free.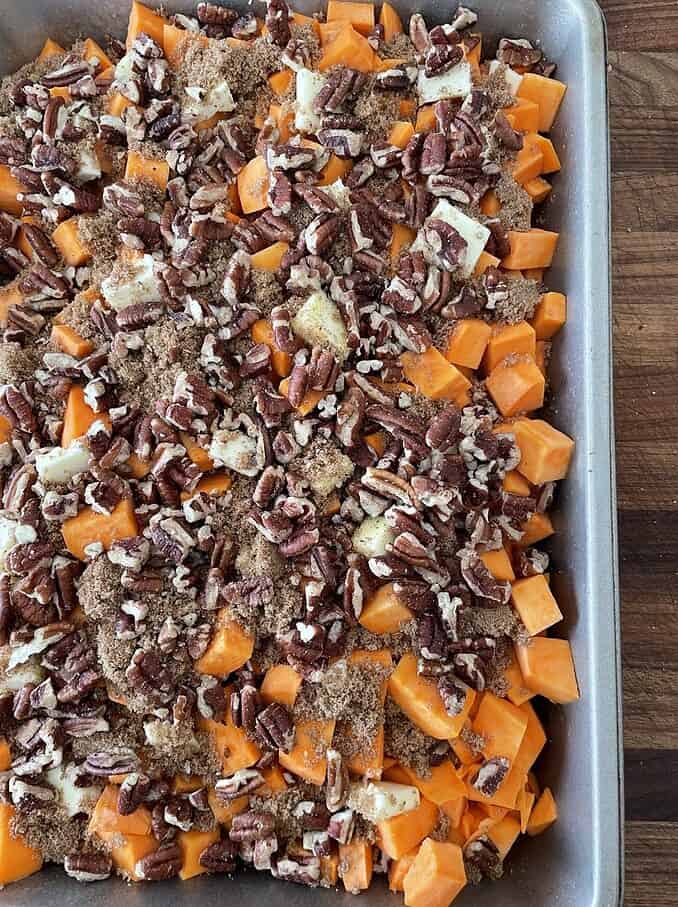 Do I have to cook the sweet potatoes fi
rst?
Not with this dish, there is no need to precook the sweet potatoes before making this dish. You can choose to peel the sweet potatoes or leave the skin on. Just chop the sweet potatoes into 1″ pieces and place them into the pan. I've made this recipe many times and tried different steps: precooking the sweet potatoes and then scooping them out of the skins- didn't love the texture of the final dish, a bit mushy. I've peeled, diced, and cooked the potatoes, then put the topping on and crisp up the top, and really decided that cooking the sweet potatoes and topping at once was the best, most efficient way to make the dish with the best texture and flavor.
What other topping for this brown sugar
pecan sweet potato casserole?
This brown sugar topping for sweet potatoes is just perfect! It's crunchy, sweet, and delicious, but there are other options. If you'd like to make this without pecans/nuts try oatmeal, pepitas (shelled pumpkin seeds), or chopped pretzels for a savory crunch topping.
Can this dish be prepared ahead of time for h
oliday meals?
Yes, you can prepare the whole dish, place foil on top, and bake it the next day, making it the perfect side dish when planning a large meal.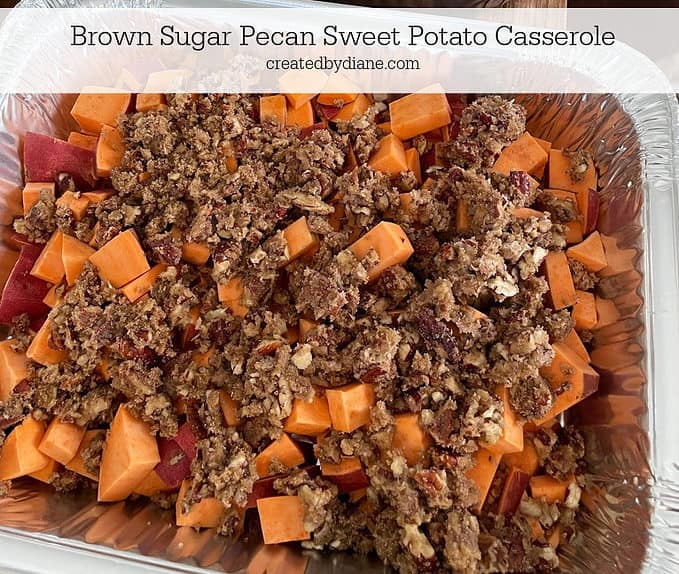 Can I use Canned Yams?
Yes, just drain them, cut them into pieces, and make the topping.
Can this be made gluten-free?
Yes, use almond flour for the topping in place of all-purpose flour for a Gluten Free Sweet Potato Casserole.

MORE holiday recipes: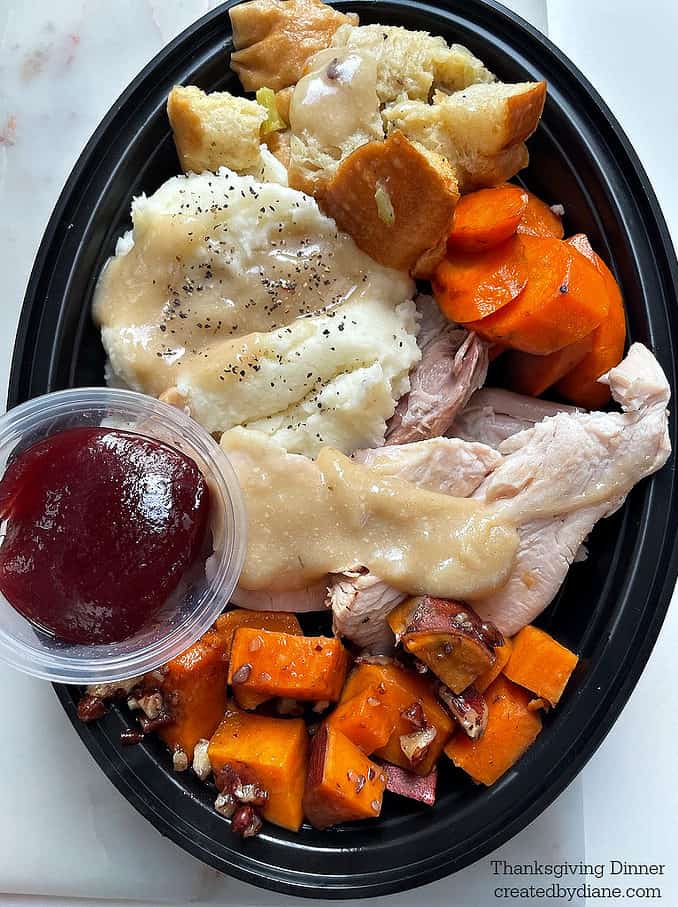 My family loves the whole Thanksgiving meal, so I make it a few times a year. Everyone loves opening the refrigerator to find the whole meal made and ready to go for lunch, or just heat and eat dinners! 
You could also make the meal the day ahead and have time to clean up and prep out the meals for easy re-heating if you want to keep it casual on the holiday. These meals "fly" out of the fridge!
Sweet Potato Casserole with Pecans
A great one-step sweet potato casserole, no pre-cooking, with a pecan crumble topping. The best sweet potato casserole dish.
Author:
Diane Schmidt, Created by Diane
Recipe type:
Vegetable, Side dish, Holiday
Ingredients
4 lbs sweet potatoes (4 large sweet potatoes) peel and dice into 1" pieces (you can leave the skin on)
4T butter, diced into small pieces
1/2 teaspoon cinnamon
1/4- 1/2 teaspoon nutmeg
1/2 cup brown sugar
1/2 cup all-purpose flour
1 cup chopped pecans (4 oz)
additional items to add in
1/2 cup coconut
marshmallows for the die-hard marshmallow lovers (can be placed on 1/2 or small portion)
Instructions
Preheat oven to 375°, and have a 13x9 pan ready.
Wash, peel, and dice sweet potatoes.
Place them into the pan.
Place the butter, cinnamon, nutmeg, brown sugar, flour, and pecans into a bowl and mix well.
Place topping over sweet potatoes. (or simply layer the butter then topping, and pecans)
Cover with foil.
Bake at 375° for 30-45 minutes or until sweet potatoes are tender when tested with a knife. You can keep them more firm or more soft depending on preference. I like them to hold the shape without being mushy, timing will also depend on how large you cut the pieces.
Continue to bake for 15 minutes uncovered, to crisp the topping.
*If cooking it straight from the fridge cook for 1 hour and crisp the last few minutes.
You can bake the sweet potatoes and remove them from th oven with the foil on, adn put it back in the oven to crisp the top a bit later if you need the oven space for other items.