Green goddess dressing has been popular for many years, fresh herbs are the key to this dressing, and the delicious green color is irresistible.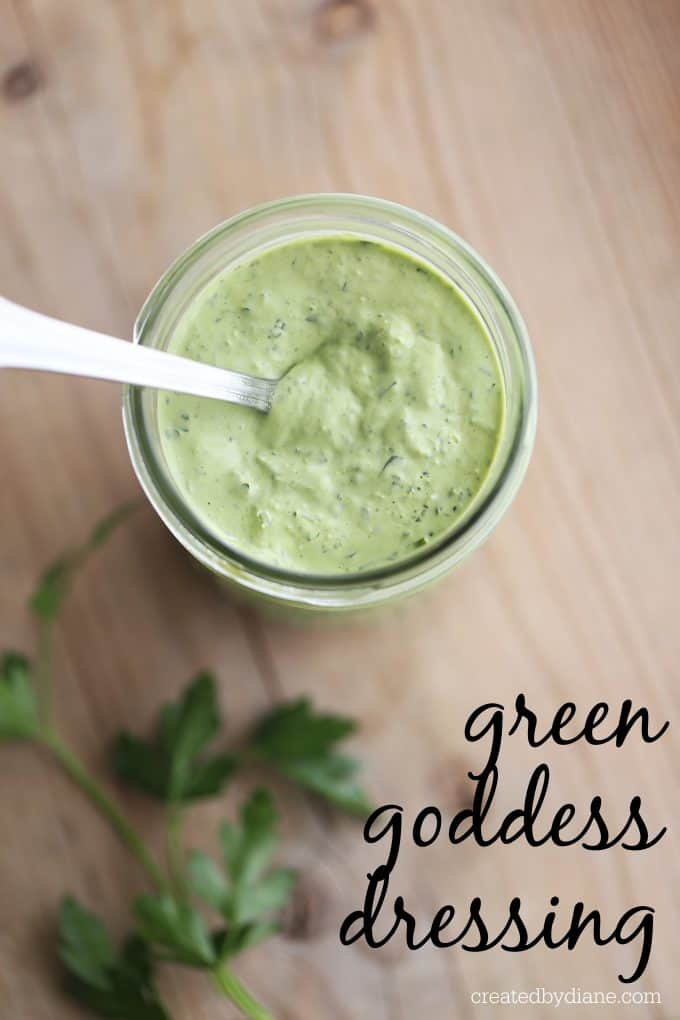 Creamy and delicious, this recipe can be used in various ways, including as a dip and a dressing!
I love this salad dressing. It's herbaceous and creamy and is bursting with so much flavor. And when I make this dressing, I make a lot because it gets eaten quickly. But before I go into how to make this recipe, the history of this pistachio-colored dip has its own story to tell…
Green Goddess dressing has its origins in San Francisco California. And more specifically is connected to The Palace Hotel. This hotel housed celebrities and the elite of the day back in the 1920s. This included George Arliss, a popular actor, and star in the 1920s play The Green Goddess. While staying at the hotel. The head chef made up this dressing to serve Arliss, and the rest is history – Delicious history!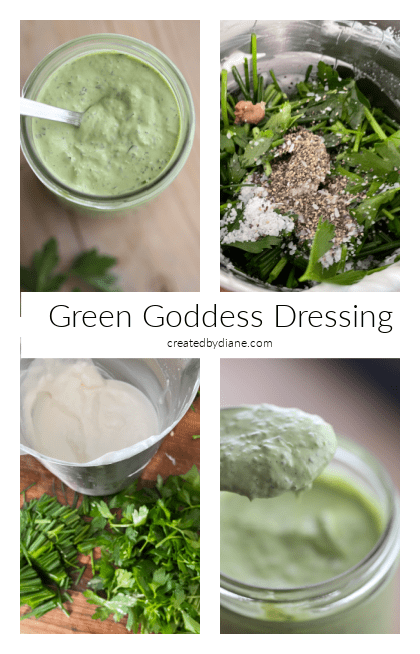 The best part of this recipe is there are quite a few ways to modify it to your exact taste. You can add in other veggies such as diced cucumbers and grape tomatoes. Or for a bit more tanginess, you can add in more capers. You can substitute the mayo for more sour cream, or even yogurt. Add your fresh herbs, which are key to this recipe, and you are on your way to a delicious and satisfying experience – salad and veggies never tasted so good!
And if you're like me, you want options. I usually have a few different salad dressings and dips rotating in my fridge at once. This helps me get all my veggies in and having various dips at hand, well, it makes for a great quick snack. Some of my favorites are below!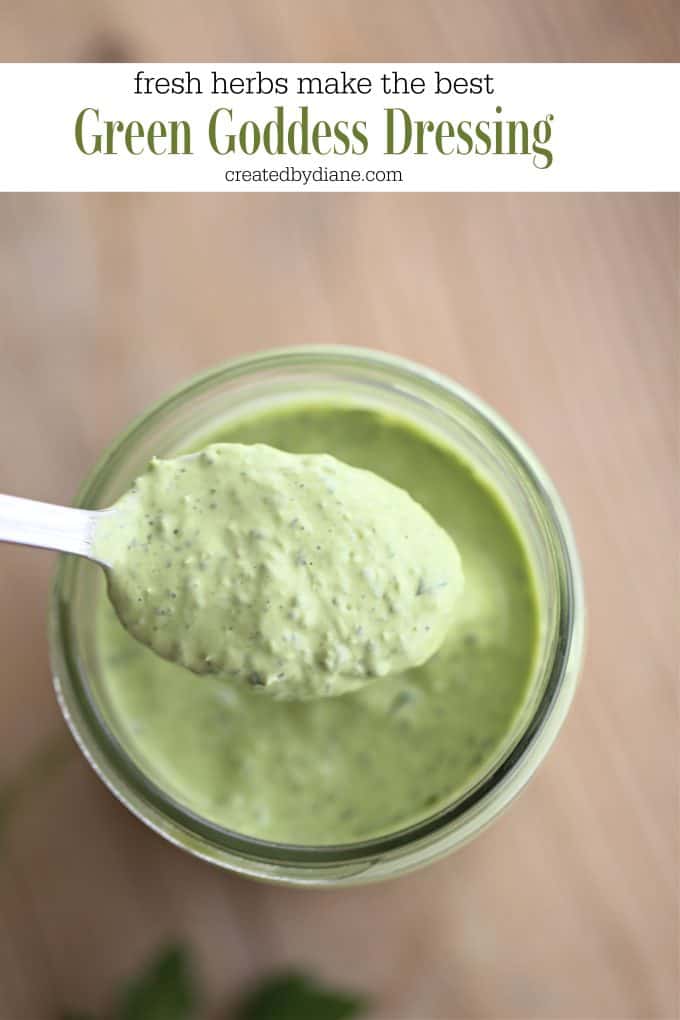 Avocado Onion Dip

– This is another great one to have on hand, and it's refreshing and screams summertime fun. The avocado makes it creamy and adds a hefty dose of nutrition and healthy fats.

Crab Rangoon Dip

– This is a popular dip, and for good reason. Once again, it's creamy and savory. But it's the lemon juice that stands out in this one, adding a little bit of tang that breaks up any heaviness of this dip. Oh, and it has crab – need I say more?

Homemade Buttermilk Ranch

– I have to put a classic on here. At the end of the day, sometimes there's nothing better than ranch!
But if you ask me, Green Goddess stands above almost any other dip or dressing. I'm going to walk you through how to make it and soon you'll be keeping some on hand for snacks as well! And the best part, it's really simple and quick.
In the bowl of a food processor, or in a tall glass with an immersion blender, add all the ingredients and mix until smooth.
From here, you can begin to adjust the flavor to your liking – add more herbs, or crispy cucumbers. If you add more lemon juice, you'll get a tangier dressing, or if you're a garlic lover like me, you'll want to add more of it.
Once done, dip your veggies, or pour over a salad and enjoy!
Could this be used as a sauce?
Yes! In fact, it's great over chicken, or on a panini sandwich.
How long will this last in the fridge?
Because it's dairy, it will keep for a week to two weeks in an airtight container.
Are the anchovies necessary?
I know it's an ingredient that a lot of people stick their noses up at. However, given a chance, anchovies add an umami flavor. Think of it like parmesan or truffles – It's not fishy at all when added and emulsified in sauces or dressings. Give it a try! or a few drops of Worstershire sauce.
Green Goddess Dressing
a creamy and delicious salad dressing and vegetable dip you'll make again and again, its fresh flavors are irresistible.
Author:
Diane Schmidt, Created by Diane
Recipe type:
Salad, Dip, Dressing, Sauce
Ingredients
½ cup mayo
½ cup sour cream
1 clove fresh garlic
½ cup fresh parsley, chopped
3 tablespoon chives
2 teaspoon anchovy paste
2 tablespoons fresh lemon juice
Salt and pepper
Options
Use more sour cream, or yogurt (or any portion preferred mayo, sour cream, yogurt)
If using all sour cream or yogurt add a tablespoon of oil
for more tanginess add 1-2 tablespoons of capers
Use green onions instead of chives
diced cucumbers
sliced grape tomatoes
Use mint, parsley, tarragon, and dill (fresh herbs are key in this recipe)
Add oil instead of mayo, add more sour cream or plain yogurt
Instructions
Add the ingredients to a good processor or in a tall glass with an immersion blender and mix until smooth.
Adjust the flavor to your liking, use half mayo and half sour cream, or add in some plain yogurt or a combination of your choosing.
Use fresh herbs for the best flavor, mint, parsley, tarragon, dill, chives, and green onions.
Add in more lemon juice for a tangier dressing, and add more garlic for more garlic flavor. Add salt and pepper to taste, I prefer coarse kosher salt and coarse black pepper.