Shrimp Fried Rice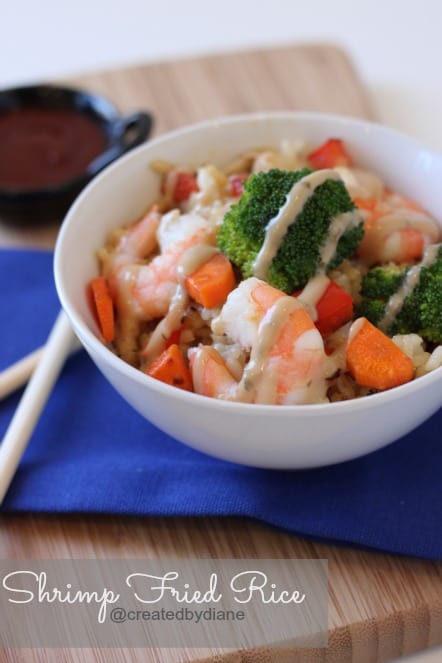 I remember when I was growing up there was one small Chinese food restaurant in our area.
The family who owned it came to know us well, we would usually get Chinese take out on Sunday night and watch the Disney Movie that was on TV.
My daughter and I were talking about how she never gets to see all the fun classics with all the "new" programs they have and how she misses seeing the princess movies and such.
We used to own a TON of the Disney movies but that was way back when they were on VHS tapes and as my kids got older they didn't seem to watch them and NOW they wish we had them again, but really they wouldn't be able to watch them since we don't have a VHS player anymore anyway.
I remember all week long they would tell you to look out for the movie on Sunday night at 7pm….
it was so much fun, we'd brew the Chinese Tea and have the crunchy noodles dipped in hot mustard and duck sauce.
Well times sure have changed.
Now they have "fast food" type of Chinese food places,
they don't have the crunchy noodles and
Disney don't have enough of their all time favorites on TV as we would like.
Yes, times have changed! And not necessarily for the better in some ways.
I would think since we could walk around and surf the internet anytime we'd like, we'd be able to see some Disney classics when we are home watching out TV with 500+ channels.
I want the Chinese food places to serve crunchy noodles, with the hot mustard and duck sauce….it's tradition after all….
and well since that isn't happening anytime soon and we are all in a hurry going from activity, to activity, to appointment and the traffic makes it take even longer,
this is the dish I now want to go home and make.
It doesn't take a lot of time and it's really YUMMY!
When I know ahead of time I will be making this, I prepare rice the day ahead of time, usually when I'm cleaning up the kitchen from dinner I put on a pot of rice, by the time I'm done cleaning up, the rice is finished and that is one less step the next day. If you forget to do it ahead of time, just begin the rice and when it's finished cooking put it on a large baking tray in a thin layer and pop it into the fridge so it gets a chance to get cold, it will cook up nicer in the fried rice and won't stick together in clumps.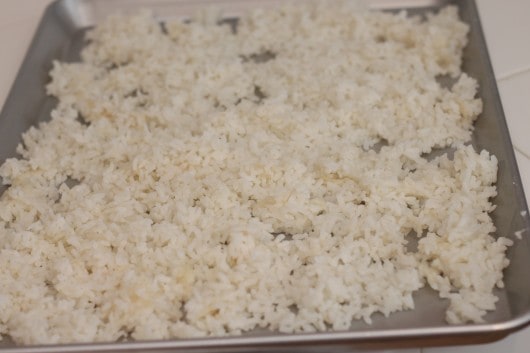 While the rice is "chilling" start the rest of the meal.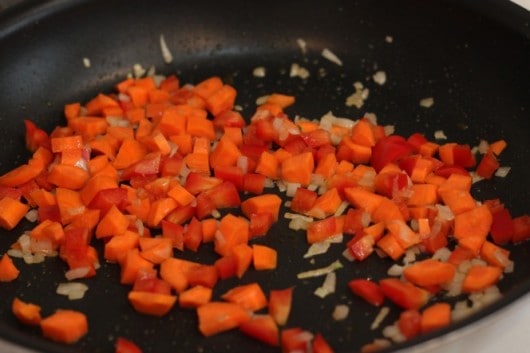 Saute onion, pepper and carrots,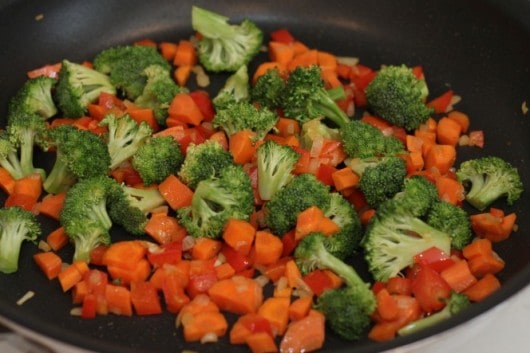 add in broccoli,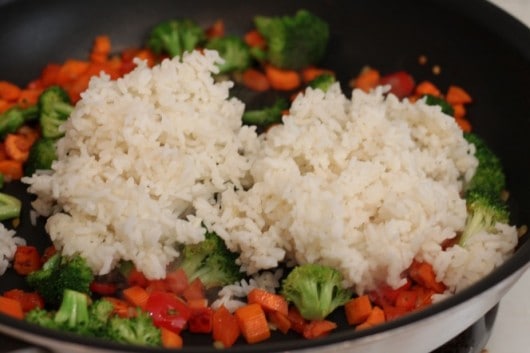 Then add in rice.
Stir in Asian Ginger Basting Sauce from Kraft Recipe Makers
Then add in your cooked shrimp.
Portion out the servings and drizzle the Creamy Teriyaki Sauce on top.
Shrimp Fried Rice
Ingredients
3 cups cooked rice (I use Cal Rose)
1/4 cup diced onion
1/2 cup red pepper
2 carrots diced
2 cups broccoli florets
1/2 lb cooked medium shrimp
3 tablespoon Asian Ginger Sauce from (Kraft Recipe Makers-Asian Fish Tacos)
drizzle Creamy Teriyaki Sauce on top
Sriracha Sauce if you like a spicy kick!
Instructions
Pre-cooked and cooled rice makes for the best fried rice. Making the rice a day ahead I find is easiest. If you make the rice when you will be preparing this dish, cook rice according to package and then place on thin tray spread out an place in refrigerator to cool rice off before adding it to the rest of the dish.
Saute onion, then add pepper, carrots and cook for a minute.
Add broccoli and stir.
Then add in rice and add Asian Ginger Sauce sauce, stir on medium-low heat.
Add in shrimp and stir.
Serve with a drizzle of creamy teriyaki sauce on top and Sriracha if you like it spicy.
Kraft Recipe Makers includes 2 sauces in each of their 9 fun flavor combinations, I'm looking forward to trying some other flavors.
What a great way to kick up weeknight meals, no more standing at the stove on busy weeknights waiting for the sauces to simmer, they've done all the hard work for you.
Each package comes with three recipes, so there is a variety of options for  you to try.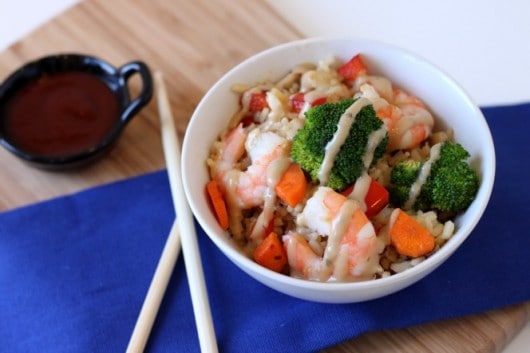 How is that for a fun weeknight meal?
I like that you can adjust how much sauce you are adding of each, you can make this dish sweeter if you like by adding more of the Teriyaki Sauce if you prefer it on the sweeter side. It can be easily adjusted for different taste options. You can add as much or as little as you'd like of each sauce.
Now that I've settled on a great Shrimp Fried Rice….I only need to find a great show on TV we can all enjoy!
*I was compensated for this post, however all opinions are my own. Here's how Kraft does it with their Recipe Makers.