Tell me I'm not the only one who finds creamy mac and cheese irresistible! Now get ready to have your mind blown… you can make mac and cheese in an instant pot, or any electric pressure cooker.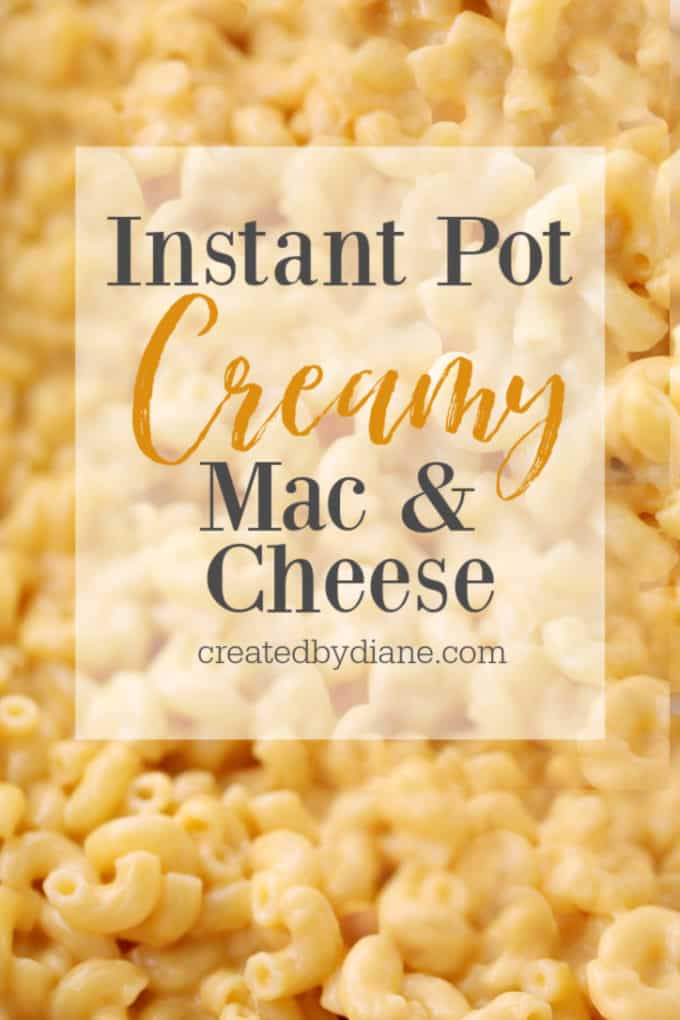 We all know (or have heard) instant pots are quick…
and if mac and cheese can be made quicker and easier it's bound to go to the top of your must-make list.
I've made pasta in my instant pot for other recipes since the results were good, I thought why not give macaroni and cheese a try. I'm so glad I did. I can't count how many times I've made it since. 
There is no waiting for the water boil, stirring, watching, stirring again, testing… you know the drill.
This is pretty much… put items in the pot, cook it, stir in the remaining ingredients and it's done. I just LOVE simple recipes.
When it comes to the flavor of mac and cheese though…
there are so many options and flavor combinations, the possibilities are endless.
Make a taco version with ground beef (or meat of choice) and taco seasoning, and add on some fun toppings, diced tomatoes, olives, some pickled jalapenos…
speaking of jalapenos, check out THIS recipe with jalapenos and bacon,
maybe you're more of a ham and cheese person, add some diced cooked ham at the end and maybe some diced tomatoes,
if you're kids like hot dogs, cook and slice some and add those in,
if you like cordon bleu use some swiss cheese and add in some cooked diced ham and check, 
top this mac and cheese with some diced apples change up some of the cheese for  blue or gorgonzola, the heat of the mac and cheese will soften them slightly making this a sweet and salty option,
if you're craving some pizza type of flavor use some mozzarella cheese and add in a 1/4 cup of tomato sauce and some pepperoni.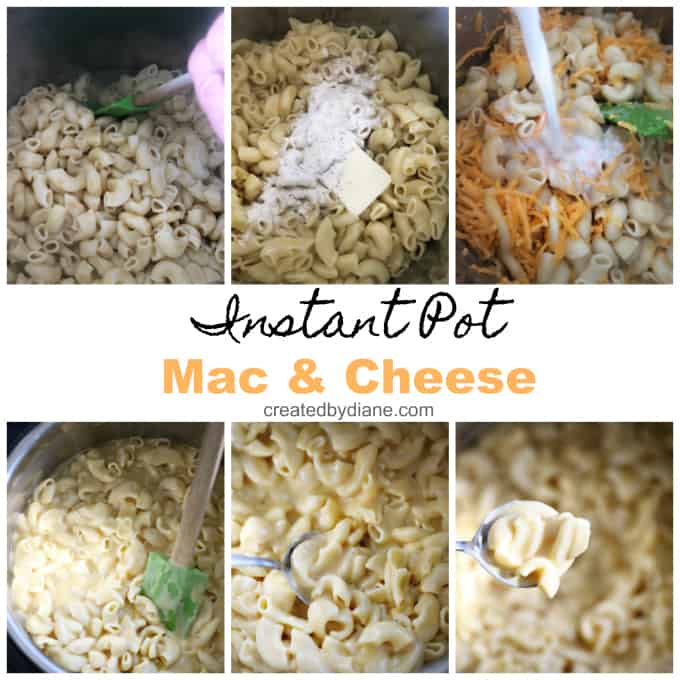 Is it necessary to add flour when adding the butter?
Yes, the flour and the butter will mix and allow the sauce to become creamy when stirred, I've tried it both ways and find it's smoother and creamier with the flour.
What other types of cheese can I use instead of cheddar?
You can use other cheeses with some cheddar or leave out the cheddar completely. Try some smoked gouda, fontina, gruyere, add in some parmesan cheese or Romano Cheese (my favorite). Add in some gorgonzola or blue cheese, but add in some other cheese with those, too much of a strong-flavored cheese will be… too much. Mix it with mozzarella cheese or Monetary Jack for a great combination.
Will cooking the pasta in the instant pot overcook the pasta?
No, just be sure to follow the instructions, by reducing the "normal" cooking time the pasta will not be overcooked. I have cooked pasta in the instant pot many times with great results, some pasta shapes cook better than others with this method, elbows, large elbows, penne all cook easily they are dece pasta and didn't overcook. 
Should I start with warm water or cold water?
I tried it both ways and the results were very similar if I started with warm water I did reduce the cooking time by 1 additional minute. Remember as the pressure cooker comes to pressure the pasta is sitting in the water, so warm water will soften the edges of the pasta in the time it takes for the water to boil. 

How should I reheat any leftovers?
Place a small amount of milk with the mac and cheese and reheat it in the microwave at 30-second intervals stirring in between until hot, the same goes for cooking it on the stove or in the oven. A small amount of milk will help keep the sauce creamy, heat it slowly for the best results.
If you're looking for a stovetop cooking recipe for Creamy Mac and Cheese take a look HERE.

Instant Pot Creamy Mac and Cheese
A creamy mac and cheese recipe made in an electric pressure cooker, quick, easy, and delicious.
Author:
Diane Schmidt Created by Diane
Ingredients
1 lb elbow pasta
1/2 teaspoon salt
1 tablespoon butter
1 tablespoon flour
2 cups whole milk
2 cups grated cheese (you can add up to a cup more cheese if desired)
Add salt and pepper to taste and a dash of cayenne pepper.
Instructions
Place the pasta in the pot of the instant pot and cover it with water.
Timing: Read the timing on the package of pasta, mine said 7-8 minutes. Cut the lowest number in half and reduce by 1 more. I timed my pasta for 3 minutes. (2 would be fine too) it takes time for the pressure cooker to come to temperature and in that time the pasta is softening/cooking. And you'll be cooking it a bit more when you add the milk and cheese.
When the pressure cooker beeps, release the pressure by turning the valve to allow the air to vent out, be careful the steam is hot. I use tongs to hold the knob to allow pressure to release quickly.
Next, add in the butter and flour and give it a stir.
Next, add in the milk and cheese and stir until the cheese is all melted.
Add salt and pepper to taste. I add at least 1/2 teaspoon salt and 1/4 teaspoon pepper and a dash of cayenne pepper.