Making rice pudding has never been easier than with this Instant Pot rice pudding recipe.  
Without a doubt, I am the biggest rice pudding fan. 
It's been my favorite since I was a kid. 
I always knew it was a great day when I'd come home from school and my mom would have rice pudding waiting for me.
Not quite sure if she knew just how much I loved it… I'm guessing yes!
If you've never considered pressure cooker rice pudding, that is all about to change with this easy recipe and instructions.
I love how rich and delicious it is with a creamy pudding and delicious rice, with a sweet creamy vanilla flavor that is irresistible!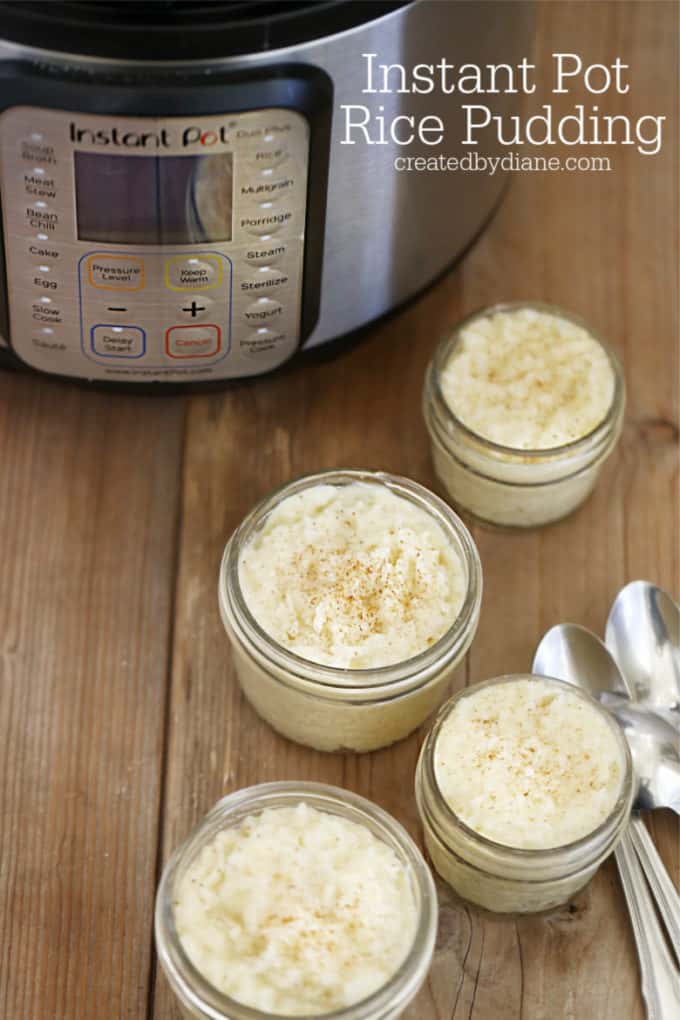 There is no need to think dessert has to be complicated, give me some old fashioned deli-style rice pudding and I'm set! Rice pudding instant pot style is going to be my new go-to dessert!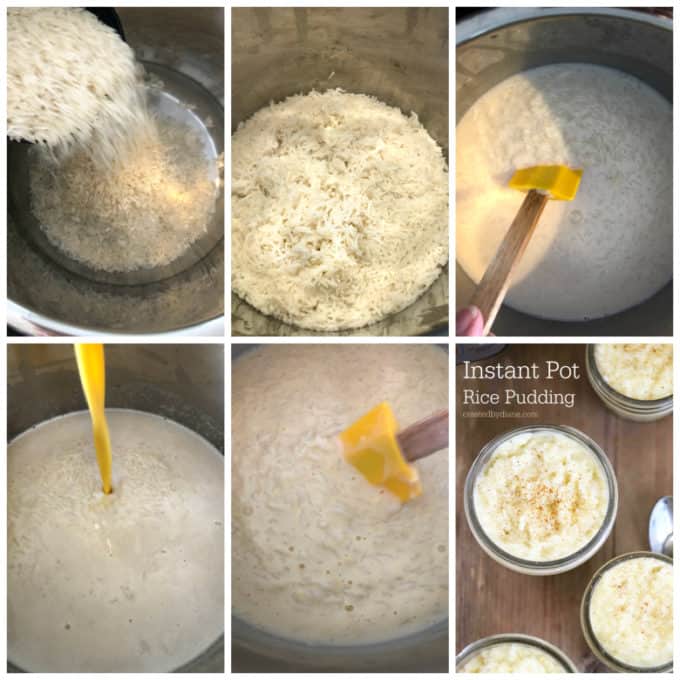 What you'll need to make rice pudding?
 rice 
water
salt
milk 
eggs
vanilla extract
nutmeg or cinnamon
You'll start by cooking the rice in water, then you'll add in the remaining ingredients and that's just about as simple as you can get, right!
No standing and stirring and stirring and hoping it doesn't burn. 
This tastes so delicious, it's creamy and sweet without being overly sweet.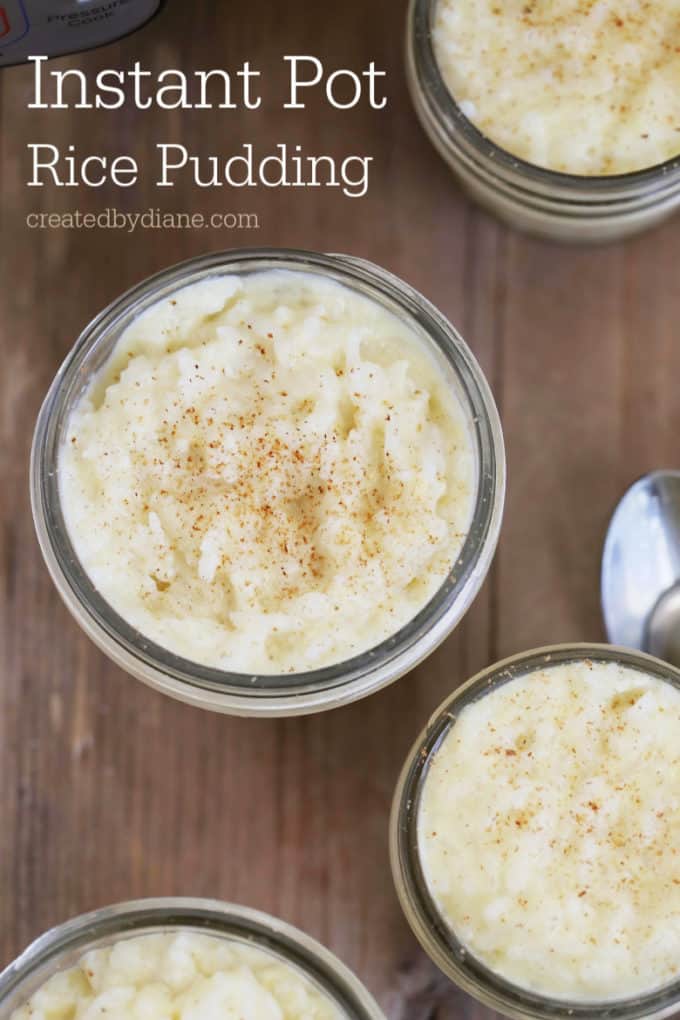 I place all the rice pudding in individual glass jars (canning jars actually). It can be stored in a casserole dish as well. 
Should I rinse the rice before cooking it?
I made it both ways and did not find it necessary to rinse the rice, so either way will work.
Can you use basmati rice or jasmine rice?
Yes, I used regular long-grain rice, basmati rice, and jasmine rice and all yielded great results.
Should rice pudding be served hot or cold?
It can be served hot or cold, it will thicken up more after being chilled in the refrigerator. I typically like my rice pudding cold, but really enjoyed this hot, I was hungry and had no patients to wait for it to cool off and to my surprise, I really like it.
Can I reheat rice pudding?
Yes, and you can add a tablespoon or two of milk to ensure it will stay creamy if you needed. Heat it in the microwave for 30-second intervals on high until it's to the temperature you like. The added milk will help it heat evenly and make it creamy and you can stir it as you reheat it.
Instant Pot Rice Pudding
an easy way to make delicious deli-style rice pudding in any electric pressure cooker
Author:
Diane Schmidt Created by Diane
Ingredients
2 cups rice (long grain or basmati)
3 cups water
1/2 teaspoon salt
4 cups milk, 2% or whole milk: divided 3 cups milk plus 1 cup milk mixed with eggs
4 eggs
1 cup sugar
1 teaspoon vanilla extract
top with fresh or dry nutmeg or cinnamon
Instructions
Place rice, water, and salt in the pot of the instant pot and turn on high for 3 minutes, let it naturally release pressure for 10 minutes, then quick release if there is any pressure left.
Place the instant pot on "saute" mode on high, to cook the remaining ingredients.
Stir in 3 cups of milk with sugar and vanilla for 1-2 minutes until the mixture is hot.
Then mix the eggs with the remaining 1 cup of milk, and stir the egg mixture into the pot, and continue to stir until everything I heated through. It does not need to boil.
Turn the Instant pot off.
Place the rice pudding into individual glass containers or jars, or one large baking type casserole dish, and place in the refrigerator until cold. The rice pudding will thicken upon standing. If there is not much "milk" and you think the rice will absorb more than what is there add a little bit of milk, to ensure it won't be dry. Depending on what type of milk you used it could be slightly milky or not. Mine didn't need any extra milk. I did use whole milk.
Top with nutmeg or cinnamon. I prefer nutmeg.
Notes
If you want your rice pudding creamier when it's done cooking add 1/2 cup more milk at a time until you like the consistency. The rice will absorb milk as it cools and become thicker.