If you're a big chocolate chip cookie fan like me, this recipe is going to rock your world, easy to make, and enjoy bite-sized treats all week (or share, it's up to you.)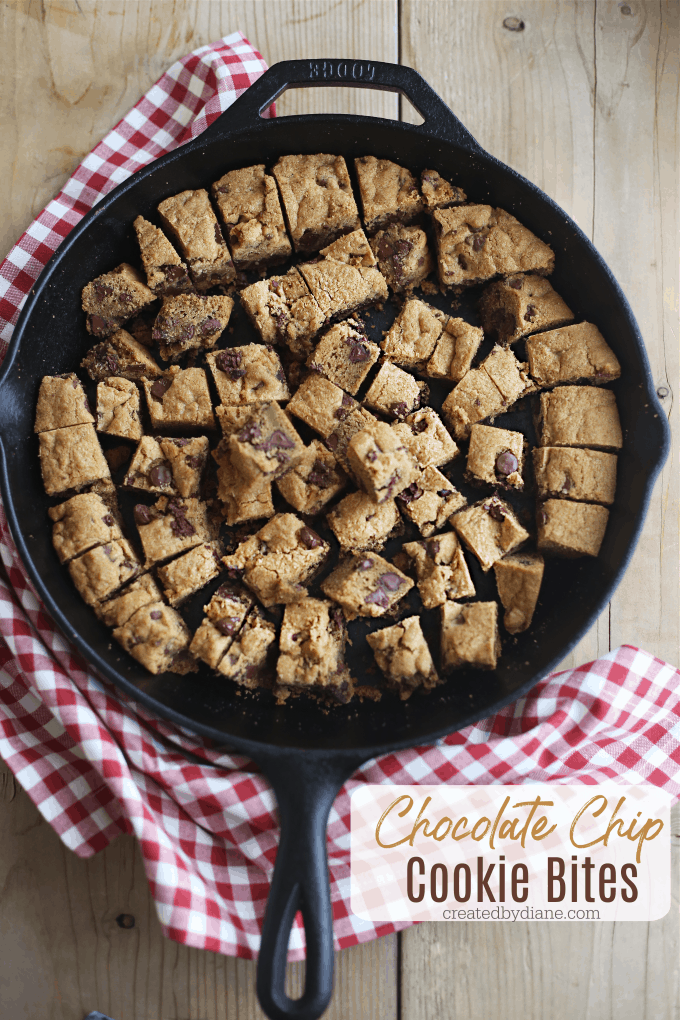 If you know one thing about me, it's that I LOVE, Love, love chocolate chip cookies!
it's just about the only thing I CRAVE all the time.
Really, even if I'm eating low carb it's the only sweet item I really miss.
But since I'm not a totally strict low carb eater… I get to eat these Chocolate Chip Cookie Bites and don't give it a second thought 🙂
Some things are just worth, don't you agree!
There are two things I look for in a chocolate chip cookie, I want them crunchy and chewy. And these cookies are just the perfect combination.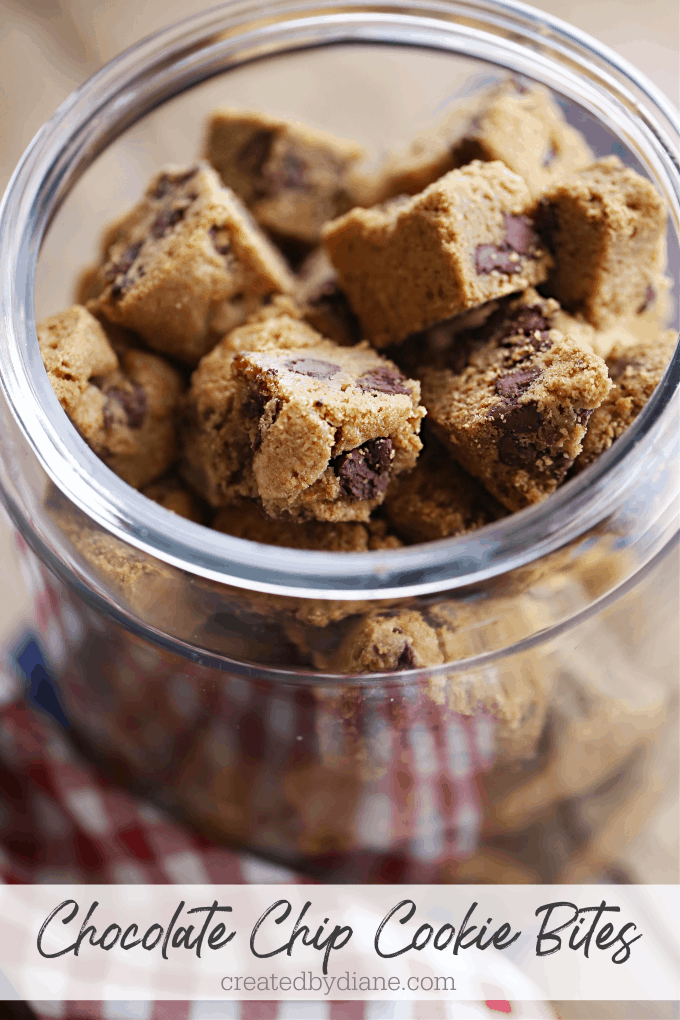 This is the cookie jar I use, and I love it! I actually use these jars on my counter for storing flour and sugar too. And I sometimes use the 1/2 gallon size for items I like to keep a smaller amount of on hand. I use them for all sorts of things like Oatmeal and Chocolate Chips as well as my favorite candy!
And if you don't already have a cast-iron skillet, THIS is the one I use. I have many of them in different sizes and use them all the time!
truth be told it's great with ice cream piled on top and eaten like a giant pazookie (pizza-cookie).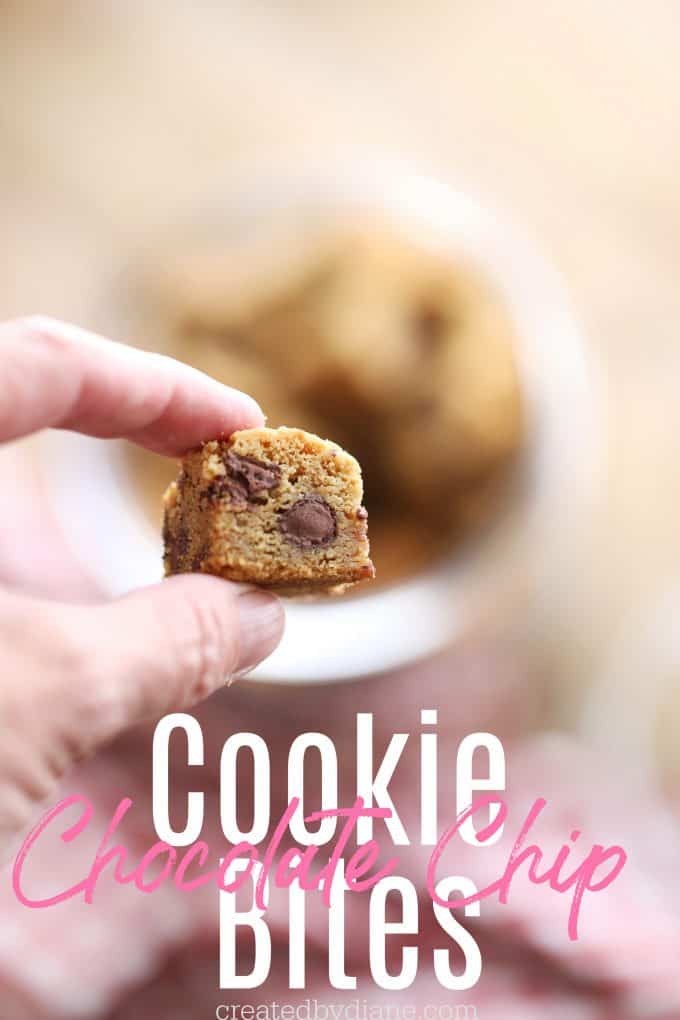 And before you ask… store the cookies in a cookie jar. Don't put them in a plastic container or plastic bag and expect the cookies to have the same texture as they are on day 1. Think of it like a bakery… they put their cookies in a cookie jar, or glass style cabinet but they don't put them in plastic containers so the cookies trap in the moisture and get soft, with minimal air in the container. Yes, this goes against what you may already do with cookies, but crisp cookies lose their nice crunch. But it all depends on how long you expect your cookies to last too. 
I'm kinda glad some people in my house are so much in a hurry they forget to grab some! Yippee, more for me.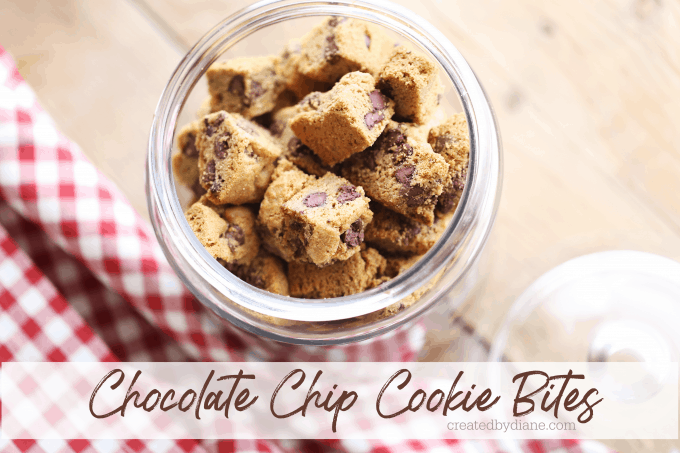 Can I bake this in another pan?
Yes, if you'd like a deep-dish style cookie like the 12″ cast iron skillet offers, use a 13×9 pan. A 1/2 sheet pan will make thinner cookies, if you have a 1/4 sheet pan is close to a 13×9 and good for baking bar cookies as it's easy to remove the cookies and slice them.
How should I prepare the skillet or pan?
It'll depend on how well seasoned your pan is. My cast iron skillets are well seasoned and I don't' need to "grease" it. But if your pan isn't well seasoned and you find items stick easily go right ahead and use a small amount of shortening or butter so the cookie releases easily. If you're using another type of baking pan, I'd apply a small amount of shortening or butte rand you can so line the bottom with parchment paper, to ensure the cookie doesn't stick.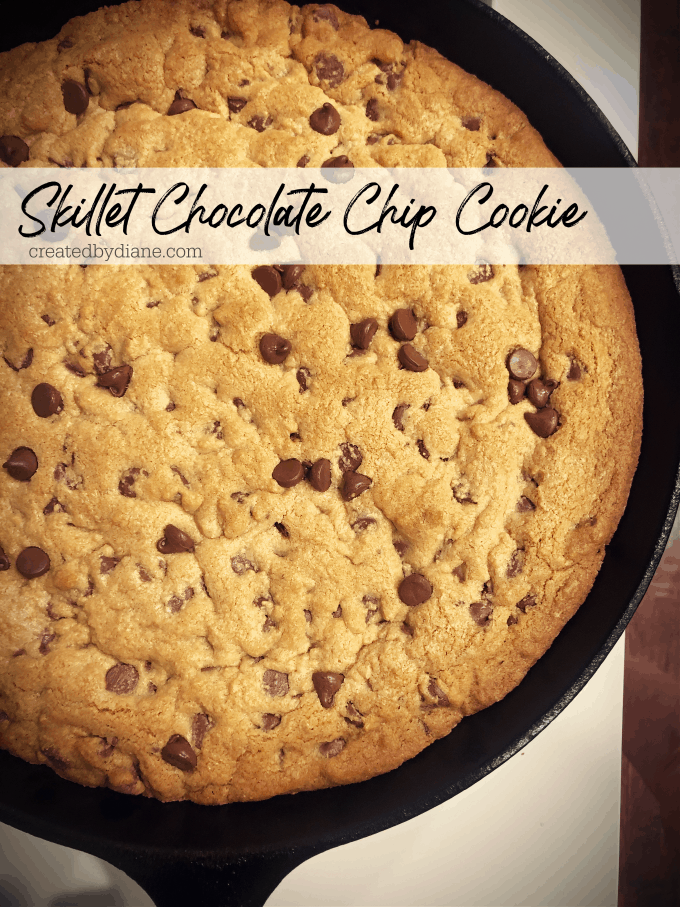 Here is the cookie right out of the oven… and it's GIANT, so feel free to cut it into any shaped pieces you'd like, large pie type slices, big squares like chocolate chip brownies, or pile on some ice cream and eat it like a pazookie (pizza-cookie, size of a pizza but tastes like a cookie) while it's still warm! Any way you serve it, this DEEP DISH Chocolate Chip Cookie is a WINNER!
The timing for baking this cookie is for a fully cooked cookie, that is crisp on the outside and chewy on the inside. When some people think of pazookie, they think of slightly undercooked cookie in the center, if you're looking for that take the cookie out of the oven at about 35 minutes, but test it with a toothpick you don't want it really undercooked (or maybe your do) me I like it cooked, but soft and chewy inside.
If you want to check out some more chocolate chip cookie posts looked here at my Chocolate Chip Cookie Cake, and at these cut-out chocolate chip cookies.
Chocolate Chip Cookie Bites (skillet)
Deliciously thick crispy and chewy chocolate chip cookies, baked in a cast-iron skillet, then cut into bite-sized pieces to enjoy.
Author:
Diane Schmidt Created by Diane
Ingredients
1 cup butter, salted (add 1/2 teaspoon more salt if using unsalted butter)
1 1/4 cups brown sugar
3/4 cup granulated sugar
2 large eggs
3 teaspoons vanilla extract
2 3/4 cups all-purpose flour
1/2 teaspoon salt
1 teaspoon baking soda
2 cups chocolate chips, 12 oz (I use nestle chips)
Instructions
Preheat your oven to 350°
IN the bowl of a mixer beat the butter and sugars until fluffy and well-whipped.
Add in the eggs and vanilla and mix to combine.
Next pour in the flour, add the salt and baking soda on top of the flour, and until tit's combined.
Stir in the chocolate chips.
Place the cookie dough into a 12" cast iron skillet.
Bake for 40-45 minutes or until it's set in the middle and a toothpick comes out clean.
Allow cookie to cool for 10 minutes, then slice into bite-size pieces, or any size your prefer. This can also be served warm with ice cream on top of a big pazookie dessert.