Looking for a super easy dessert that everyone will love.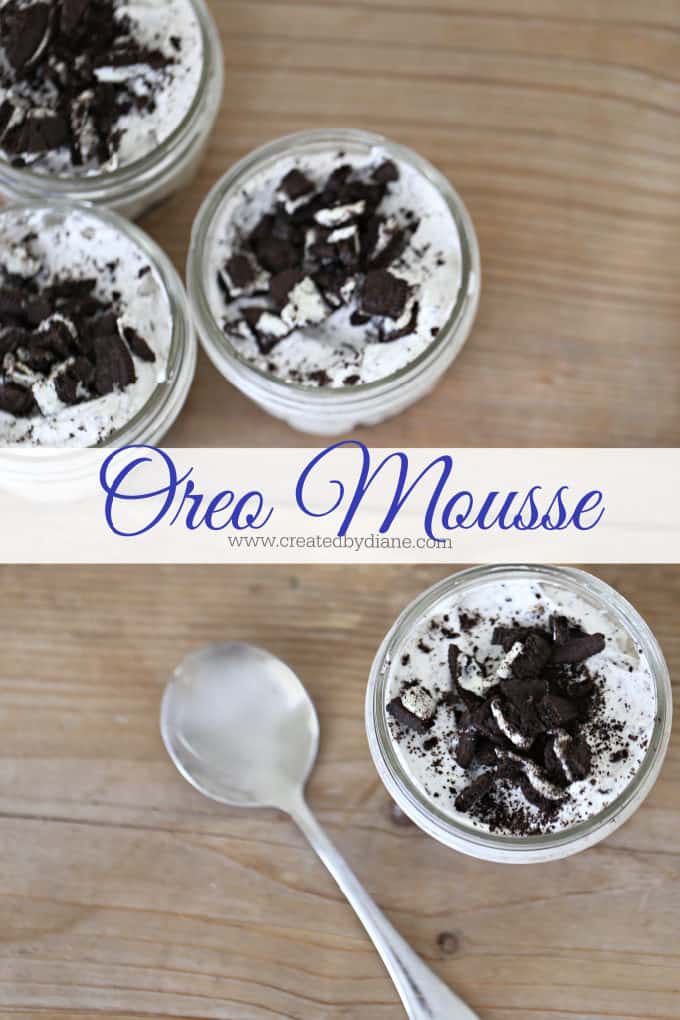 Just wait until you see how easy this no-bake oreo mouse recipe is. 
Chocolate and vanilla lovers both love this one!
It seems after looking at quite a bit of data that Oreos are the most popular cookie not only in the US but the world, and running a close second is peanut butter cookie. Did you know that Oreos were so popular?
They've been around for over 100 years and products that stay popular that long… have got to be special.
Take a look at these peanut butter favorites:
[rsss-cut]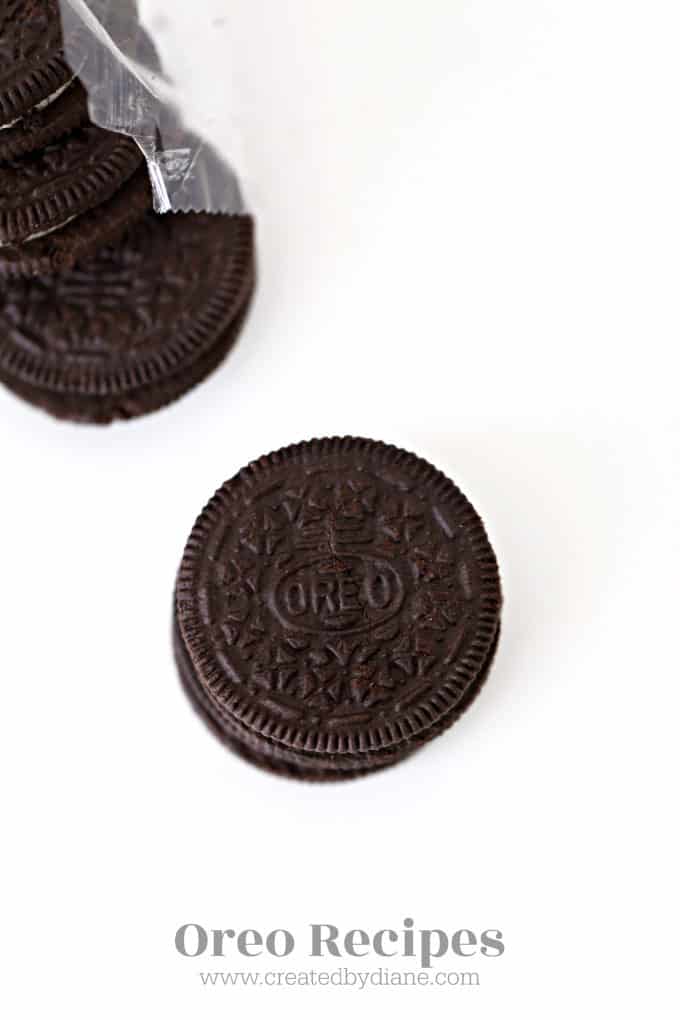 Doesn't everyone LOVE Oreos… they make them in so many flavors so feel free to mix it up and use your favorite variety. I myself am a traditionalist and love the original Oreos.
I love using Oreos for the crust on desserts.
Give my Chocolate Strawberry No-Bake Cheesecakes a try!
Chocolate Peanut Butter No Bake Cheesecake

In just a few simple steps this is ready to put in the fridge and chill!
Place the Oreo cookies in a zipper plastic bag and crush them with a rolling pin.
Then whip up the whipped cream, add some of the crumbs to the bottom of the serving jars and stir some into the whipped cream. 
Layer the dishes with cream mixture and cookies and that's about it. All the specifics are in the instructions, but that is the simple 1,2,3 of it.
There are a few options I listed below so be sure to check out my tips:
Let's talk about heavy cream: there are different creams, each different percents of fat. The higher the fat, the richer and thicker the result. Whipping cream hs between  30-36% milkfat, heavy cream (heavy whipping cream) has 35-38% milkfat and manufacturing cream has over 40% milkfat *it's super thick and found in places that service restaurants and such. It's super thick and stays thick when whipped. Most often I buy Heavy whipping cream and it's thick when poured out, whips easily and stays thick. 
I do add a tablespoon of dry milk if I won't be consuming all the dessert that day so that it won't separate or "weep" as it's refrigerated. The dry milk helps hold the whipped cream stable so it doesn't separate.
Be sure what you will be whipping your cream with is ice cold, place the container in the freezer and chill it, or add some ice and water to the container swirl it around then dump it out and dry it off before you begin.
If it's super hot out and you'll be serving this outside use a tablespoon of dry milk so it won't "melt" so fast. 
Another option is to add 2 tablespoons room temperature cream cheese this gives the mousse a great cheesecake type of flavor and makes it thick and delicious too.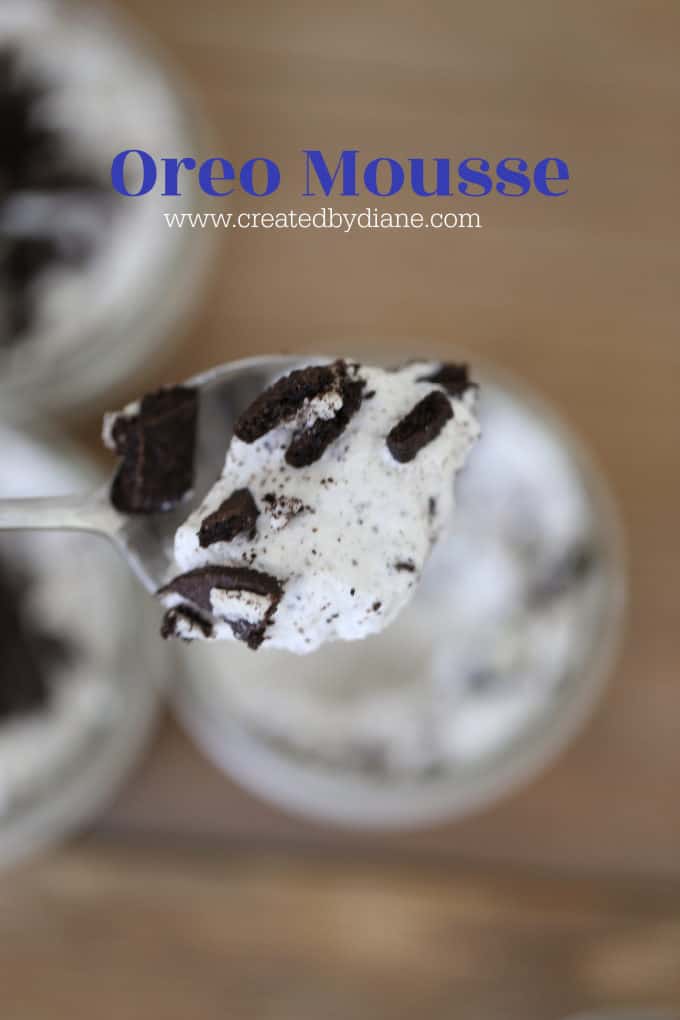 All you'll want to do is grab a spoon and enjoy!
So grab the ingredients and get mixin'!
Oreo Mousse
Ingredients
1 sleeve Oreos (15 oreo cookies)
1-1/2 cups heavy cream
1/4 cup sugar
1 teaspoon vanilla
*Optional
2 oz cream cheese (at room temperature)
1 tablespoon dry milk
Instructions
Crush the Oreos in a plastic bag with a rolling pin, or in a food processor until there are still some chunks not completely smooth (or smooth is you prefer that texture).
In a tall container or mixer whip the heavy cream with sugar until thick (don't overmix or you'll end up with butter)
Stir in vanilla.
If it's really hot out or you want more of a cheesecake flavor add 2 oz room temp cream cheese when adding the heavy cream.
If you won't be consuming them in 2 days add a tablespoon of dry milk so the whipped cream does not separate or 2 oz room temperature cream cheese. (or both is you prefer)
Place some oreo crumbs int he bottom of 4-8 oz jars
You can add some cookie crumbs to the whipped cream mixture or just add layers of cookie crumbs to each cup.
Place some whipped cream mixture and layer some more crumbs then whipped cream and finish with oreo crumbs.
Place lids on jars.
Place in fridge until they set up. They can be consumed right away, but they won't be super thick.
I prefer them extra cold and extra thick.
When they are refrigerated the filling gets even thicker. It's best served cold.