Oh, come on you know you LOVE chocolate and peanut butter together. Come, take a look how easy this is!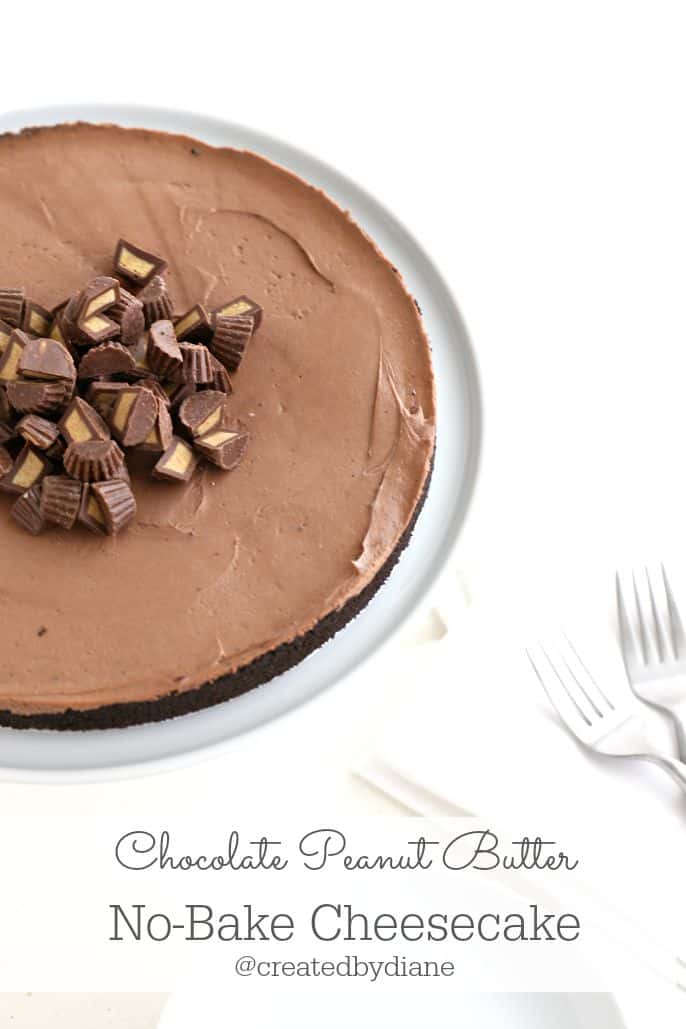 Chocolate Peanut Butter No-Bake Cheesecake
Pin this on Pinterest to save it for later!
Follow created by Diane on Pinterest to see more delicious recipes!
Don't forget to sign up for email updates so  you don't miss any recipes and get my free e-cookbook I made just for you!
This cheesecake is creamy and delicious and so easy to make and great any time of year!
Sounds perfect to me, all full of chocolate and peanut butter deliciousness…
The best part is, there is no baking involved.
When it's hot outside now, you'll have the perfect dessert to make.
No heating up the kitchen on a hot day, no fuss, just mixing together some really delicious ingredients, it's that easy.
You can make this up in the morning to serve after dinner at night. With minimal time to prep and make this, it doesn't have to be hot outside to make it, which makes it perfect all year long, and who doesn't like chocolate and peanut butter together…. crazy people is my guess!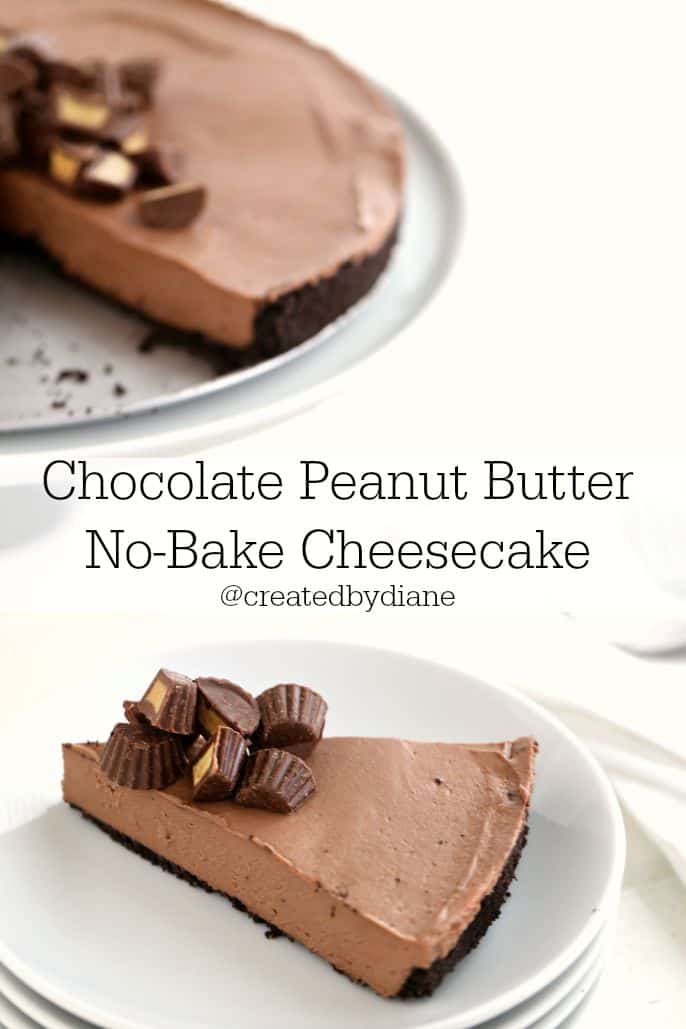 This cheesecake has an Oreo crust and it's topped with mini peanut butter cups, it's also full of rich chocolate and peanut butter flavor that you won't want to miss out on.
I just love easy desserts like this, that are really packed with flavor and Oreo crust is so fun and yummy!
I made this in a 10″ springform pan if you use a smaller pan it will be thicker. This is a rich and delicious dessert, so you can cut the slices smaller if it's made in a smaller pan. Or eat two pieces like I did. Shhh….don't tell, I don't think anyone guessed it was me!
Chocolate Peanut Butter no bake Cheesecake
Ingredients
2 - 8 oz packages cream cheese (room temperature)
1/2 cup powdered sugar
1/2 cup granulated sugar
1/2 cup heavy cream
1/2 cup peanut butter
1/4 cup dutch cocoa
15 Oreos
2 T butter
press into 9" springform pan press with measuring cup (can use any size pan, smaller pan will result in higher cheesecake
Instructions
Place Oreos and butter into food processor and pulse until the cookies turn to crumbs and the butter is mixed in well.
Press the cookie mixture into a springform pan. (I used a 9" if you want it taller use 8") using the bottom of a measuring cup works well.
Refrigerate crust until (30 minutes or so)
In mixer beat the cream cheese smooth add in the powdered sugar and peanut butter and cocoa
Scrape the sides of the bowl.
Then while mixer is running pour in the heavy cream and mix until all combined.
Spread mixture into chilled crust.
Chill cheesecake until completely firm, 6 hours. (or chill overnight)
Remove cheesecake from springform pan and top with mini peanut butter cups cut in half.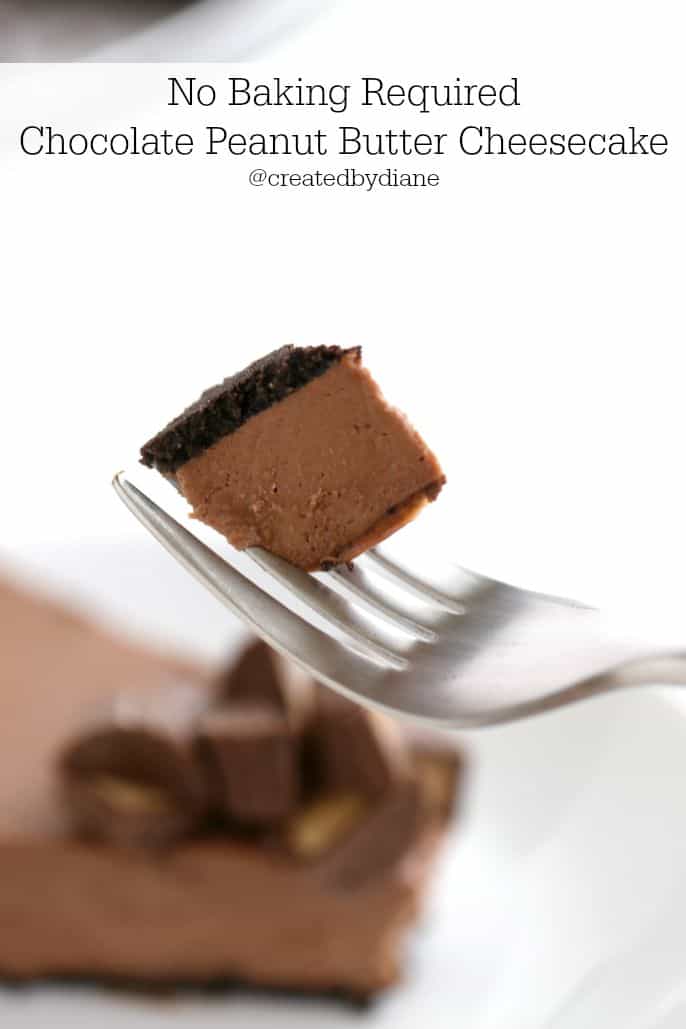 I just LOVE those tiny little peanut butter cups, they are not only cute… they are delicious.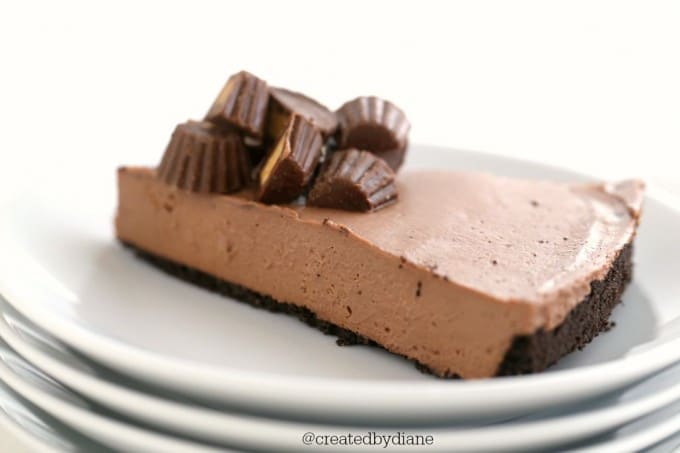 Grab a fork and DIG in!