This is not your ordinary hummus, it's made from cauliflower instead of garbanzo beans (chickpeas). If you eat low carb, then it's just about the PERFECT dip ever!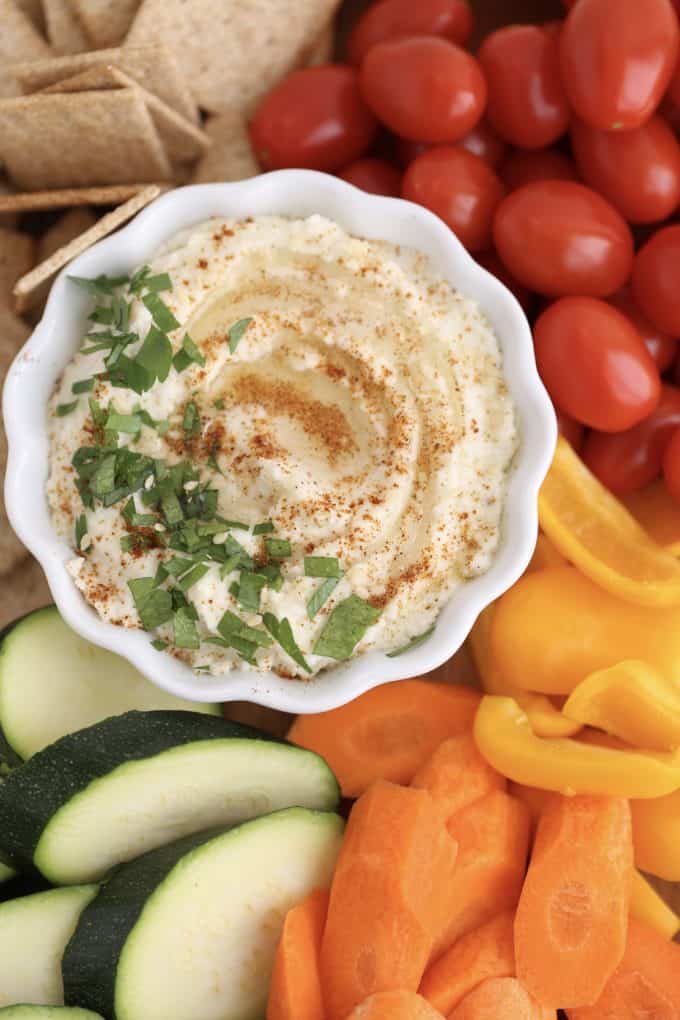 Why is it the perfect dip?
It takes only minutes to make
It has very few calories
It's full of flavor and completely customizable to your liking
1 cup of cauliflower has about 28 calories,
1 cup of garbanzo beans has about 269 calories.
That is a HUGE difference. So at 28 calories, you can eat it all yourself! Sharing is overrated sometimes, don't you think.
Now for anyone who isn't eating low carb, don't worry you can add in garbanzo beans if you prefer or give the ALL CAULIFLOWER version a try, it's yummy!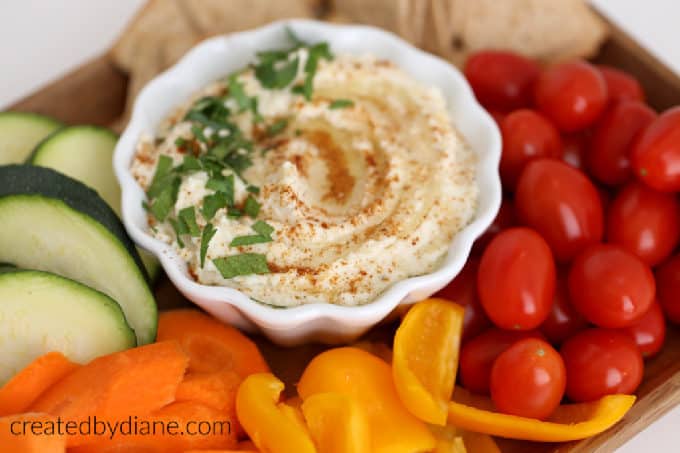 Want more cauliflower recipes to take a look at these: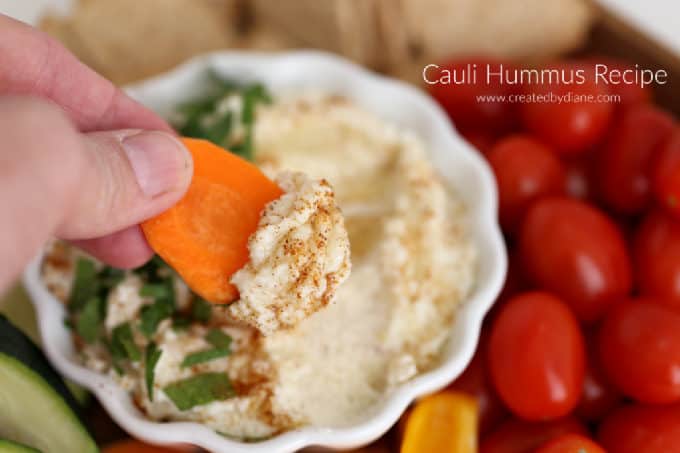 This hummus is great with chips, crackers, and veggies…
so slice up your favorites and dig in, 
it's DELICIOUS!
If you're looking for other flavor options to add in use some crushed red pepper if you prefer things spicy, add some onion to the skillet and saute it with the cauliflower, add in your favorites. 
Dip recipes are a must for entertaining. This is full of flavor without complicated ingredients, and can be made at a moments notice!
Cauliflower Hummus
Ingredients
1 cup cauliflower
2 tablespoon fresh lemon juice
1-2 tablespoons oil (I use avocado oil it's mild flavor is what I like best)
2-4 tablespoons water
1 tablespoon garlic
1/2 teaspoon salt
pinch black pepper
pinch of cumin
sprinkle top with paprika
fresh chopped parsley
Instructions
In a skillet add a teaspoon of oil, add cut up cauliflower and roast it until it's tender and golden on the edges.
Place the cauliflower in a food processor with a tablespoon of oil, 2 tablespoons water, garlic, salt, pepper, and cumin.
Pulse until smooth.
Add more water and a little more oil until it's smooth and creamy. Add more if necessary.
Adjust flavor by adding more salt and pepper if desired.
Spread in a dish and top with additional oil and sprinkle with paprika and chopped parsley.