I love to snack, but I want my snacks to be healthy and something I can sink my teeth into. If you like snacking you'll love these.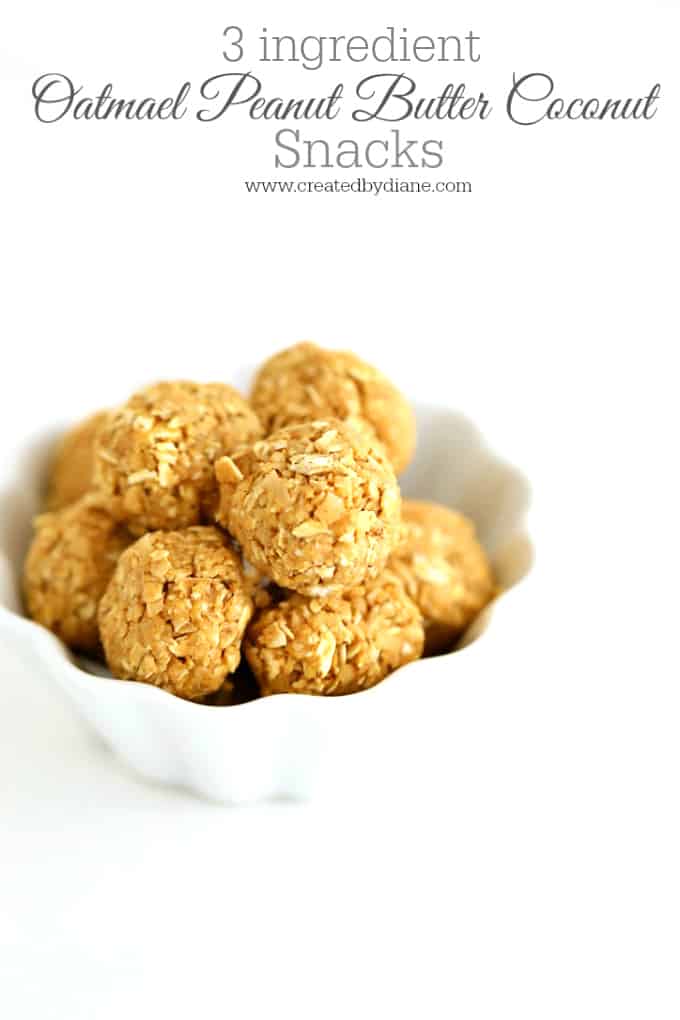 These little no-bake peanut butter snacks are not only satisfying and delicious,
but they fit into eating low carb perfectly.
When it comes to snacking, I try to choose carefully when I'm eating low carb.
I remember making peanut butter cookies as a kid,
I just love peanut butter cookies and if you want some great peanut butter cookie recipe check out these
Since no cooking is involved and no knives, this is the perfect kid-friendly recipe.
Not only will they have fun in the kitchen with you,
but they'll love these snacks as much as you do.
It's a winning combination!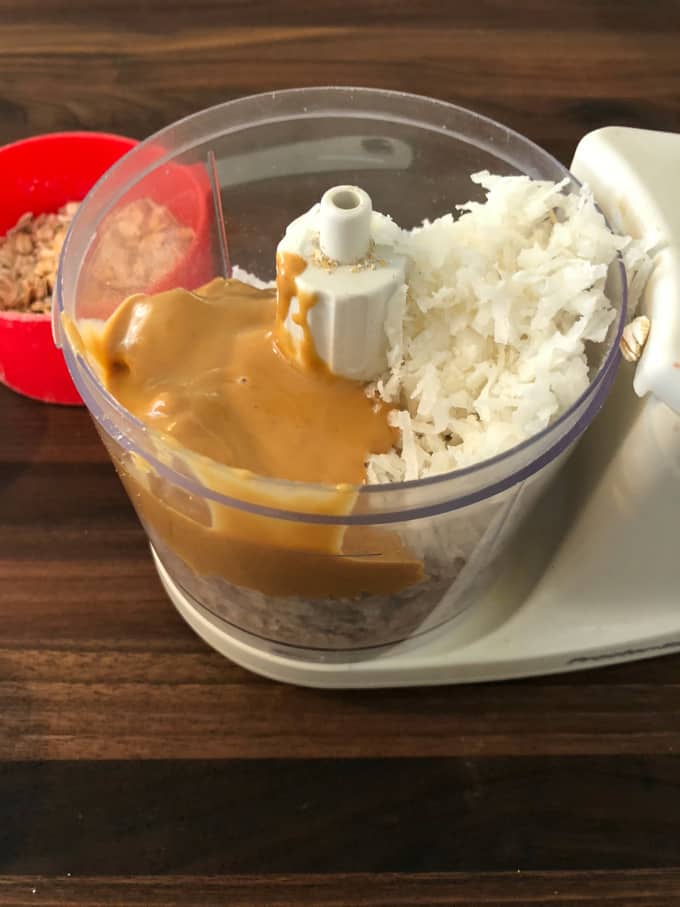 Talk about quick and simple, too. There are just three ingredients to mix up in a food processor and they're probably all items you keep stocked in your pantry already: peanut butter, oats, and coconut, see really simple!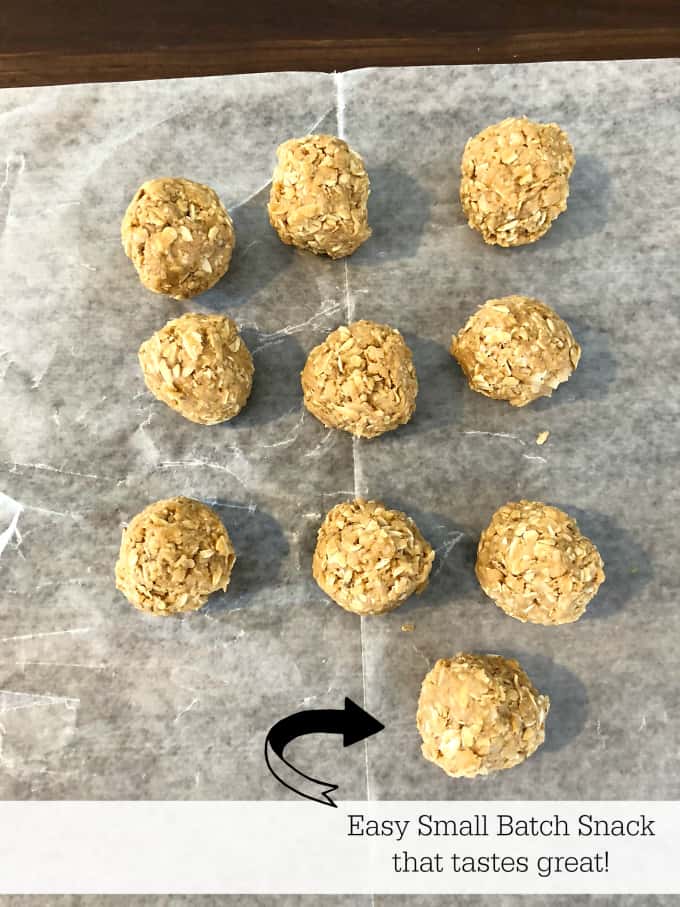 I did use sweetened coconut but you can use unsweetened if you prefer. I did use natural peanut butter with no sugar added.
The peanut butter provides that oh-so-satisfying richness with the healthy fat we all crave, and the oatmeal provides the "bite" and helps hold the snacks together.
The coconut, of course, provides the sweetness along with lots of good, filling fiber.
What's not to love!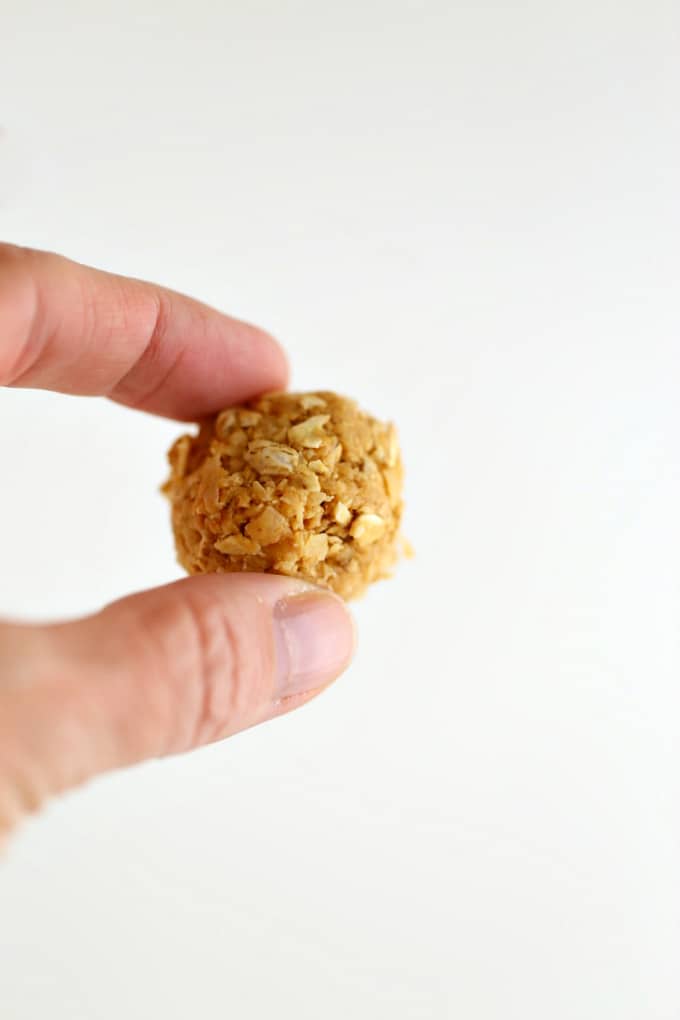 I like to double the batch and store them in a covered plastic container in the fridge so that I don't have to think twice when I need a between meal snack.
I use this type of cookie scoop to portion the snacks out, it really makes it easy.
*I have read many articles about "bars" protein, cereal, snack… you know the types, they are often full of sugar and calories.
These peanut butter snacks balls are a great alternative, they aren't 200 calories, they are satisfying and easy to make. (And you can use unsweetened coconut in them if you prefer)
Oatmeal Peanut Butter Coconut Snacks
1 serving = 1 ball, 48 calories per ball
Ingredients
2 tablespoons natural creamy peanut butter
1/2 cup oats (I use quacker original oats)
1/4 cup shredded coconut (I use sweetened, you could use unsweetened)
Instructions
In a food processor add all ingredients and blend until all combined and cut into small pieces.
Roll into 2 tablespoon size balls on a piece of wax paper.
Refrigerate until firm.
Store at room temperature for 2 days or in the refrigerator for weeks.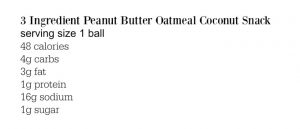 All nutritional information is an estimate. I try to provide the most accurate information.