One bite of this and you'll find yourself hard to control not to eat the entire bowl!  This Lemon Dill Tuna Pasta Salad recipe is sure to become your new favorite.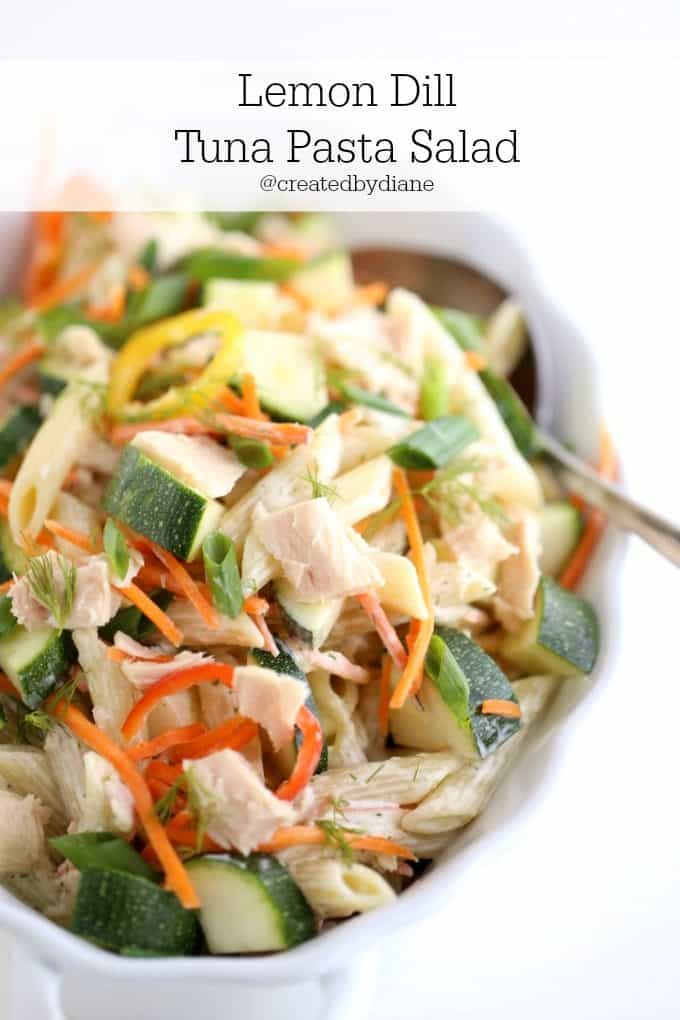 Lemon Dill Tuna Pasta Salad
There are so many delicious things about this, it's sure to become your new favorite!
I am a pasta girl through and through and my go-to dish to make, bring to a party or enjoy as a late night snack is pasta.
Now this dish is not only full of vegetables, it's easy to make and I can't wait until you see the BONUS this recipe offers.
Also there is some FUN news at the bottom of this post you won't want to miss out on.
In minutes… you'll be able to whip this dish up and enjoy it!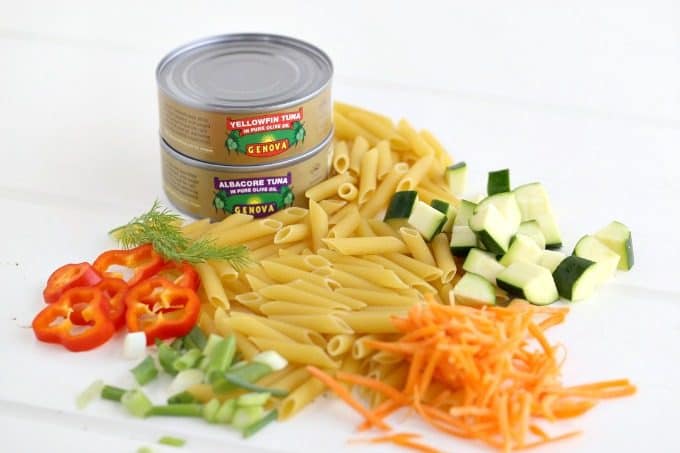 This dish is full of fresh flavors, zucchini, peppers, scallions, carrots are a perfect accompaniment to the tuna and pasta.
Now onto the SAUCE:
oh this sauce is so delicious, great for spreading on tuna sandwiches, mixing in with tuna for a sandwich, great for dipping veggies into and perfect for this Tuna Pasta Recipe!
Lemon Dill Aioli
Serves:
enough for 1 lb pasta
Ingredients
4 tablespoons fresh lemon juice
2/3 cup oil
2 egg yolks
1 teaspoon garlic, paste ( or 1 clove minced garlic)
1/2 teaspoon salt
2 tablespoons fresh dill ( can use dry if unable to find fresh, but fresh is fantastic!)
Instructions
Use and immersion blender in a tall narrow cup combine all ingredients and place in blender and turn on, then pull the immersion blender up and down to emulsify the mixture.
It will become thick and well blended.
Notes
You can also make this in a blender or food processor.
Add all ingredients except the oil, start blending the egg, lemon juice, garlic, salt and dill and drizzle in the oil as it blends to create a smooth, thick creamy sauce.
THIS sauce will cover a pound of pasta, cut the recipe in half if you only cook 8 oz pasta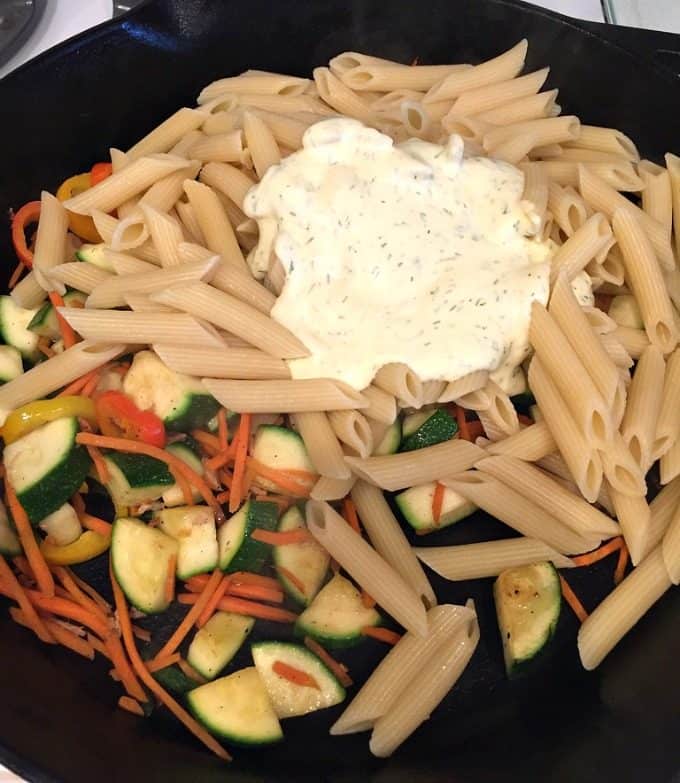 Now… here is the bonus part of the recipe.
You can eat this dish HOT!
So it's not your typical pasta salad you see, you can heat up a skillet and saute the vegetables for 3 minutes. Add in pasta and then pour on some of that delicious lemon dill sauce and stir it while over medium-low heat. Then crumble in 6 oz. can of Genova Yellowfin Tuna. I drained off some of the excess olive oil and left the tuna in chunks if you prefer you can add the tuna on top of the sauce and mix it all in if you prefer.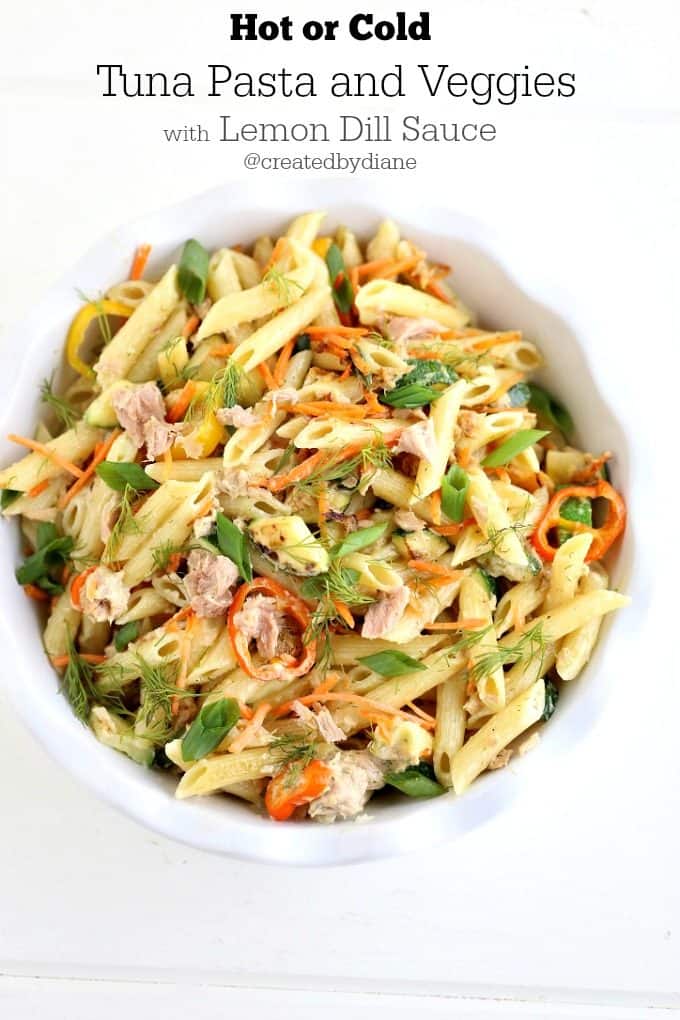 I can't wait to be sitting at the beach this summer and enjoy this,
it's also perfect for entertaining as you can prepare it ahead of time and have it in the fridge ready to serve.
It would be great stuffed into lettuce leaves too.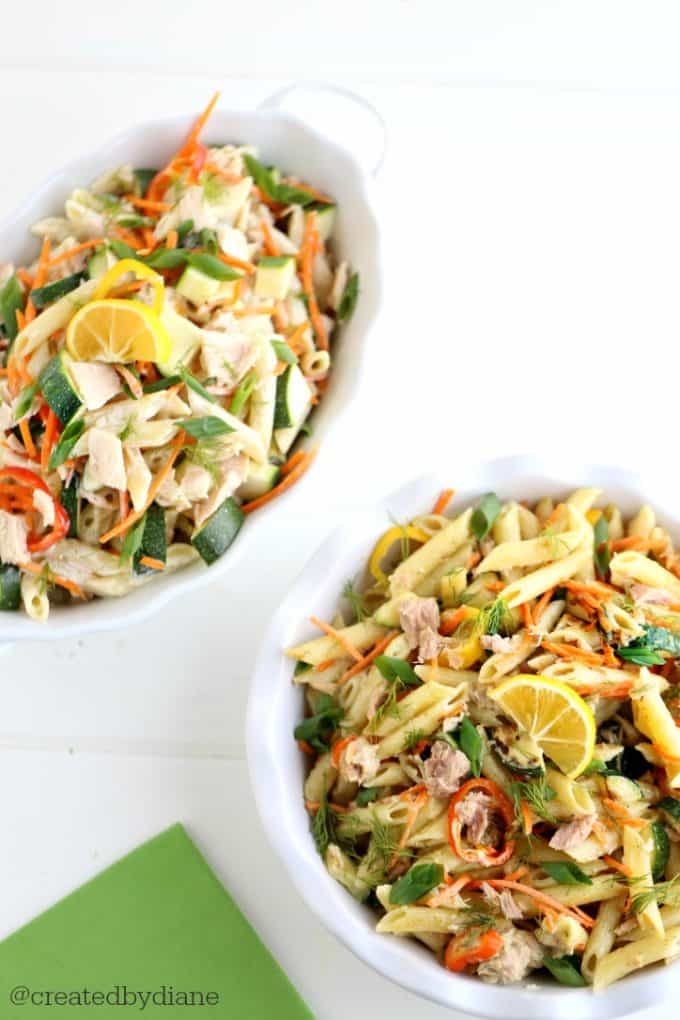 Lemon Dill Tuna Pasta Salad ()
Ingredients
1 lb penne pasta
2- 6 oz cans Genova Tuna in olive oil (Albacore or Yellowfin)
2 medium zucchini sliced in quarters then chopped
4 scallions chopped
1/2 cup grated carrots
4 small sweet peppers cut into rings
(recipe for Lemon Dill Sauce is in blog post above this one remember to print it)
Instructions
Cook pasta according to directions
COLD
rinse noodles with cold water and stir ingredients with pasta together, add sauce and drain some olive oil off of the tuna if desired, flake tuna with a fork and gently add it to the dish.
HOT
If you want to serve this hot, in a skillet saute the vegetables, add the pasta and sauce and stir and then drain some olive oil off of the tuna if desired, flake tuna with a fork and gently add it to the dish.
This dish is so versatile, I just LOVE it!
I used Genova Albacore Tuna in the cold pasta salad recipe. The flavor of Genova's Tuna both Albacore and Yellowfin is delicious and it's packed in olive oil and the flavor is just delicious.
One more way to enjoy the Lemon Dill Sauce and Genova Tuna is to mix it together and serve it with tortilla chips… YUM!
This Lemon Dill Tuna Pasta Salad is sponsored byEttiene Media, LLC with Genova Seafood all opinions are my own.