Avocado Salad with Fried Jalapeños and Spicy Avocado Dressing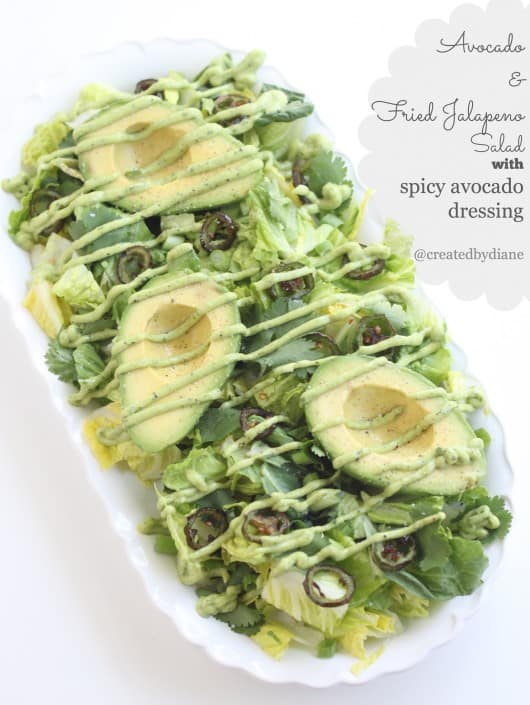 It's really heating up…
and I don't just mean the weather.
This salad has a great heat going on.
Not as much heat as the concrete I was sitting on today, WOW was that hot. I may need to remember to bring a blanket or towel with me and carry it around at all times!
The fried jalapeños add a fun kick and just wait until you get a taste of the dressing.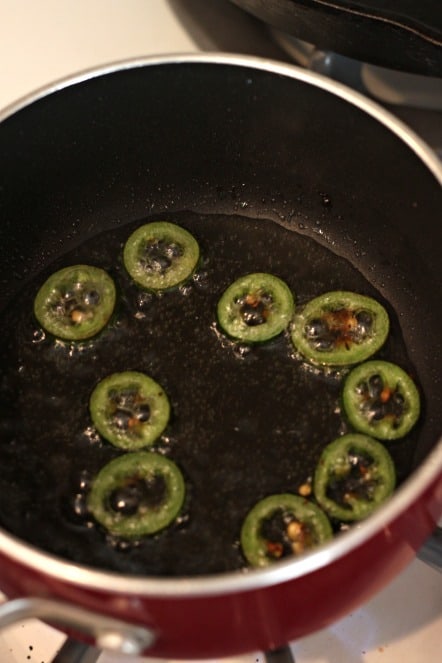 This is the secret to the delicious taste of this salad and the dressing.
I sliced and fried the jalapeños in oil, just until they were firm and crispy 2-3 minutes.
I drained them on a paper towel and used the oil to make the salad dressing, it gave the dressing this great heat without being overly spicy.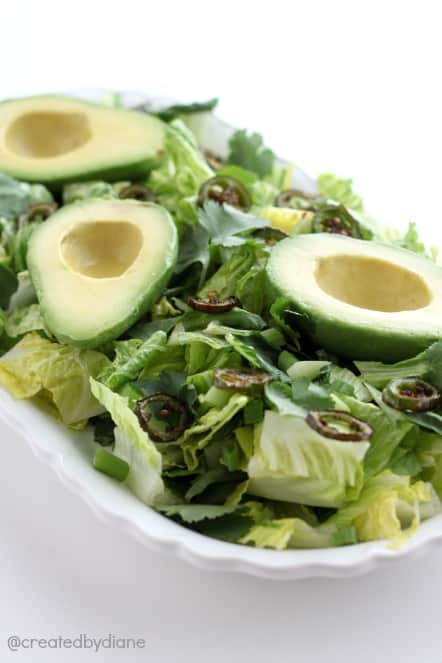 Avocado Salad with Fried Jalapeños and Spicy Avocado Dressing
Ingredients
2 hearts of romaine lettuce chopped
2 scallions chopped
2 jalapeños, sliced into rings
2 Ripe California Avocados (1 1/2 for salad (one sliced put lemon or lime juice to preserve the color and 1/2 for dressing)
1/3 cup oil
1 egg yolk
1 teaspoon minced garlic
small bunch fresh cilantro leaves for salad and 1 tablespoon chopped for dressing
Instructions
In a small pot heat 1/4-oil in saucepan on high for 1 minute.
Add sliced jalapeños and cook 2-3 minutes or until crisp.
Remove jalapeños from oil and drain on a paper towel.
Let oil cool.
Place romaine on plate and top with scallions and cilantro.
Slice avocados in half and place three halves on top of salad.
Dice the 4th avocado half for dressing.
Place the cooled oil, juice of a lime, one egg yolk, garlic, cilantro and salt into a small blender or food processor and blend until thick and creamy, add in avocado and mix until smooth.
Place dressing in a bag and cut off the end and drizzle over salad.
It's Avocado Season here in California from Spring-Fall so there is no better time to make this salad than now!
I love that adding California Avocados to salads make them more filling without making the salad unhealthy.
Ripe avocados are key. There are many myths about ripening avocados, do not microwave an avocado, that will not make it ripen faster. Remember it takes 14-18 months to grow an avocado, so it's probably best to give it a few days to be at the perfect ripening stage to enjoy it.
Let firm avocados ripen on the counter at room temperature. Here is a great source of information on How to Ripen an Avocado.
Just a little fun fact…did you know that California produces about 90% of the nations avocado crop
*I am a ambassador for California Avocados, all opinions are my own. I can't help it…I just love California Avocados and enjoy sharing my love for them with you, on salads, pizza, for dipping chips-check out this delicious Guacamole with Goat Cheese and Bacon, Coconut Chicken with Pineapple Guacamole and even  Avocado and Strawberry Margarita.