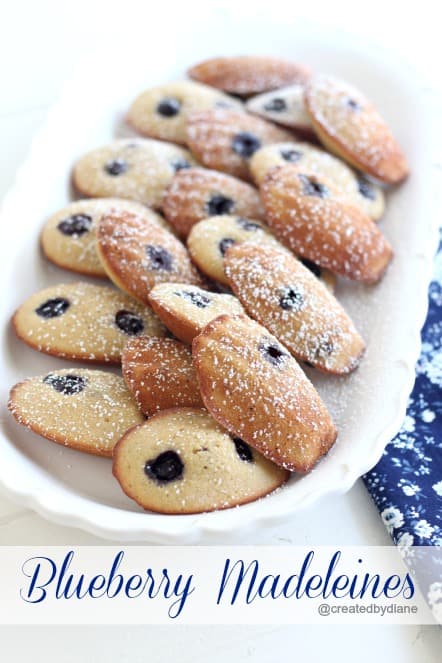 Blueberries are ripe and delicious in stores now.
If I'm not eating them by the handful,
I like baking with them, they are so juicy and sweet, they are a great addition to baked goods, like Blueberry Banana Chocolate Chip Cake, Chocolate Blueberry Cheesecake Cupcakes and Blueberry Filled Cupcakes.
One of my favorite ways to enjoy blueberries is to add them to my Yummiest Pancake Recipe.
Today I'm baking them into madeleines….and I will mention, these are IRRESISTIBLE!!!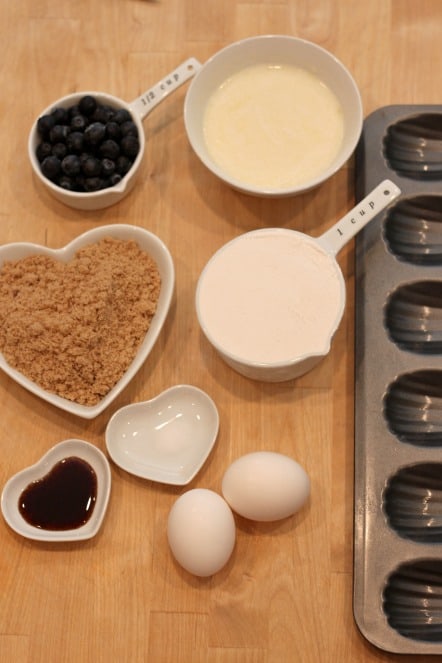 measure out all your ingredients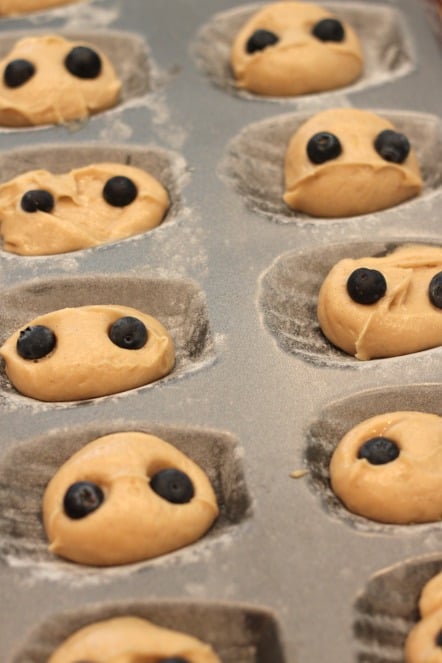 If you mix the blueberries into batter, the berries will crush and the batter will turn a purplish color, I decided I wanted to blueberries to stay in tact, so I placed one blueberry on the bottom of each well in the madeleine pan, then place two tablespoons of batter on top then two more blueberries.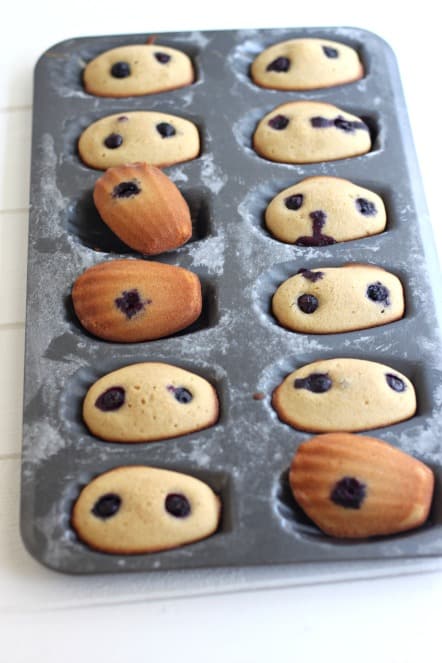 Bake madeleines until they are golden on the edges and the madeleines spring back when pressed gently.
Blueberry Madeleines
Ingredients
2 large eggs
10 tablespoons butter (melted and cooled) (use 1 teaspoon butter for preparing pans)
⅔ cup brown sugar
1 teaspoon vanilla bean paste
⅛ teaspoon salt
1 cup flour (plus 2 tablespoons flour for dusting pans)
½ cup blueberries
powdered sugar for dusting over madeleines when baked
Instructions
Prepare madeleine pan by buttering and flouring pan lightly
Preheat oven to 375 degrees
Beat eggs and sugar with mixer, add vanilla and salt
Mix in flour on low just until blended
Pour in butter in a steady stream while mixing on low
Scrape sides and be sure everything is well blended
Place 1 blueberry in the bottom of each well in the madeleine pan, then place two tablespoons of Batter on top of each blueberry, then add two more blueberries on top of the batter
Bake 7-9 minutes or until golden and the cookie springs back when gently pressed
Allow cookies to cool in pan, then dust with powdered sugar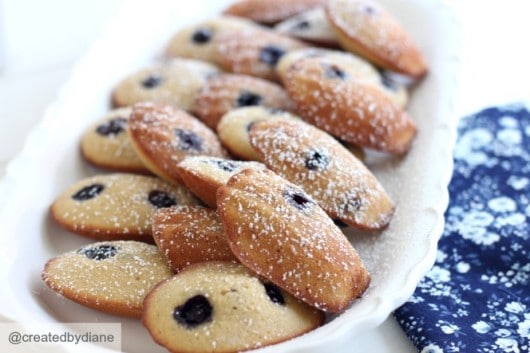 Madeleines are so delicious, they can be enjoyed at breakfast, over coffee or tea or for dessert.