Coconut Chicken with Pineapple Guacamole, serve this for dinner or as an appetizer any way you choose it will be amazing, and the pineapple guacamole is so flavorful it'll WOW you!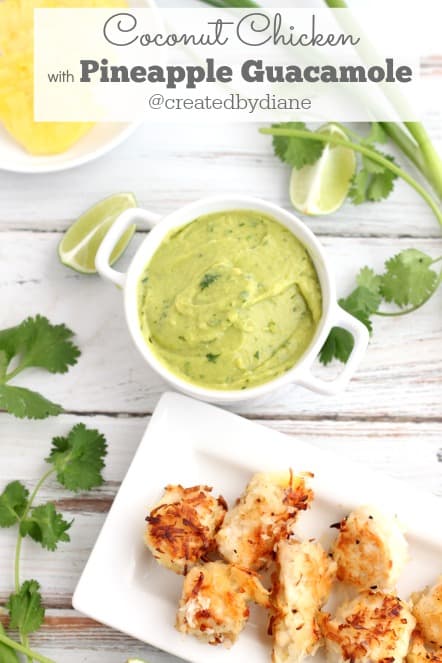 I'm sure I've mentioned a time or two how much I love snacking.
I think"snack time" is underrated. Don't you!
I could snack all day and night, and the very best snacking is hearty, filling, and more food than junk!
This recipe will satisfy all your cravings, avocado, coconut, chicken… OMG so yummy!
My kids have snack time or they call it "break" well I need a break, how about you?
For my snack, I'd like something sweet and crunchy, and filling and well dipping is essential in all snacking! Right?
This is my dream snack I'm sharing with you, I dream about. Seriously I do. It's the salty-sweet combo that gets me every time.
As long as I'm dreaming of their being a specific snack time blocked out I might as well mention we could add a nap to it too…Siesta anyone? I hear people who nap in the afternoon are more productive.
I'll have to get back to you on that as I don't find lots of downtime in the afternoon, hence why I NEED a snack!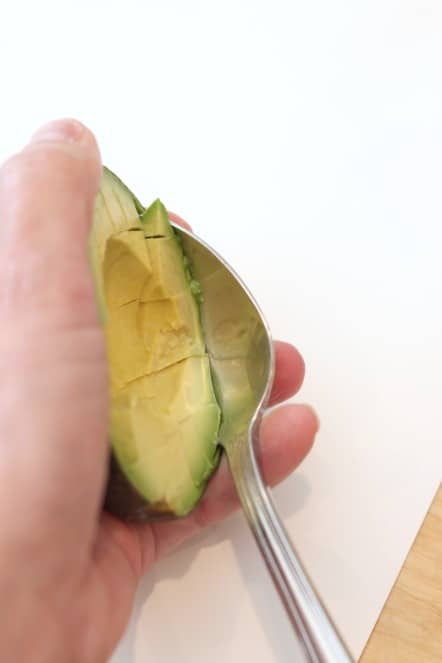 I've got one tip for you if you find your avocado doesn't have this wonderful light color inside and look practically blemish-free, don't let your avocados get too ripe before using them or placing them in the refrigerator to give your self a couple days to use them in their best condition.
I used to think that avocados had to be soft and dark to be ripe, I was wrong and it's no wonder why I was disappointed that my avocado-based items would turn dark/brown so quickly.
Adding lemon or lime juice will help this, but think of it like a banana, they ripen fairly quickly in the warm weather months, and from the morning to evening, your fruit could have ripened enough to use it. The outside of the avocado will slightly give when pressed, but it's not soft. If it's soft when you go to use it will be past its prime.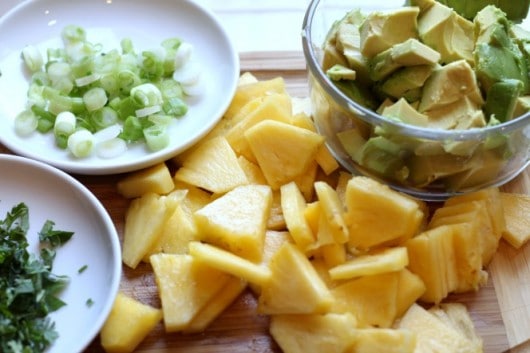 Just take a look at how colorful and delicious all these ingredients look, so pretty.
I added half a seeded and diced jalapeño for a little spice, but if you don't like things spicy you can leave it out and it is still so delicious.
I love filling snacks that will hold me over till dinner without me feeling the need to eat all the dinners ingredients as I'm preparing the meal, this snack is filled with great filling ingredients and nutrients.
This guacamole is just one way to get in your daily suggested fruit requirement with avocado and pineapple.
I found a small golden pineapple and knew the moment I saw it that it was going to go into some tropical type of dish.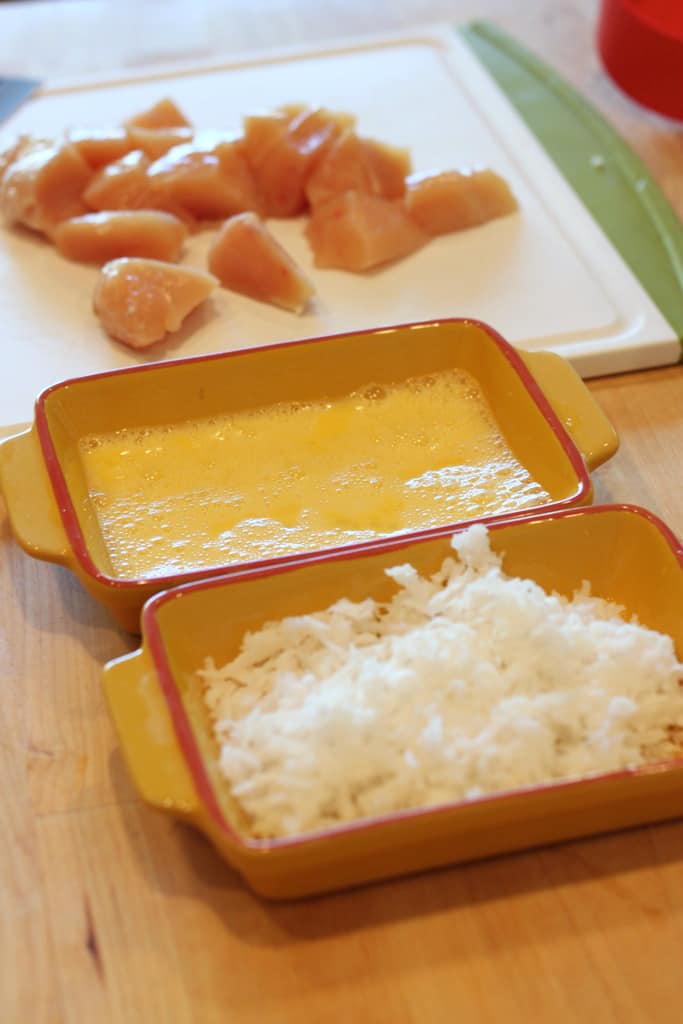 I cooked one batch of chicken on the stove and the second I baked in the oven,
they were both delicious.
I included information on both methods in the recipe.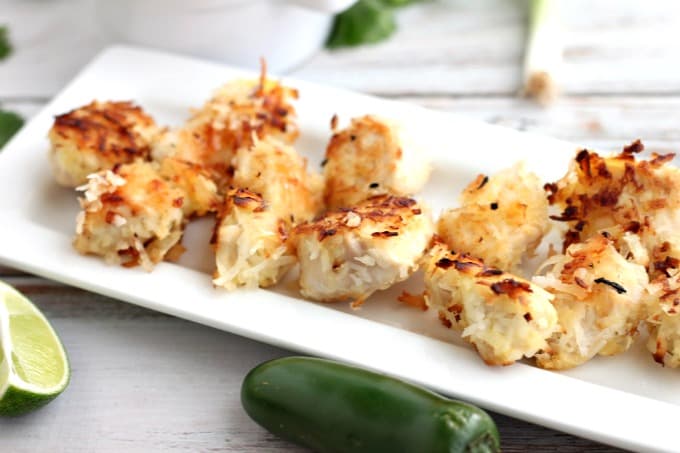 If you prefer to cook on the stove and be a watchful eye over your food
(like me, wow is that some kind of control thing? maybe that doesn't need an answer )
or if you prefer to pop things in the oven I've got you more "relaxed" cooks covered!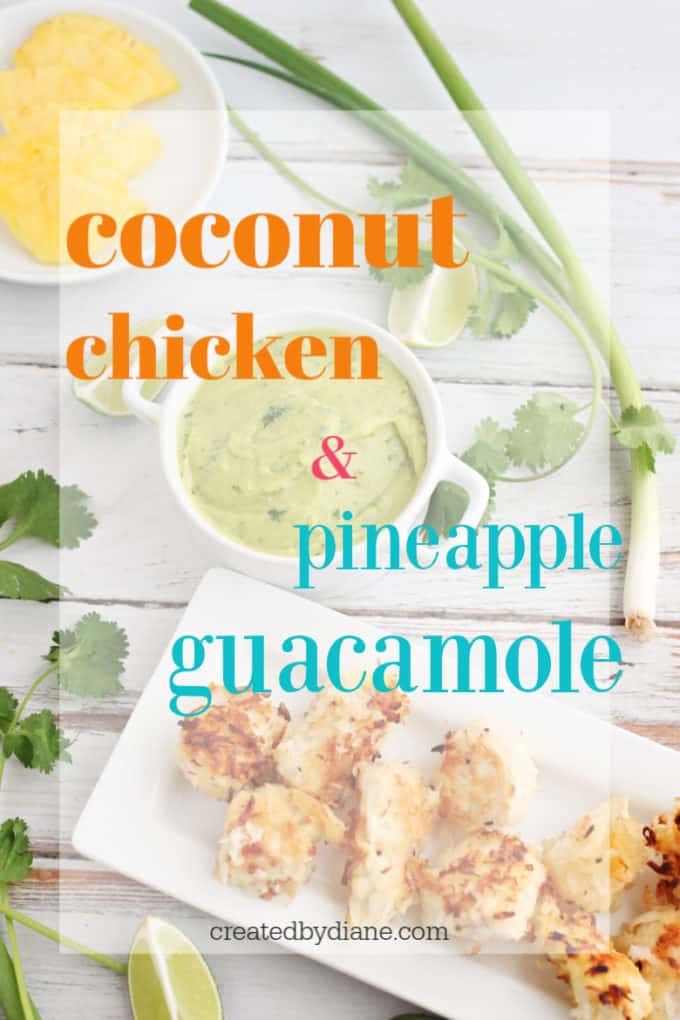 The flavors in this are so fantastic!
I love the pineapple and coconut combo.
When you're looking to kick up your dinner menu, 
look no further!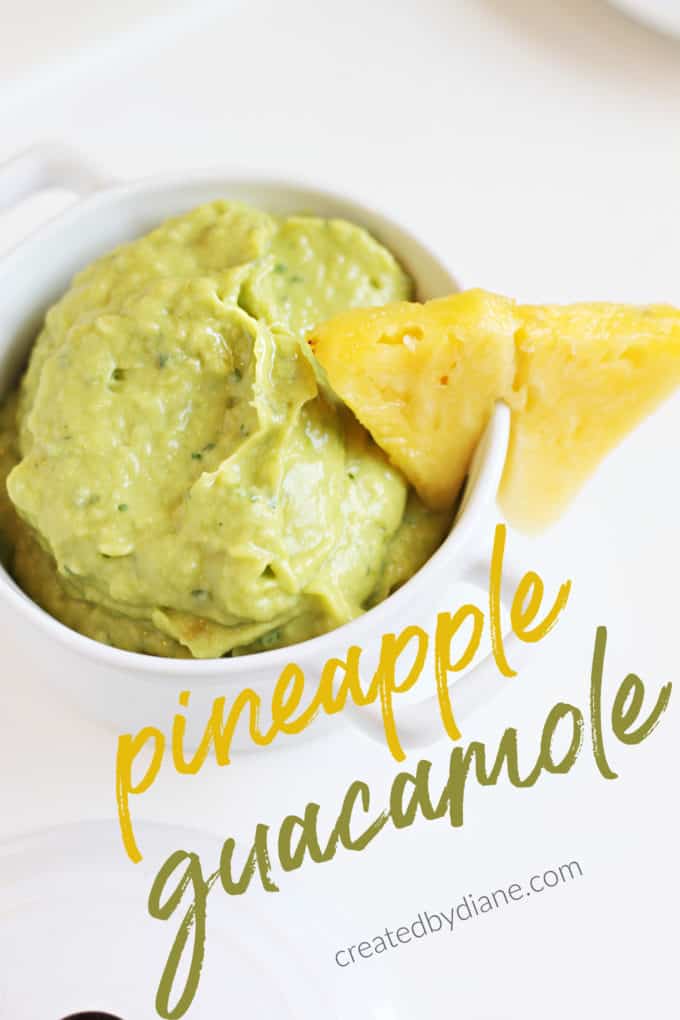 I pureed this guacamole smooth, you can leave it chunkier if you prefer. Having pieces of avocado and pineapple in this guacamole would sit on top of tortilla chips very well…
the tropical flavor is so good, especially with cilantro added. I'm a huge cilantro fan!
Be sure to get more of my pineapple recipes, and chicken recipes!
Pineapple Guacamole
Ingredients
2 diced California Avocados
2 diced scallions
1 tablespoon fresh lime juice (approx. 1/2 lime)
2 tablespoons finely chopped cilantro
1/2 small pineapple (approx. 1cup)
1/2 teaspoon salt
1/2 diced jalapeño (optional)
Instructions
In a bowl place all ingredients and blend with emersion blender or place into a blender and mix until smooth.
Coconut Chicken
Ingredients
1 pound chicken cut into 1 inch pieces
2 eggs
2 tablespoons water
1 1/2 cups coconut
Instructions
Place eggs and water in a shallow bowl and whisk.
Place the pieces of chicken into the egg mixture then roll them in coconut.
Stovetop: Place 2 tablespoon oil into a large skillet, and cook chicken on medium heat until cooked through.
Baked: place chicken on a nonstick baking pan and bake at 350 degrees for 20-25 minutes until cooked thoroughly.
*If the coconut seems to be browning way before the chicken is cooked on either method, just lower the temperature and add a few minutes to the time.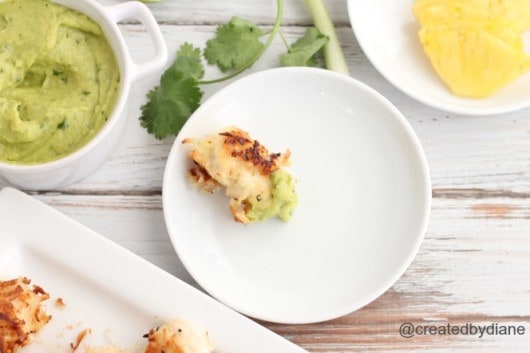 As I said I made two batches of the chicken and everyone was so glad I did, so was I. I'd like to tell you how well they reheated, but it seems like the person who ate them all had little to say as their mouth was overflowing at the time I asked where the leftovers were.
This tropical guacamole would also be great paired with fish or coconut shrimp.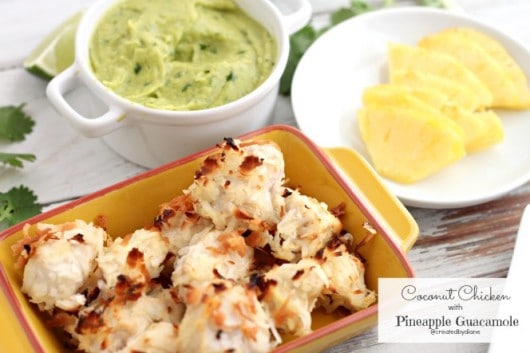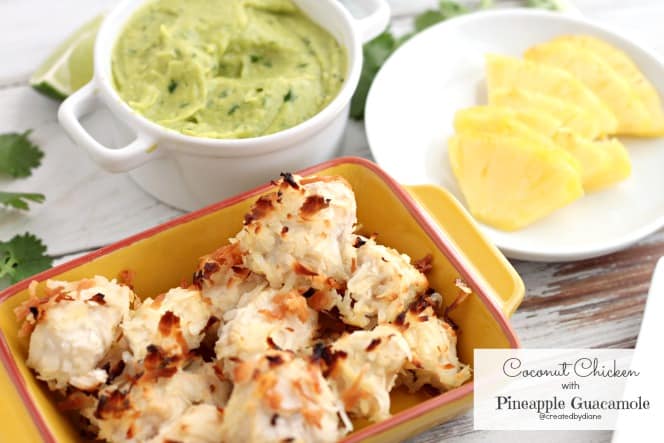 This is the batch I baked. There was a difference in taste the batch that was in the pan with a little oil more evenly browned and had more of a golden glow as a lightly fried food would have, the baked chicken wasn't dry and had lots of flavor. I was just experimenting with timing and convenience and they really were both done in about the same amount of time. So choose your preferred cooking method and make some of the tropical guacamole and enjoy a nice afternoon snack and maybe even fit that nap in. I'm sure you deserve it!