This is one posts that if you like nuts, you'll want to check out my tips on How to Roast Nuts.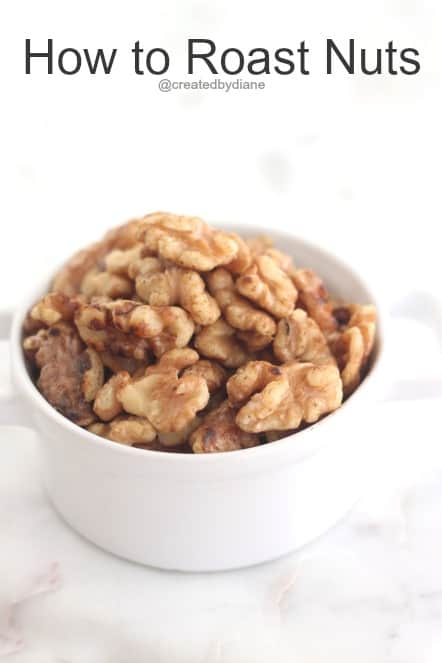 In this post you will not only learn how to roast nuts, but why
Why would you want to roast nuts?
The answer is simple,
they taste SO delicious.
Really freshly roasted nuts brings out their flavor, which is great when you are snacking on nuts, baking with them serving them with vegetables.
You name it nuts are just better roasted!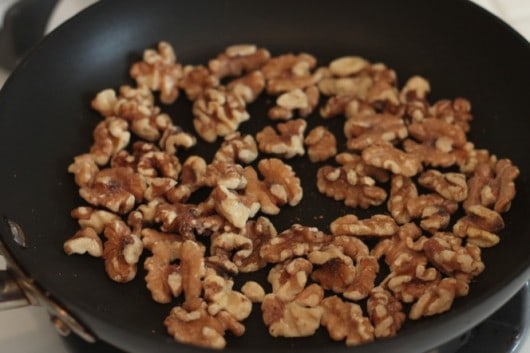 Heat up a skillet on medium heat,
add the nuts (Walnuts, Almonds, Peanuts, Cashews or your favorite nut)
and heat them with a small amount of oil.
Stir the nuts so they heat evenly and in a few minutes they will be golden, (3-4 minutes on medium to medium low) the nuts will release this great aroma. Be careful not to heat then on too high of a heat or they will burn.
How to Roast Nuts
Ingredients
1 cup nuts
1/2 teaspoon oil
Instructions
heat pan on medium
add oil and nuts
stir nuts so they mix up and get heated on all sides
remove nuts when they are golden about 3-4 minutes
If you like them toasted, heat one to two minutes more and they will get lightly browned, be careful not to burn them
while the nuts are hot add salt and/or your favorite seasoning
Notes
alternatively you can roast nuts in the oven on a baking sheet at 325 degrees for 4-5 minutes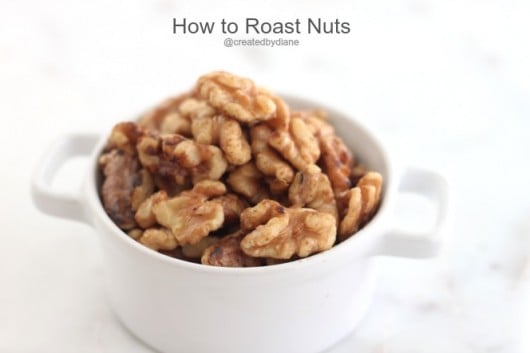 Roasted nuts are a delicious snack, when they are hot add salt and/or your favorite seasoning.
Roasted walnuts taste great in cookie and other baked treats.
One of my favorite baked items this time of year has roasted pecans and they are a winner every time I make them. Here is the recipe for my Mini Cranberry Pecan Pies, and Here is the recipe for Cranberry Pecan Bars.
Roasted almonds on green beans are great for Holiday meals and roasted pine nuts in pesto makes it extra delicious.
Nuts are a perfect snack, so the next time you have company roast up some nuts and serve them warm and hear rave reviews. Roasted nuts always seems to remind me of eating roasted chestnuts while walking around Manhattan at Christmas time!