Cranberries are so pretty, they bring brightness and color to everything this time of year. I freeze cranberries so I can enjoy them all year long….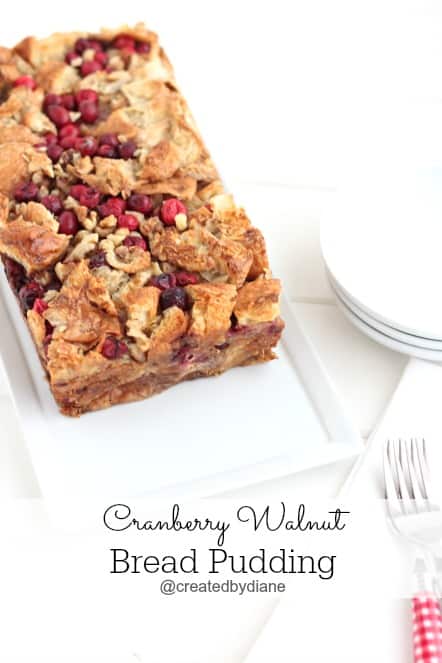 Really, it's not odd to see three bags of cranberries in my freezer in April.
Don't forget to stock up on cranberries if you like them all year long like me. These Cranberry Pecan Bars are a favorite along with this Cranberry Walnut Bread Pudding, you can now see while you'll need to stock up!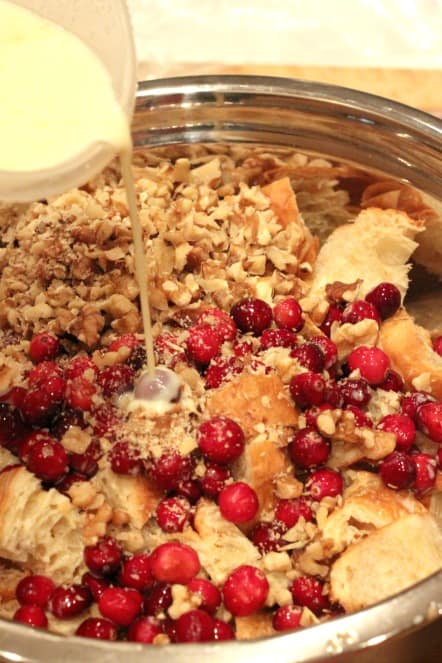 This recipe is easy to assemble and mix up and doesn't use to many dishes….pluses all around to get this one in the oven and be closer to enjoying this warm and delicious dessert.
Don't tell, but I really love eating this for breakfast too!
Now onto walnuts,
walnuts are my favorite, although to be honest, I love all nuts…I'm nutty!
Walnuts make for even more delicious chocolate chip cookies and of course are a HUGE hit in these Snowball Cookies too.
Cranberry Walnut Bread Pudding
Ingredients
5 croissants cut into cubes or about 6 cups of bread cut into cubes
1/4 cup sugar
4 eggs
1 1/4 cups milk ( I use whole milk)
3 teaspoons vanilla
1 1/2 cups cranberries
1 cup chopped walnuts
Instructions
Preheat oven to 350 degrees.
Lightly butter a loaf pan.
Mix eggs, milk, sugar and vanilla in a bowl or measuring cup.
Place cut croissants, cranberries and walnuts into a medium bowl
Pour egg mixture over top and stir gently
Place mixture into lightly buttered loaf pan and bake at 350 degrees for 40 minutes or until it's set up and the liquid is more pudding like now wet.
let bread pudding cool 5-10 minutes, then cut and serve.
I use croissants in bread pudding and love the extra rich buttery taste, but you can use any type of bread. If you like bread pudding with a little extra buttery taste, melt a couple tablespoons of butter and add it right in.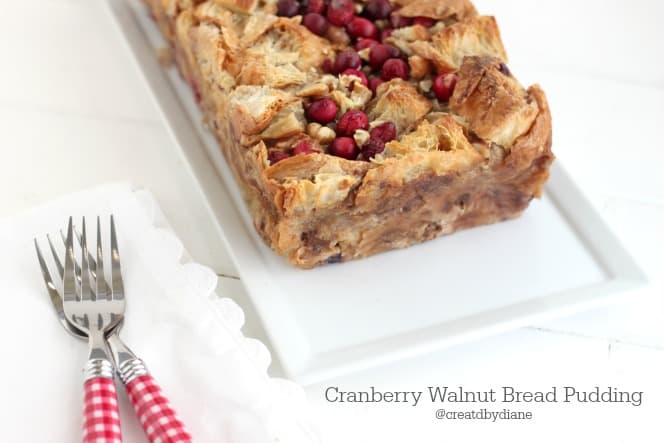 This can be ready in an hour and only uses a few ingredients that will have everyone loving this warm dessert!