If you're looking to roast crispy pumpkin seeds, this post is for you! You will get all the instructions on how to  PERFECTLY roast CRISPY pumpkin seeds and I've added a video for you to see all the steps.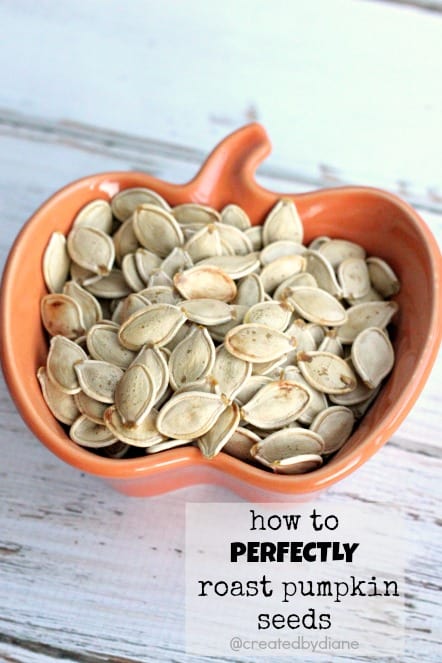 I'll give you the time and temperature I use and the "secret" method to crispy roasted pumpkin seeds. Never have soft or soggy pumpkin seeds again!
Every Fall tons of pumpkins are carved and for some, there is the BIG question of throwing out the pumpkin seeds or try to roast them.
Today I'm sharing my secrets with you on how to roast them perfectly.
Are you ready?
Grab your pumpkins and get CARVING… then scoop our all the seeds and separate the pulp from the seeds… 
then the magic happens…
You boiling them the pumpkin seeds!
You heard me right.
You boil them before you bake them.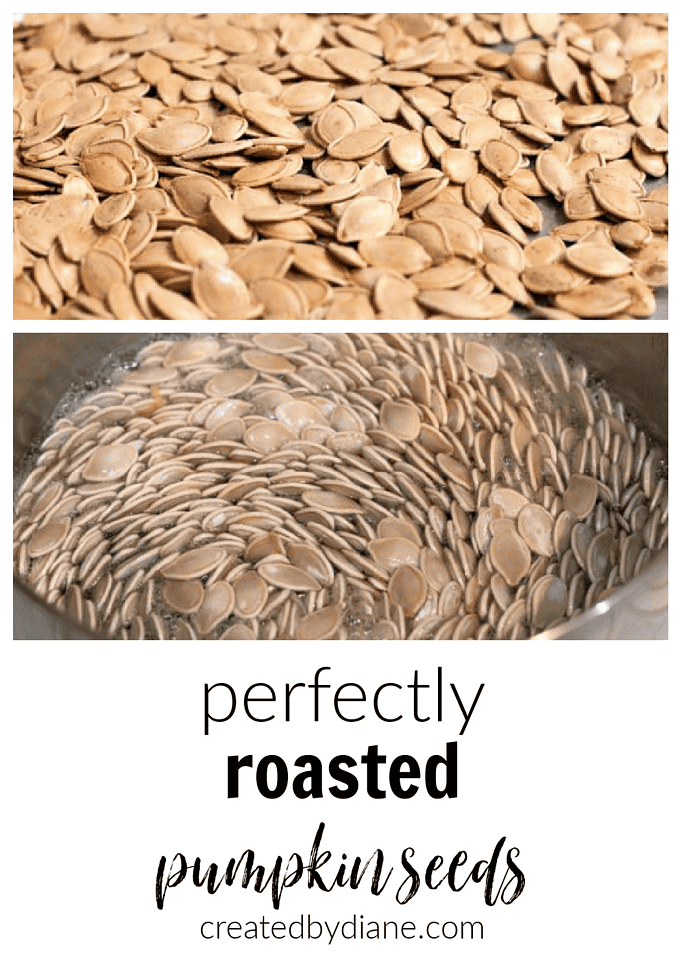 That results in CRISPY pumpkin seeds that you will want to hide from everyone and keep them all to yourself to enjoy.
Once you make pumpkin seeds you'll never go back to just baking them.
By boiling the seeds first you are par cooking them, this allows the roasting process to make the pumpkin seeds extra crispy.
If you like the pumpkin dish, you may love this, this and even THIS, I love it filled with candy corn in the fall.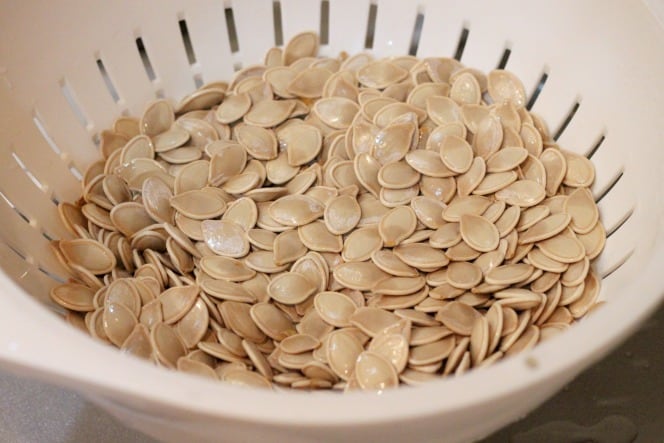 Start by cleaning the pumpkin seeds.
Really, take the time to clean them off VERY well.
You will end up with crispier seeds when you are finished.
If they are covered in pumpkin they won't crisp up in the oven as nicely,
Then all the time and effort will be wasted on soggy pumpkin seeds and NO ONE wants that.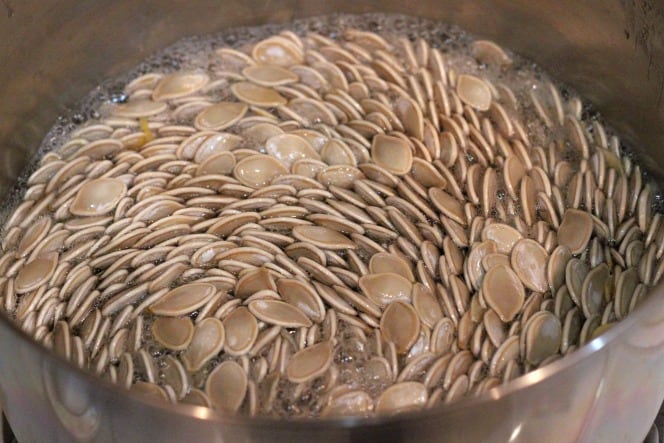 Cover the pumpkin seeds with water and bring them to a boil.
I think they look so pretty all swirled around in the pot.
If you see any particles of pumpkin you may have missed skim them off with a slotted spoon.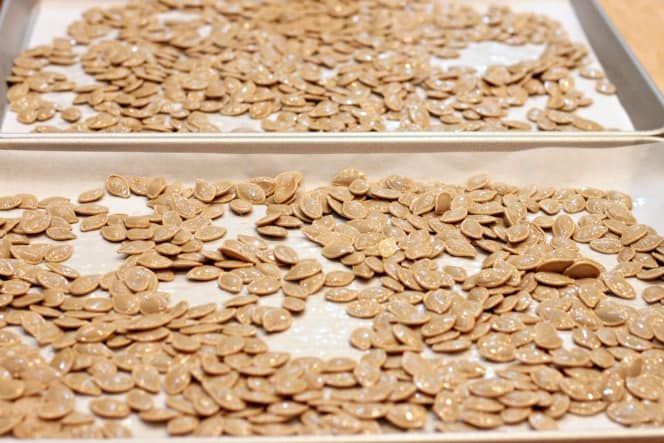 Next, you will drain the seeds.
Place them in a bowl and coat them with a little olive oil and sea salt.
(If you prefer to add an additional flavoring to the pumpkin seeds now would be the time, some people like adding a spicy dry pepper, like cayenne, some prefer garlic, or onino powder)
Then lay them on baking sheets in a thin layer. I had about 6 or 7 cups of seeds and used 2 half sheet pans lined with parchment paper.
They will bake up crispier if you don't overcrowd the pan or overlap them.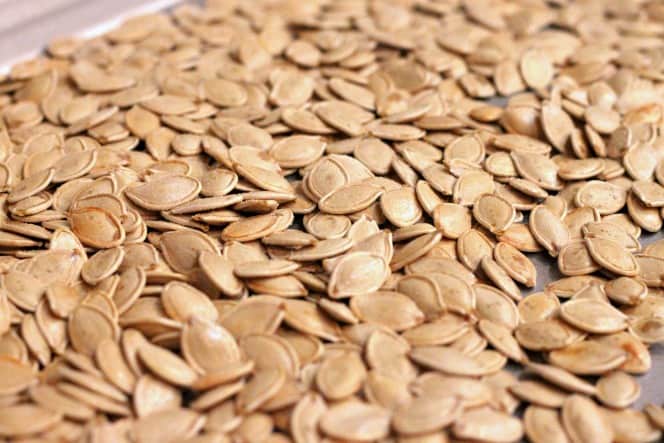 These are all done and they have a crinkly crispy sound when you move them around on the try, that is a key sign they are dry and done being roasted. Test some to be sure they are seasoned with enough salt and then hide them … I mean enjoy them!
If you love pumpkin you may want to pick up my PUMPKIN EBOOK HERE! There are many do not miss recipes you'll want to make.
keep scrolling after the recipe, there is a lot more info you won't want to miss.

how to perfectly roast pumpkin seeds
Ingredients
seeds from a pumpkin (4-6 cups)
water
sea salt
olive oil
Instructions
Clean pumpkin seeds and throw out all pumpkin residue.
Soak pumpkin seeds covered in water and swish around until all loose particles float and scoop them off and discard.
Just when you think you've rinsed them enough, place them on a baking sheet and sort through them to remove any more pumpkin pieces or residue.
This takes time, but the cleaner the pumpkin seeds are the nicer they will look and the crispier they will bake up.
Preheat oven to 325 degrees. ( you will bake them after you boil them)
Place pumpkin seeds into a saucepan and cover with water and a teaspoon salt and bring to a boil.
Reduce heat and cook on at a medium-low temperature for 10 minutes.
Strain seeds and then place seeds in a bowl with a teaspoon or two of olive oil to lightly coat the seeds and sprinkle them with salt.
Pour them out onto a baking sheet(s) in a thin layer.
Bake for 25-30 minutes tossing them every 10 minutes and being careful not to brown them.
Test the pumpkin seeds to check for doneness.
They should be dry, crisp and the inside seed should not be brown, it should be a green color.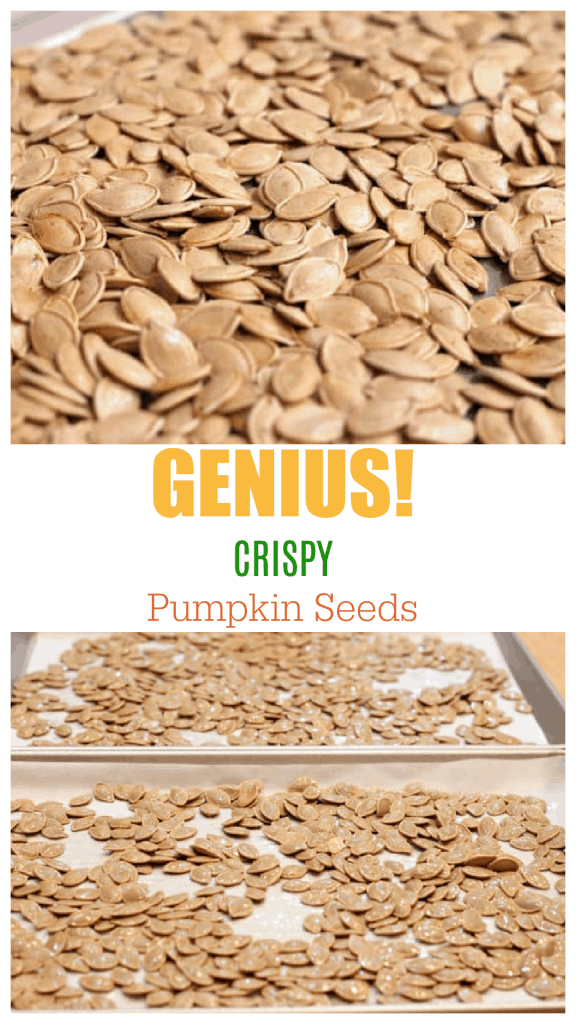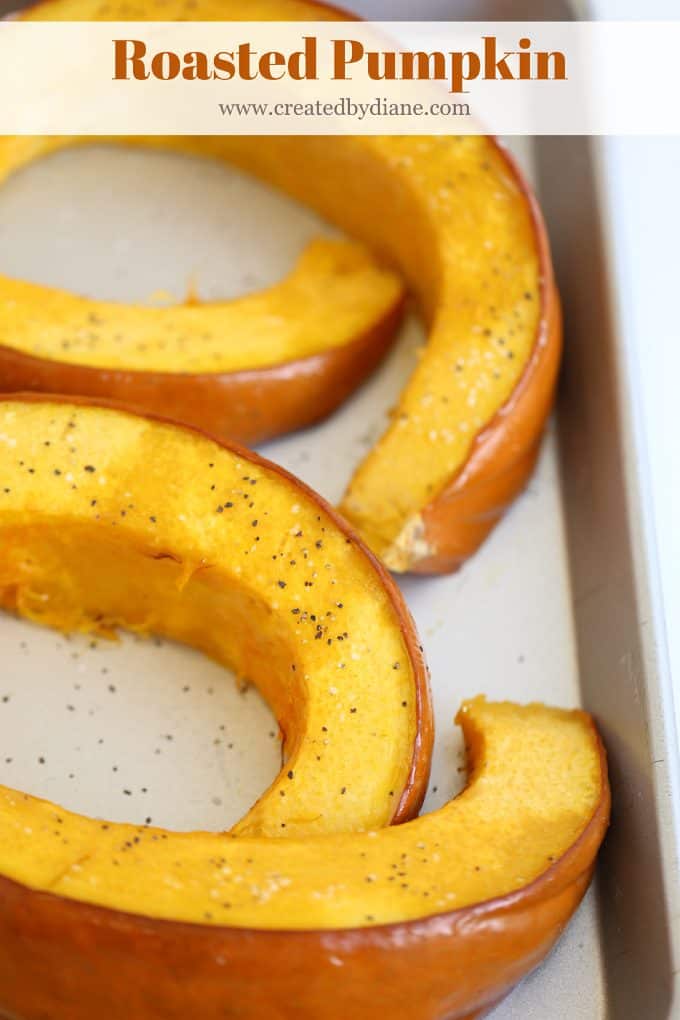 You'll find my ROASTED PUMPKIN RECIPE HERE, which is to make after you roasted the seeds. So SAVE your pumpkin don't throw it away, there is plenty to enjoy!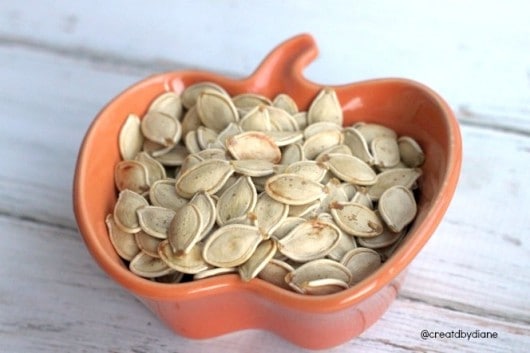 I look forward to roasted pumpkin seeds each year.
Some years I buy extra pumpkins just so I can roast seeds!
If you LOVE pumpkin as much as me I have a GREAT PUMPKIN EBOOK for sale for $5. it's full of pumpkin recipes you'll make all year long!
You heard me right, just be sure to have some canned pumpkin on hand and all year long you'll be enjoying delicious pumpkin recipes.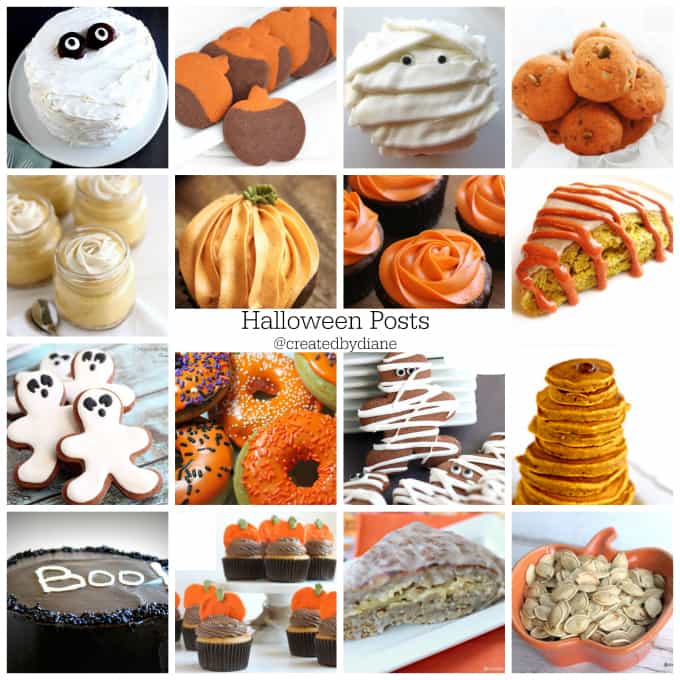 CLICK HERE to see my post for these Halloween and Fall Recipes. 
You won't want to miss them, they are so delicious!
Hope you all have a GREAT Halloween and enjoy snacking on crispy pumpkin seeds. That is until you start snacking on some Halloween candy…if you haven't already.
I rounded up all my posts from October into one convenient post, check it out to see if you missed anything here.
You may also like these posts:
How to ice cookies the EASY way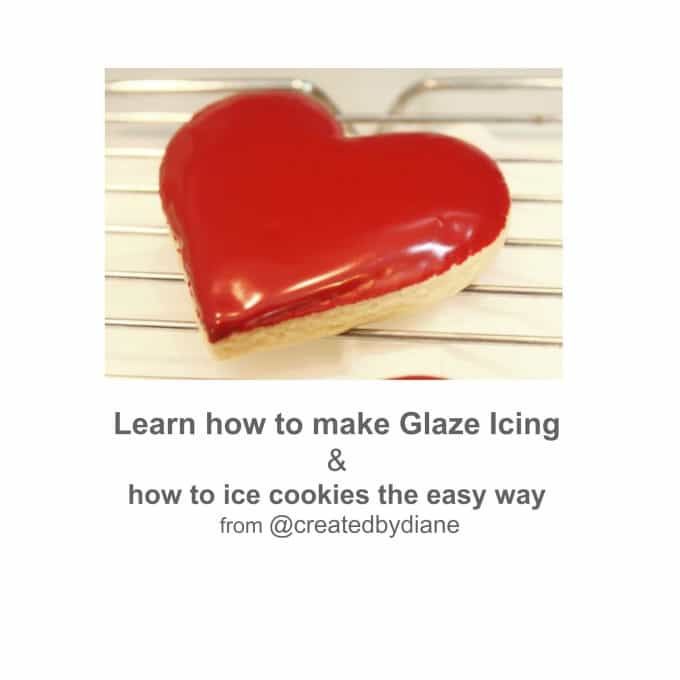 How to ice cookies the EASY WAY!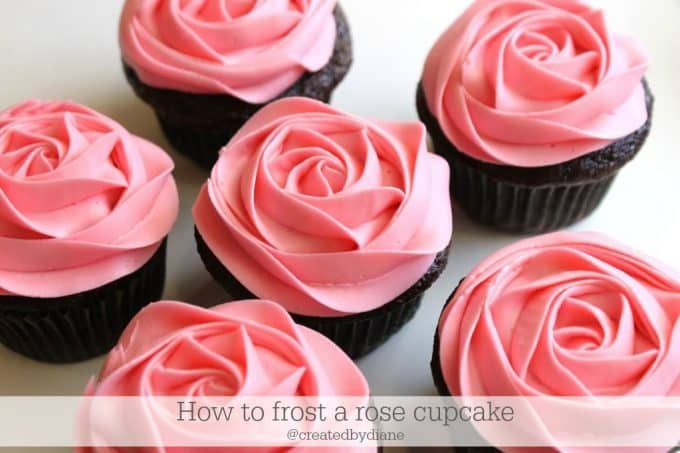 Pin this post to revisit it each year when you are carving pumpkins, print out the instructions and PLEASE Share this post with your friends. There are sharing options at the top and bottom of this post.
THANKS!
~Diane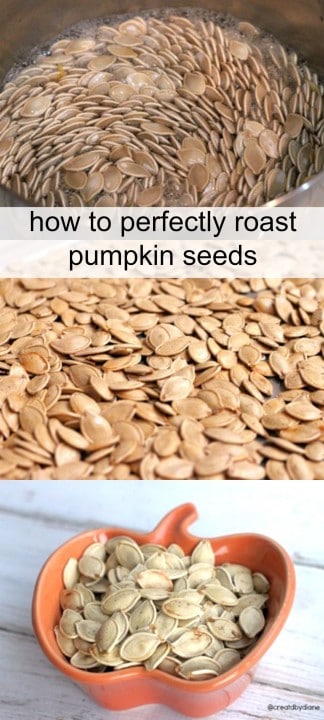 PLEASE sign up to receive my email updates for more delicious recipes HERE