Coconut Banana Cake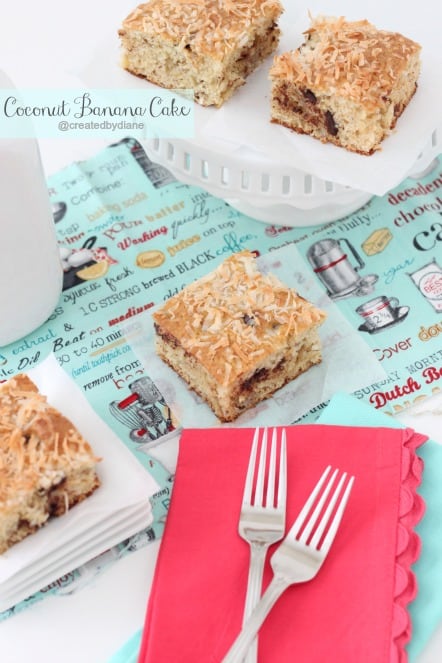 Yes, I eat cake for breakfast…
Every chance I GET!
It has bananas in it, so it's breakfast food, right?
And when you think about it, this is half the calories of all the cakes I see in my local coffee shop, so that right there means it's good for me in the morning.
I like figures, numbers, and seeing comparisons.
Still not sure why, but I do.
This is one of these recipes I loved seeing as I was hoping I could squeeze in a piece with my new calorie counting….
You can imagine how hard it is some days in my kitchen with  the counters lined with things like…..Raspberry Swirl Cupcakes with raspberry frostings, Dark Chocolate Fudge Cake and these Lemon Shortbread Cookies with Lemon Curd.
I've deemed this a healthy breakfast 🙂
Coconut Banana Cake
Ingredients
2 ripe bananas
2 cups flour
3/4 teaspoon baking soda
1/2 teaspoon salt
1/2 cup sugar
1/4 cup butter (softened)
2 eggs
1/4 cup milk
4 tablespoons dry buttermilk
2 teaspoons vanilla extract
3/4 cup sweetened coconut, (divided into 1/2 & 1/4 cups)
1/2 cup chocolate chips
2 tablespoons flour to mix with chocolate chips so they don't all settle to the bottom.
Instructions
Preheat oven to 350 degrees
Spray a 9X13 pan with baking spray and line with parchment for easy removal.
In mixer beat butter and sugar until it's well blended.
Add the eggs one at a time, combining at each addition.
Add milk, dry buttermilk and vanilla and mix to combine.
Add the bananas sliced in 1/2-1 inch chunks, then mix.
Add the four, baking soda and salt, mix to combine.
Mix chocolate chips with flour and sift off extra flour.
Add in 1/2 cup coconut.
Stir in chocolate chips then pour batter into prepared baking pan. Top with remaining 1/4 cup coconut
Bake for 35-40 minutes or until golden in color and set up so toothpick comes out clean.
How about you…what has been on your breakfast plate? Anything you want to share with me….I'm all for trying something new.
Actually I really like PIE for breakfast, got any pie recipes I should add to my To Do list?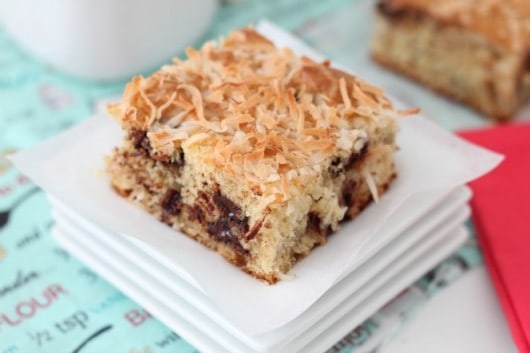 I just LOVE the toasted coconut on top, it's crunchy and well that's just like eating healthy cereal, isn't it? No need to answer that one, I know the truth.
*I am not educated in giving diet/nutrition advise. I'm sure you already know that. But as I did add all items into a calorie calculator I loved seeing that it really is half the calories of the items at my local coffee shop. A 3×4″ piece is 1/12 of this recipe and there are 225 calories per piece.