Dark Chocolate Fudge Cake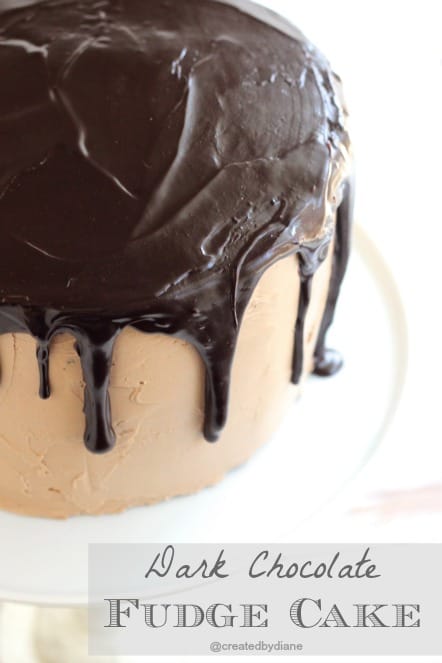 Dark Chocolate, it doesn't get much better than this! I remember being a kid and getting one of those small dark chocolate bars out of a bag of Hershey's Miniatures, they were the BEST. I always wished there were more in the bag and well, I really wished they sold a whole bag FULL of the Special Dark Chocolates really. I'm not alone, you liked them too? Right?
Well, nowadays dark chocolate is more common, so for anyone younger than me. You may not even know what I'm talking about. I came upon Hershey's Special Dark Cocoa Powder a while ago and have used it in many recipes, but this is one I will not be forgetting anytime soon. It was the PERFECT chocolate for this cake in my opinion, and the opinions of everyone who had a piece of this really chocolaty cake.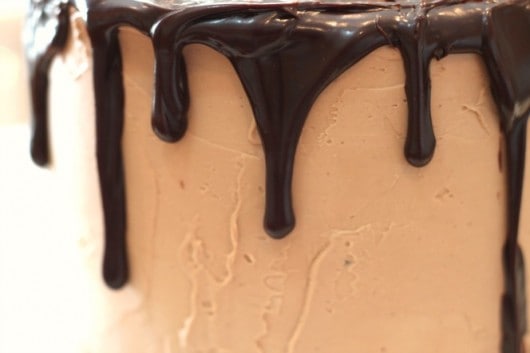 Now that I've mentioned how to make Hot Fudge Sauce here you'll need more than ice cream to pour it on. Right? This Dark Chocolate Fudge Cake is just the thing you need. Trust me. It's dark chocolate cake with fudge between each layer, wrapped in Coffee Italian Buttercream Frosting and then you guessed it, more fudge poured over the top. Oh yeah, It's OVER the TOP!
My husband has claimed this….absolute favorite! My kids couldn't wait to have a second piece. It really was so rich and delicious, like a chocolate overload…in a GOOD way. I wanted the fudge to drip over the sides, but I really didn't want it to pour all the way down the cake and land at the bottom, so I melted some and left some at room temperature, the combination was perfect to work with and really so easy and only took a couple minutes to finish up.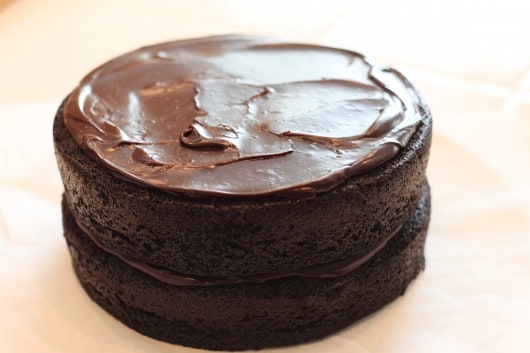 Layering the fudge in between the cake layers instead of frosting I think was my favorite part. I couldn't wait to cut into this cake!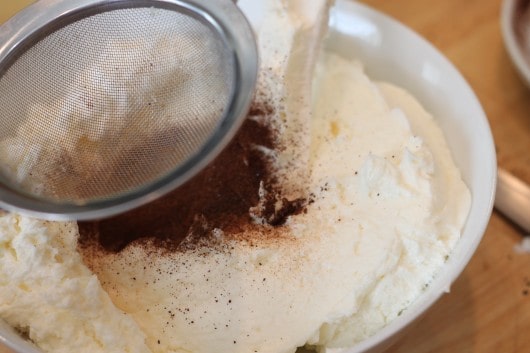 This is the strainer I pressed the instant coffee through so it was powder fine.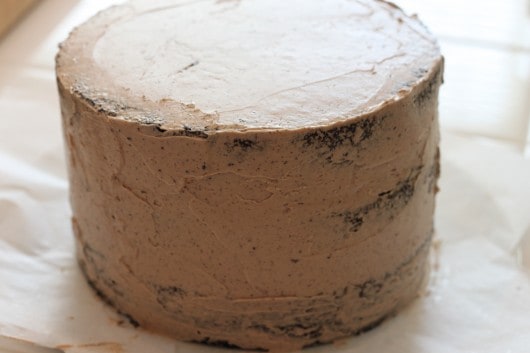 I crumb coated the cake and put it into the fridge to set up and get ready for the outside coat.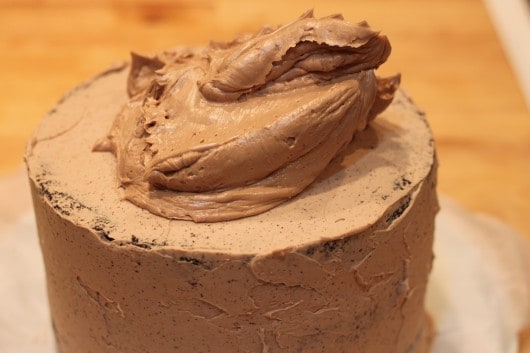 When frosting a cake make sure you have plenty of frosting, there is nothing worse that running out of frosting before you cake is done, trust me.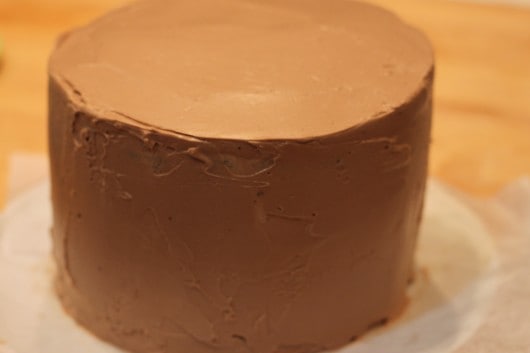 I smoothed the frosting with an offset spatula.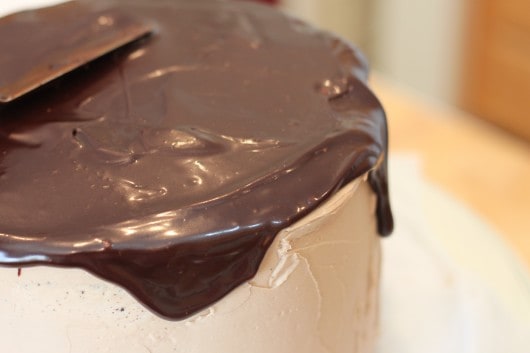 then poured the fudge on top.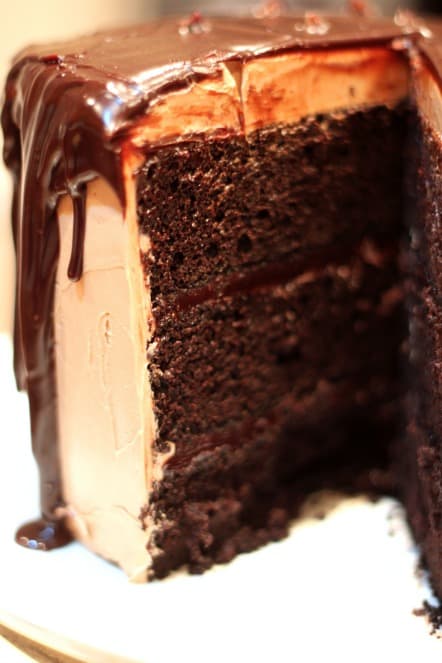 Oh yes, see nice and dark! But really this photo is showing the cake a little lighter than it really is…..just wait until the next photo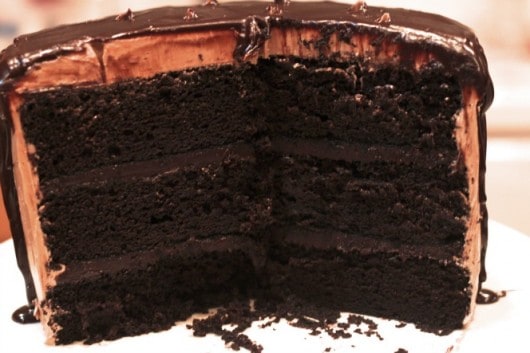 See that is exactly how dark the cake is….think "Special Dark" yep that is the secret ingredient. Some photos look lighter straight out of the camera, I took these photos at night and I'm sure I was in a bit of a hurry to get the pieces of cake onto the plates. No one wanted to wait until I took photos….they wanted CAKE! I couldn't blame them, so I took these really quickly. I'm just lucky I remembered to take photos of the inside at all, sometimes I forget.
Dark Chocolate Fudge Cake
Ingredients
1 cup unsweetened Hershey's Special Dark Cocoa
2 cups boiling water
2 3/4 cups sifted flour
2 tsp. baking soda
1/2 tsp. salt
1/2 tsp. baking powder
1 cup butter
2 1/2 cups sugar
4 eggs
1 tsp. vanilla extract
additional ingredients for fudge filling and frosting are needed
Instructions
Preheat oven 350 degrees
In a medium bowl combine cocoa with water mixing with wire whisk until smooth.
Cool completely.
Whisk flour with baking soda, salt, and baking powder so there are no lumps.
In large bowl beat on high, butter, sugar, eggs, and vanilla until light about 5 minutes.
On low speed beat in flour mixture and cocoa mixture.
Do not over beat.
Prepare 3 8" baking pans with parchment on the bottom and baking spray on the sides for easy removal of cake after it's baked.
Divide the batter evenly in the 3 pans.
Bake for 30-35 minutes or until a toothpick comes out clean.
Cool cake in the pan, then turn the cake out on a cooling rack to be sure they are completely cooled. I refrigerate or freeze my cake so it's cold when the frosting goes on and the layers are easy to handle. It also seems to help that the cake stays moister if I freeze them. A couple hours or overnight.
I wrap the cake layers in plastic wrap and unwrap them when I take the out of freezer and in about 10 minutes begin assembling the cake.
Baking strips around the outside of the cake pans REALLY helps the cakes bake evenly. Trust me, I do not like to level cakes, and they are a life saver. If you don't have them, wet towel strips and pin them around the edge of the pans so the batter bakes evenly.
Place 3/4 cup in between each cake layer and smooth almost to the edge.
Add a tablespoon of instant coffee, ground fine (I press the coffee with a spoon into a strainer until it's a powder) to the frosting along with 1 cocoa.
Spread a thin layer of frosting over cake and refrigerate for 15 minutes then frost with remaining frosting.
Drizzle hot fudge over the cake and spread with an offset spatula on top.
Place cake into the fridge to chill the fudge so it doesn't drip down totally.
Remove cake an hour before serving.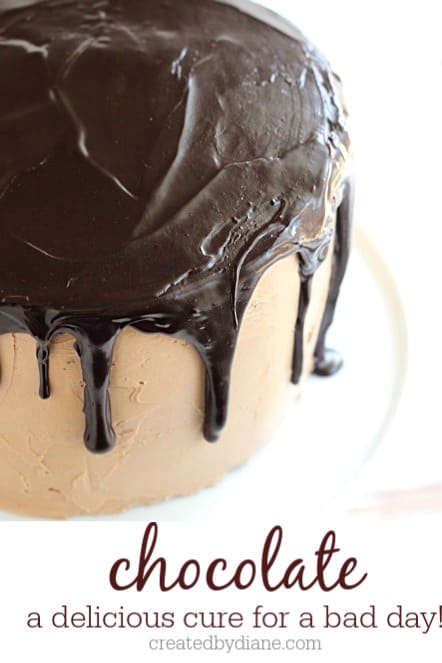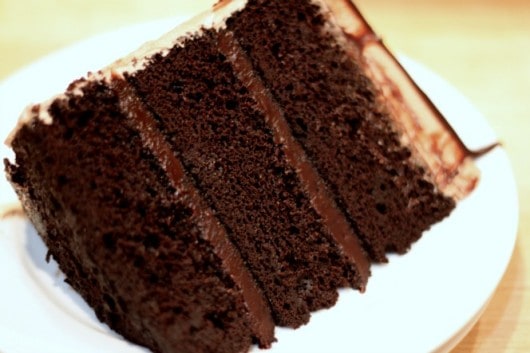 Yeah, you really can't go wrong with dark chocolate, can you? I added coffee to the frosting as requested from the birthday girl, it really did give it a deliciously rich taste that everyone loved.