Raspberry Lemonade Cupcakes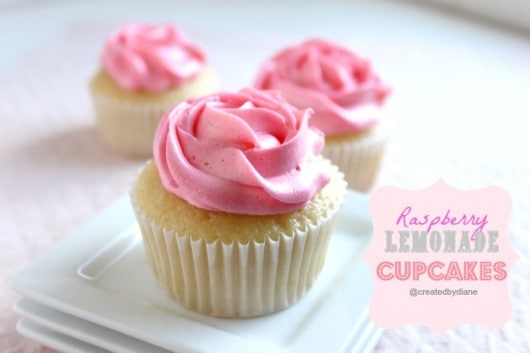 Remind me not to leave home without headphones.
PLEASE!
I went on vacation without them.
I was desperately begging my son and daughter to share theirs, and well I bet you can imagine how that worked out for me.
Actually my little guy gets the award for forfeiting them a few times. I did manage to borrow them on the airplane ride a few times and when I went running.
Yes, I went running on my vacation, what am I nuts? Well, yes but that's a whole other topic.
It didn't last long though, it was WAY colder and windier than I am used to and the slope on the sides of the roads made it hard to run straight and keep my balance. I guess when they made the roads with the water drain areas they weren't thinking about runners and how one leg would have to be 8 inches shorter than the other.
I just kept thinking really this is spring? Thirty some od degrees wind that seem to blow in from the windy city, I had a hat and gloves on and was plenty warm, but after about 2 miles, I saw a shortcut and ran through a neighbors field, since nothing was planted I took a guess they wouldn't mind. Besides it wasn't like they'd mind all the mud I seemed to collect on my sneakers. Yep, that was fun cleaning them off. Red clay dirt type of mud, and lots of it.
For the rest of my trip I kept to walking, on cement!
Now that I'm home everything is blooming and the sun is shining and now I just need to lace up and get back running….
and remember my headphones.
I still can't believe I left home without them. As soon as I got home I put a set of headphones in my pocket book. I had no idea how much I would have used them. To watch movies on the plane, and well to drowned out the music I kept hearing that really isn't to my linking, everywhere I went I kept hearing it. I would do everything I could think of to not pay attention to the music, but as you know that can be hard.
So my advise it to not leave home without headphones. Music or not make sure you have headphones, chances are if you get tired of listening to what songs you have on some devise you own, you can just plug into someone else's. Well then you'd probably need a spitter. Ok, just bring them. Just in case.
I really wish I hadn't left home without some cupcakes either, but they don't pack very well. I did bring these cookies, they packed nicely.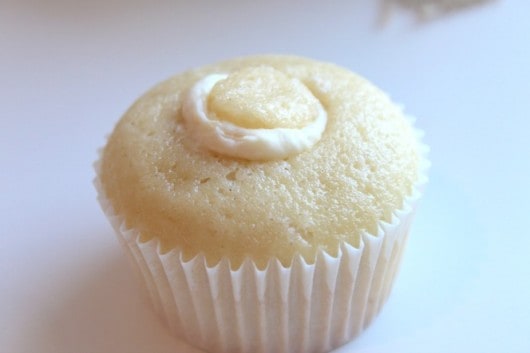 Spring is upon us and these will be made all spring and summer long if I have anything to say about it.
They are yummy and fresh tasting and well, I love lemon. Add to it the fun flavor of raspberry and it's a sure winner.

Raspberry Lemonade Cupcakes
Author:
Diane Schmidt (Created by Diane)
Ingredients
2 cups sugar
4 eggs
2 1/2 cups flour
1 cup milk
1/2 cup melted, cooled butter
1/4 cup oil
2 1/2 teaspoons baking powder
2 tablespoons fresh lemon juice
2 teaspoons vanilla bean paste
1/2 teaspoon lemon emulsion
1/2 teaspoon raspberry extract
1/4 teaspoon lemon emulsion
2 drops soft pink Americolor food coloring
1 teaspoon lemon emulsion
Instructions
Beat sugar with eggs until completely combined.
Add flour, milk, butter, oil, baking powder, lemon juice, vanilla and lemon flavors
Mix until creamy.
Place 3 tablespoons of batter into each cupcake liner.
Bake at 325 for dark pans (350 for regular) for 18-20 minutes.
Let cupcakes completely cool before frosting.
Core out cupcake with cupcake corer.
Mix 1 cup of frosting with lemon emulsion and place frosting in piping bag and fill cupcakes. Place back top of piece of cupcake removed.
Place the remaining frosting mixed with raspberry extract, lemon emulsion and pink color into piping bag fitted with a 2D tip and pipe roses onto cupcakes. How to video here.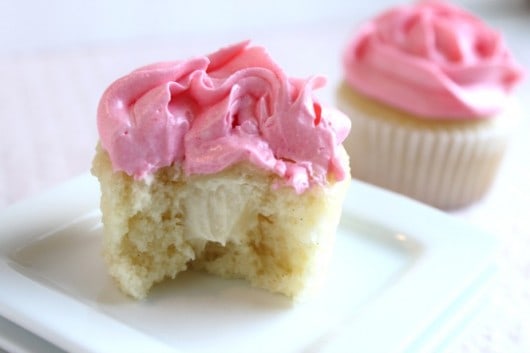 I'm in love with filled cupcakes!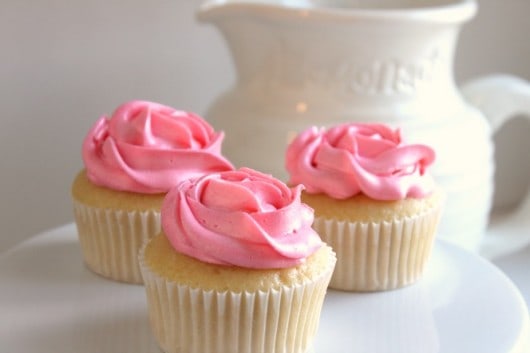 Who knew lemonade could get better by being pumped into cupcakes!