Mocha Cake… If you're looking for the best party cake, this is it. It's made in a big14″ round pan, or you can bake it into an 8″ 3 layer cake if you prefer. Me, I went simple with a big cake and top it with a deliciously silky mocha Italian Buttercream Frosting that everyone will love.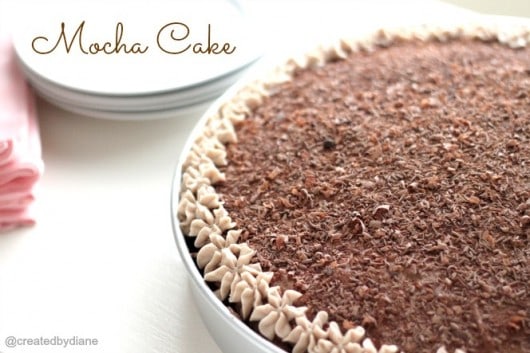 Trying to get 8 people to decide on a TV show is almost impossible. In my opinion, it's easier to make a dessert they all can agree on. Clicking channels drives me crazy, seeing nothing interesting on 500+channels is just silly. I wish we found some 80's reruns to laugh at because most of the shows on these days are more unreal reality than TV was years ago. While others think automobile shows are the top pick, along with fishing and Duck Calling. I even voted that we all watch Forst Gump, but the channel changing continued….for a while.
So instead of focusing on the channel changing, I decided to focus on this Mocha Cake I made.
I needed to make an easy and delicious cake fast.
This was a great solution.
A 14″ Mocha Cake with shaved chocolate on top.
Mocha icing is so wonderful. I just LOVE it.
I've make Mocha Cupcakes, Mocha Chip Cookie Cake and Chocolate Cake with Coffee and Cinnamon and they are all delicious but I needed a cake to serve many. This cake is the perfect size. It's easy to make. Easy to transport and you don't have to worry about it sliding, falling, or messing up (which is always a plus). To be sure the cake was cut nicely, but that the pan didn't get gouged, I sent a plastic knife, the type that they sell to cut lettuce. I found one that was sold to cut cake, but really it's the same as my lettuce knife, just a different color. Here is an example of the knife. It works great, it's serrated and won't mess up the cake pan.
The next time you need a yummy, quick cake for a crowd, this should be at the top of your list, or well at least you know what will be on mine.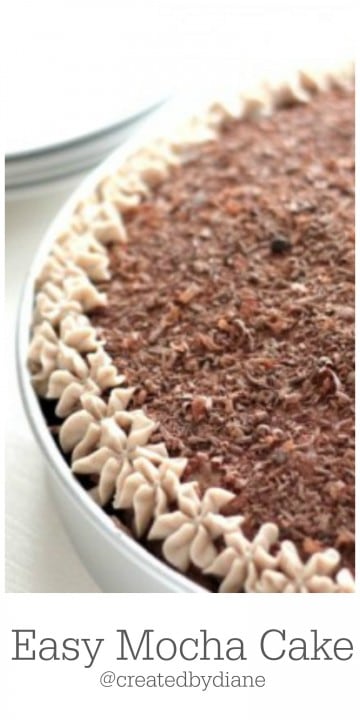 THIS is the Italian Buttercream Frosting Recipe I used and added cocoa, instant coffee, and cinnamon to it, it gives the frosting a nice mocha flavor.

Mocha Cake
An easy chocolate and coffee flavored caek with mocha buttercream frosting with a hint of cinnamon.
Author:
Diane Schmidt (Created by Diane)
Recipe type:
Cake, Dessert
Ingredients
2 chocolate cake mixes (I used Dunkin Hines) and ingredients to prepare cakes.
1/4 cup instant coffee
1 teaspoon cinnamon
Frosting
1/4 cup cocoa
1 teaspoon instant coffee
1 teaspoon cinnamon
Topping
1 bar dark chocolate -I used Ghiradelli 70% Bittersweet
Instructions
Prepare cake according to package directions, add instant coffee and cinnamon. Bake in 14" pan for 25-30 minutes or until a toothpick comes out nearly clean.
Mix coffee, cocoa, and cinnamon with Italian Buttercream Frosting, reserve a small amount if you want to pipe the edge a lighter color, don't add cocoa to that portion, just add cinnamon and coffee.
Spread frosting onto the cake and shave chocolate bar with a potato peeler and sprinkle chocolate shavings on top. Pipe edge with frosting mixed without cocoa in a piping bag with 2D tip.