Coconut Lime Rice Pudding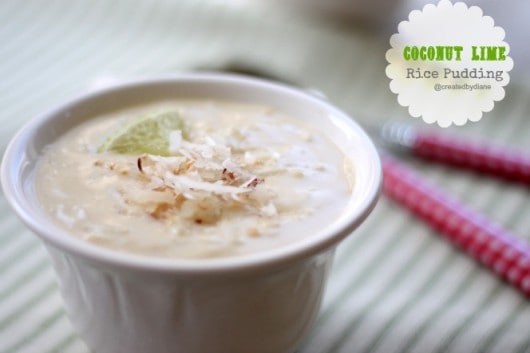 I wonder if there is a way to live on coconuts?
If there is, I think I could.
I could have coconut milk, coconut shavings, and toasted coconut….yeah that all sound good to me.
Let's see, there would also be Mounds Candy Bars, those yummy Samoa Girl Scout Cookies and don't let me forget coconut shrimp, coconut cream pie.
But I guess that wouldn't be very filling, but it sure would be fun. Don't you think?
So on my quest to have all things yummy and coconut-y I would have to add in this Coconut Lime Rice Pudding to my lovely list, and well if you are like me and love all things coconut, you will LOVE this.
Coconut Lime Rice Pudding.
Oh yes, all the yumminess of coconut and the tanginess of lime jumped into the pot of rice and… well, yes I could live on this forever! Not sure it would last more than a day because 2 minutes is all the time it took to have an empty bowl (or two, don't tell) and then, I'd have to make another batch. So maybe you couldn't live off of this but I know you will want to! Basmati rice is really one of my favorite rice. I use it in place of other varieties of rice often. I love how well it cooks up and that it isn't extremely starchy. I like basmati rice when I make Mexican food, Chinese food and since I've used it in rice pudding and love the result, I can't wait to try it when I'm making coconut rice. But coconut rice is for another day. This was my first time using RiceSelect Jasmati Rice® it smells wonderful and tastes delicious. I can't wait to use Jasmati Rice in other recipes. It has a wonderful light nutty taste and well to tell you the truth some days I think I could live on rice. Rice is so versatile and I really love rice with butter.
Coconut Lime Rice Pudding
Ingredients
2-13 oz cans coconut milk
1-12 oz can evaporated milk
1/2 cup Rice Select Jasmati Rice
1/2 teaspoon salt
2 eggs
1/2 cup sugar
1 teaspoon vanilla extract
3 tablespoons fresh lime juice
1/2 teaspoon coconut extract
1/2 cup coconut
1/2 cup toasted coconut for topping
Instructions
In large saucepan add milk and rice and salt.
Cook on medium heat for stirring until tender (about 25-30 minutes)
Milk will not be all absorbed.
Remove pan from stove.
Beat eggs with evaporated milk and sugar, along with lime and extracts.
Pour slowly while continually stirring into rice mixture. (stir quickly so the eggs don't curdle)
Stir in coconut.
Return to medium heat for 3 minutes and then pour into a casserole pan or serving dished to cool.
Top with toasted coconut. (toast coconut in a pan on medium low heat until golden)
Serve warm or let cool and refrigerate.
I really love rice pudding.
Here are three other versions I've made:
My mom's deli style Rice Pudding Recipe

I was compensated for this recipe from RiceSelect and BlogHer. All opinions are my own. Jasmati is a long grain American grown jasmine rice.