Banana Cream Oatmeal Bites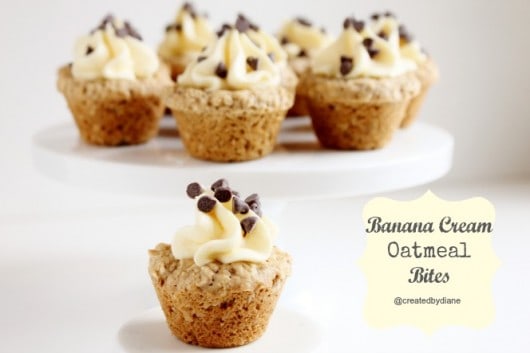 Oatmeal cookies get kicked up a notch with Banana Cream yumminess in these Banana Cream Oatmeal Bites.
These can be made in a jiffy and are a crowd pleaser.
I love little bite sized treats. Some of my favorites are Pumpkin Spice Bites, Gingerbread Cheesecake Bites, Peanut Butter S'more Bites, Date Nut Bites, Mini Chocolate Pudding Cookie Cups and Shortbread Cookies with Raspberry Jam.
Yes, I may be a little obsessed with bite-sized cookies. I'm not the only one, right?
Banana Cream Oatmeal Bites
Recipe type:
Dessert, Cookie Bites
Ingredients
1 package instant banana pudding mix (3.4 oz box)
2 cups heavy cream
1 package pillsbury oatmeal cookie mix (and ingredients to prepare)
1/2 cup mini chocolate chips
Instructions
Mix instant banana pudding mix with heavy cream with a whisk until smooth and well blended.
Place in refrigerator covered with plastic wrap. It will thicken as it sets up in refrigerator.
Prepare oatmeal cookie dough according to package.
Place 2 teaspoons of cookie dough into each compartment of a mini muffin pan sprayed with baking spray.
Bake for 10 minutes.
Let cookie cool 5 minutes., then remove from pan and allow to cool completely.
Place banana mixture in a piping bag fitted with a 2D tip and pipe some on top of each cookie bite.
Top with mini chocolate chips.
These are really wonderful in the morning. So my kids say. Since they are full of oatmeal, how can I argue, it's not necessary. I just grab a few as I'm running out the door to bring them to school and the morning seemed better already. The morning traffic to bring my kids to school is awful, I still haven't figured out why they don't have a better system. All the cars on one side of the street are crossing over traffic to get into the school. Why didn't they make the entire block they took up building the school have the traffic flow around it better. Yes, you see it's these types of things that have me coming home and grabbing a few more of these yummy "breakfast bites" just to make it through the morning!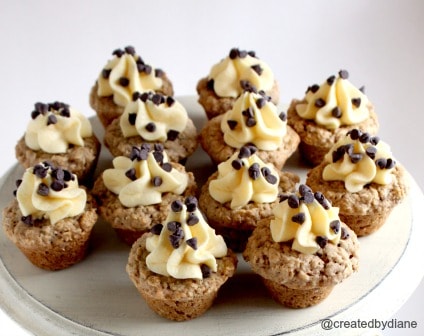 Does your morning schedule drive you crazy? Do you sit in traffic and try come up with 5 different options to alleviate the mess? Do you leave extra early to try to avoid all the mess, or are you easy going and just sit and wait and it doesn't seem to bother you at all.
Tell me I'm not the only one. Tell me it drives you nuts.
Maybe you need some of these too?
Trust me, if you're like me THEY help!