Chocolate Wreath Cakes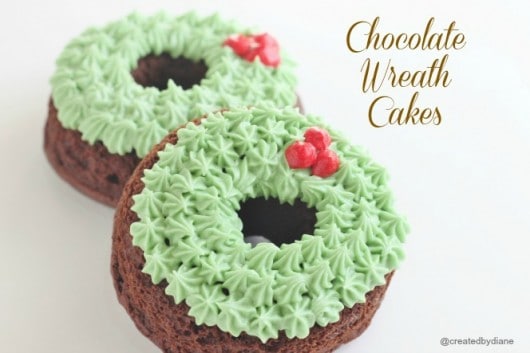 Wreaths are out and about now that December has arrived.
I'm a little slow in the decorating area.
It'll take me another week I think.
We have the lights up on the outside of the house, but moving everything around on the inside, well that's another story.
I'm having too much fun baking right now to think of making another mess.
How about you…..are you all set? Are your decorations all up yet?
I see so many pretty photos on instagram of every ones Christmas Trees and that sneaky Elf…
Yeah, I don't have one of those yet, what do you think….Should I get one?
Do you have one? Is he wreaking havoc all over your house?
I bet he'd have fun in the kitchen with me!
These wreath cakes are fun and easy to make and are perfect to bring to any Holiday event.
I used a donut pan to make these.
I just love thinking of alternate uses for baking pans I already have and this one sure is cute!
With a piping bag and some red and green frosting you are just about on your way to create these edible wreaths.
Don't miss my great 
Chocolate Wreath Cakes
Ingredients
1 box chocolate cake mix plus ingredients listed on package
frosting I prefer buttercream as it stands up to piping well, prepared frosting is too thin, but if that is all you have, add a cup of powdered sugar to it so it will pipe easier and not flop over.
green food coloring I used Americolor red
red food coloring I used Americolor avocado and a drop of leaf green
Instructions
prepare cake mix according to package directions.
Preheat oven to 325 for dark coated pans.
Put 6 tablespoons batter into each donut compartment.
Bake for 8-10 minutes or until they are cooked and toothpick comes out fairly clean. Don't overbake until toothpick is dry, your cakes will be dry.Remember they are still baking in the hot pan as it cools before you remove them.
Remove donut cakes when cooled 5 minutes.
Allow cakes to cool completely before adding frosting
Mix frosting with green food coloring reserving 1/4 cup frosting to tint red.
Place green frosting into piping bag with a small star tip. I used #18
Place the red in a piping bag with a #4 tip.
Make three rows of stars around the donut to create the wreath.
Then add three red berries to each wreath.
Notes
Place cakes in refrigerator if frosting seems soft so it has a chance to firm up if you feel it will fall off the edge. Buttercream Frosting Recipe 1 cup butter 4 cups powdered sugar 1 teaspoon vanilla 3 tablespoons milk Beat butter until smooth add powdered sugar, vanilla, milk. Mix until blended. If it's HOT outside and I don't want to icing to flop I either mix 1/2 butter 1/2 shortening or all shortening. adjust powdered sugar if you add a lot of food coloring or extracts. Makes 12 cakes