Fruitcake Scones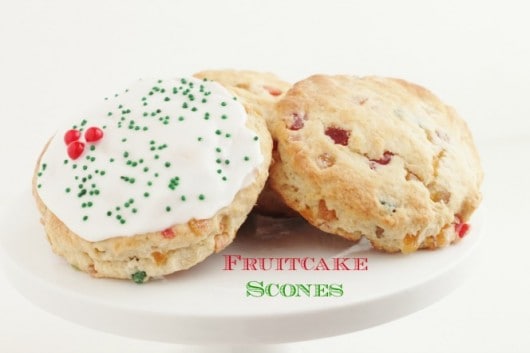 The Holidays would be boring if no one referenced Fruitcake, right?
It seems to be the talk of a lot of jokes.
All I know is my dad loves it.
So these were made with him in mind.
Not sure these will stay fresh for years and years, but I'm sure he'll be putting a few in the freezer so he can snack on them in the coming weeks.
All the while thinking of his wonderful daughter of course!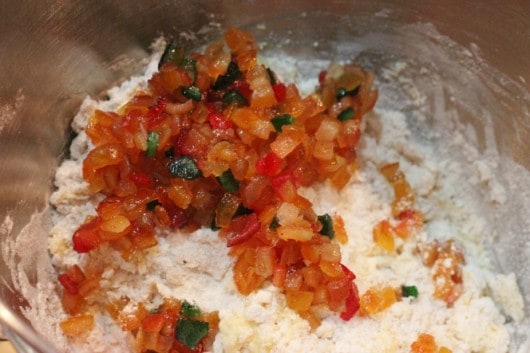 Fruitcake Mix is diced up pineapple, cherry, orange rinds and other candied fruits.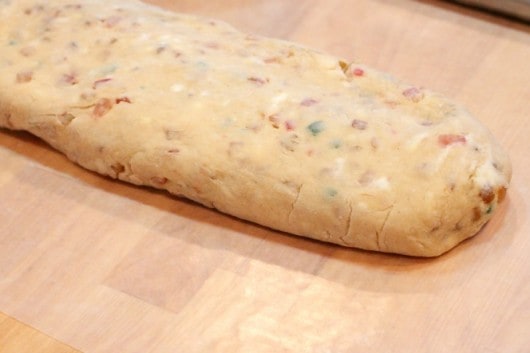 Roll your scone dough into a log in between wax paper.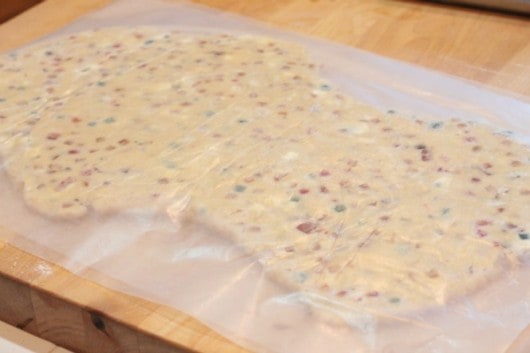 Roll out scone dough to desired thickness. Scones puff up nicely. If you want them thick. Roll them about 1/2″ thick. For thinner scones 1/4 "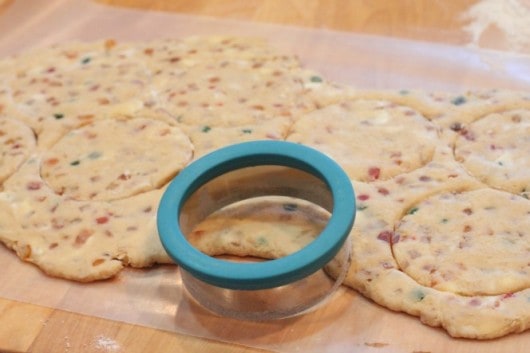 I used a 4 inch round cookie cutter to cut the scones.
Be sure to check out my fruit cake sugar cookies too.

Fruitcake Scones
Ingredients
2 cups Gold Medal All Purpose Unbleached Flour
1/4 cup brown sugar
1 cup fruitcake mix (or diced up candied fruit)
3 teaspoons baking powder
1 teaspoon salt
1/2 cup cold butter (diced)
1/2 cup heavy cream
1/2 teaspoon vanilla bean paste (or extract)
1 teaspoon Rum emulsion (or extract)
2 eggs
Instructions
Mix flour, sugar, baking powder, and salt together.
Cut in cold butter with a pastry cutter until the mixture resembles coarse crumbs.
Fold in fruitcake mix so it's coated with flour.
Add cream, extracts, and lightly beaten eggs and mix until blended.
Knead on a floured surface until the dough is smooth.
Roll out dough in between wax paper.
Cut with a cookie cutter.
Bake on parchment-lined baking sheets at 400 degrees for 15 minutes or until lightly golden.
Serve warm or allow icing to cool and ice with a glaze icing.
Notes
Glaze icing
1 1/2 cups powdered sugar
1 tablespoon corn syrup
2-3 tablespoons water
1 teaspoon vanilla extract
Mix until smooth and creamy. Add more water or powdered sugar to adjust the consistency desired.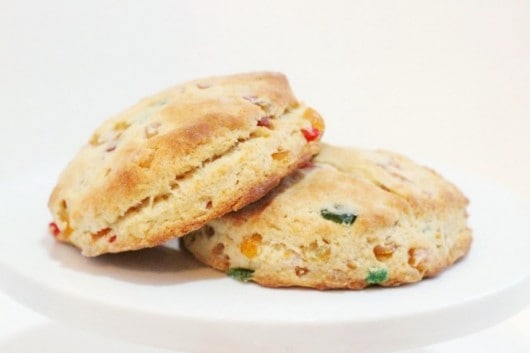 These are not only great hot with butter slathered on them, they are great with icing too.