Mango Pecan Muffins with Mango Icing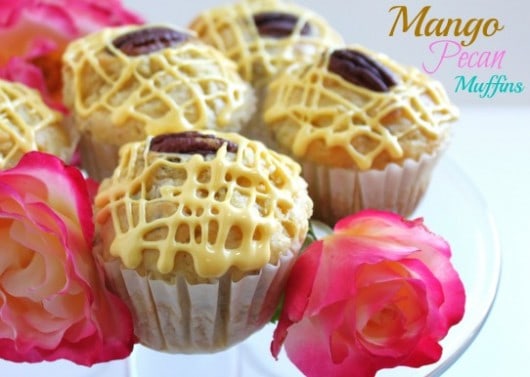 These aren't just any muffins, no these are Mother's Day Muffins…actually they are Mango Mother's Day Muffins.
Ok say that five times fast!
I made some muffins so that on Mother's Day morning I know I will be waking up to a real treat!
Do you do the same thing? Do you plan out your own fun, I do.
I'll be bringing some of these beauties to my mom as well.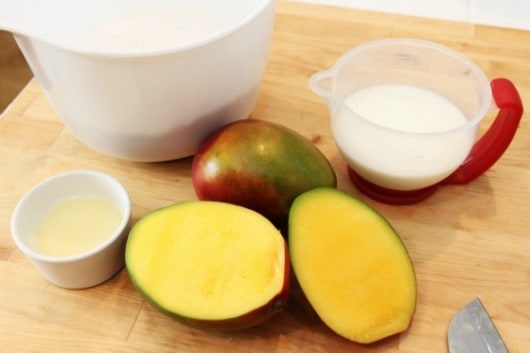 *Select a mango: Do not focus on the outside color of a mango, that isn't' a reliable indicator of ripeness. A mango will give slightly when pressed that is how to tell if it's ripe. (same technique as selecting a peach or avocado) Here are instructions on how to slice a mango

Mango Pecan Muffins with Mango Icing
Ingredients
2 cups flour
1/2 cup sugar
1/2 teaspoon salt
1 tablespoon baking powder
1 cup milk
1 teaspoon vanilla extract
1/2 cup butter, melted
2 eggs
1 mango diced (about 1 cup)
1/2 cup diced pecans
Instructions
Preheat oven to 500 degrees
Mix flour, sugar, salt and baking powder in large bowl.
Place mango pieces into the flour mixture to coat them so they don't sink in muffin when baked.
Add nuts to flour mixture.
In separate bowl beat milk, butter, and eggs until fluffy.
Mix wet ingredients with dry ingredients with a fork, just until blended. Do not over mix.
Place 3 tablespoons in each cupcake liner. Place a whole pecan on each muffin.
Reduce oven temperature to 400 degrees.
Bake for 15-20 minutes, or until toothpick comes out clean.
*starting with a HOT oven will help the muffins rise higher.
*recipe adapted from King Arthur Flour's Basic Muffins Recipe
*Mango Icing:
one-cup powdered sugar
two-tablespoons water
one-tablespoon corn syrup
six-drops Loranns Mango Oil
one drop egg yellow Americolor Coloring
four-drops white Americolor Coloring
Mix all ingredients until smooth then pipe onto cooled muffins.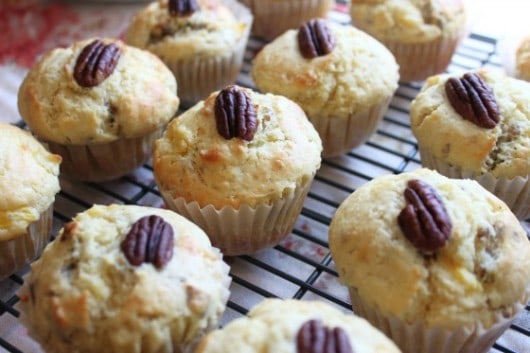 Starting with the oven at a high temperature allowed the muffing to rise up nice and high.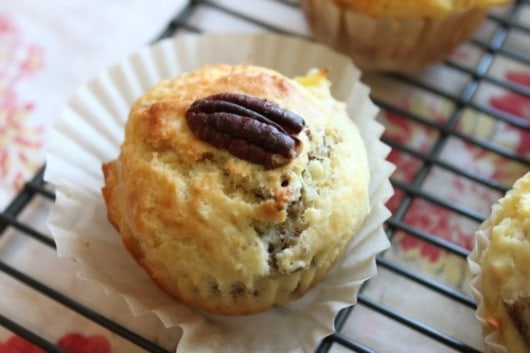 I used Paper Chef Cupcake liners and WOW they really don't stick at all. Very nice!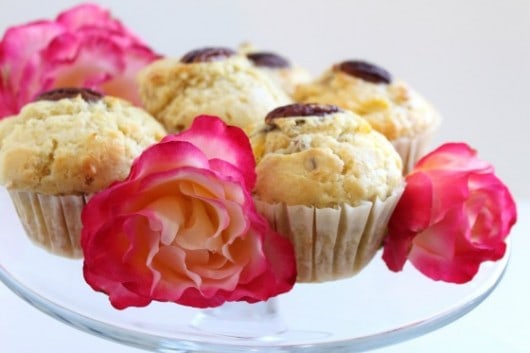 Some I left without icing while others….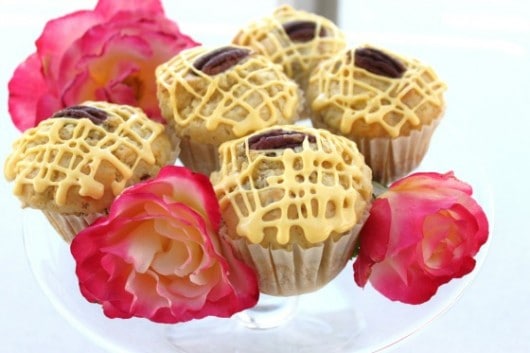 got a fun drizzle of Mango Icing.
Happy Mother's Day! I hope your day if filled with loving arms wrapped around you. 
*I received Mangos from Mango.org and added information from their website.
*I received Cupcake Liners from Paper Chef
All opinions are my own. I was glad to receive these products but in no way was I obligated to write about them.