Take one bite into an Apple Pumpkin Muffin and your taste buds will soar! This recipe makes 12 muffins.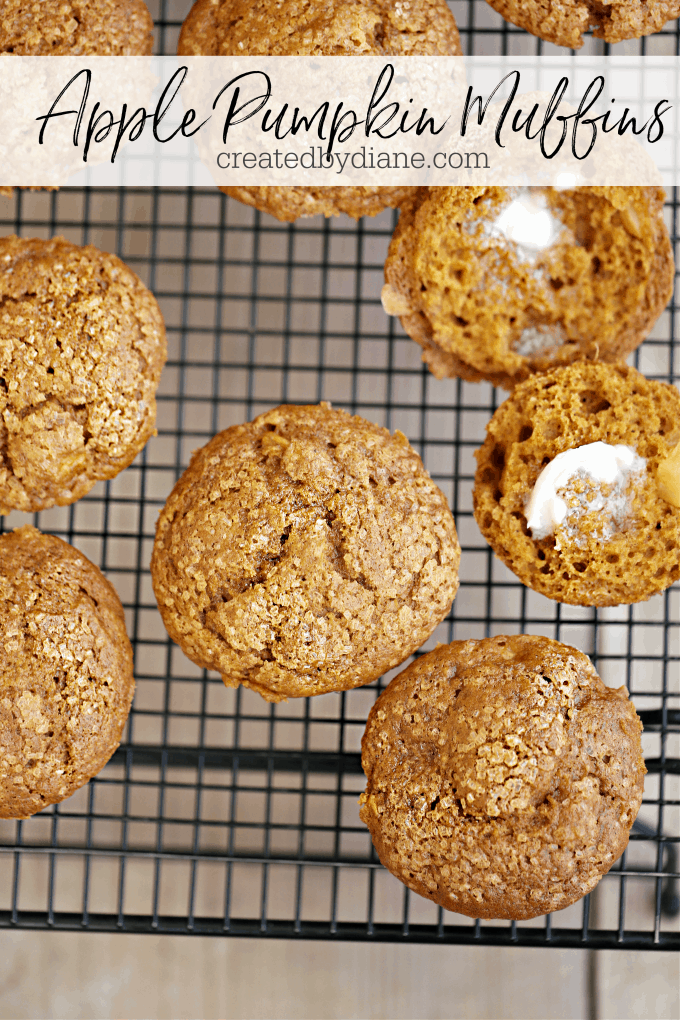 Delicious right out of the oven and with all the comforting smells Autumn can offer, these Apple Pumpkin Muffins keep your kitchen smelling like the holidays – and your taste buds singing year round!
This is hands-down one of my favorite go to muffin recipes. I can't resist them right out of the oven with a smear of butter. And they keep well once cooled and stored in an airtight container – that is if your household doesn't eat them all up! 
The secret to this muffin is ripe and sweet apples, molasses, and pumpkin combined to bring you one delicious breakfast or snack! And you can play around with different types of apples to give them a different kick! I prefer Honey Crisp Apples but any favorite can do. Granny Smith apples add a nice tart kick and Pink Ladies are the ultimate for someone with a sweet tooth. 
And if apples aren't your pick for muffins, I have loads of choices. One of my favorite late summer treats is these Cherry Vanilla Muffins. And for a more exotic palette, I made these Mango Pecan Muffins and they are so delicious. Browse my list of muffins by clicking here, I'm sure you'll find a recipe you'll return to again and again.
Now, let's get baking!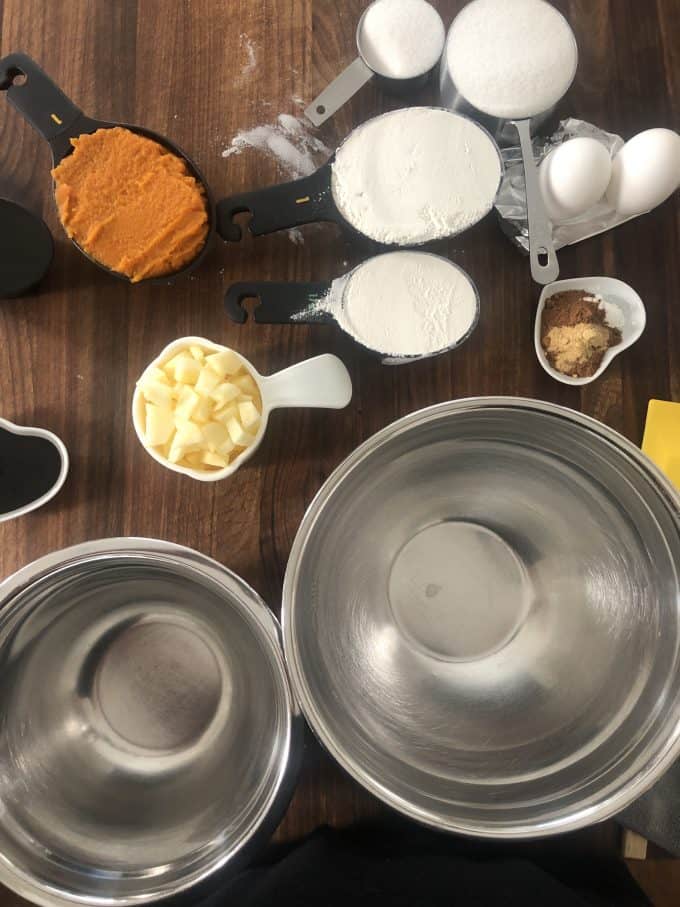 Begin by preheating your oven, to be sure your oven is piping hot when you put your muffins in. So preheat to 350°.
While your oven comes to temperature, prep your 12 portion cupcake pan by spraying it with a baking spray or lining them with 12 cupcake liners. I prefer glassine cupcake liners.
Gather all your ingredients, having everything ready will ensure you don't forget anything as well as make it easier to mix everything in as needed.
Now, in a medium bowl with a whisk, mix together your dry goods: Flour, baking powdered, baking soda, and salt.
Next in another bowl combine the wet ingredients which are pumpkin, oil, 2 eggs, and sugar. You'll also add your pumpkin spice in here. Mix well, being sure to incorporate everything and join it with your dried ingredients getting everything mixed well.
Add your apples and combine.
Drop 3 tablespoons of batter into your muffin tins and then sprinkle the tops with turbinado sugar, this adds a delightful crisp and added sweetness to each muffin.
Bake your muffins for 25-30 minutes. Test with a wooden toothpick, if it comes out clean once inserted, it's done!
Allow your muffins to cool for 5 minutes in the pan and then remove them and place them on cooling racks.
Have your butter ready, because you won't be able to wait until these are cooled completely before digging in!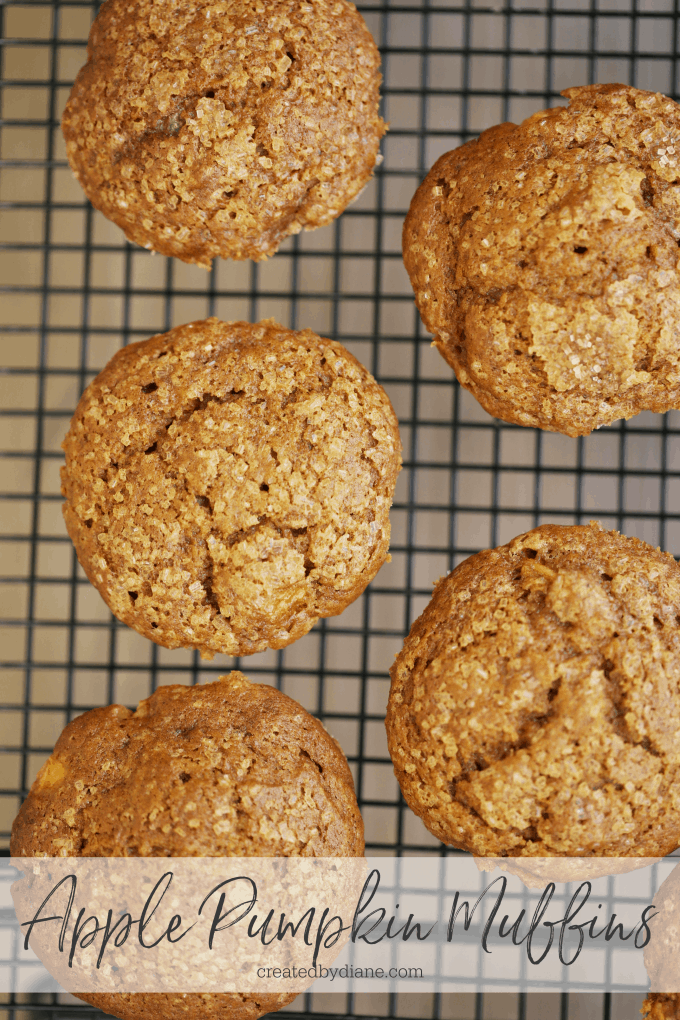 If you don't eat them all immediately, allow them to cool in the muffin pan for 5 minutes, then place them on a cooling rack.
Could I turn this into a quick bread?
It could! Your cooking time would definitely be increased – usually to a full 45-55 minutes. Your best bet is to watch your bread starting at the 40 minute time marker so you don't overcook your breakfast treat! This will bake nicely in a loaf pan.
I want to use fresh cooked pumpkin instead of canned, what should I do?
This is super easy to do. Roast a pumpkin that has been halved and deseeded, rub pumpkin with oil to help the roasting process. The roasting process can take about 45 minutes to an hour depending on size. Let it cool and scoop out the pumpkin. It may be necessary to put it in a food processor just to smooth it. Measure out 14.5 ounces and viola! You have delicious pumpkin for muffins. Store the rest of the pumpkin in an airtight container in the refrigerator for about a week.
What about other sugar options?
You could definitely play around with it! I've been experimenting with monk fruit with great results, you can substitute it 1:1 for the sugar that is called for in the recipe.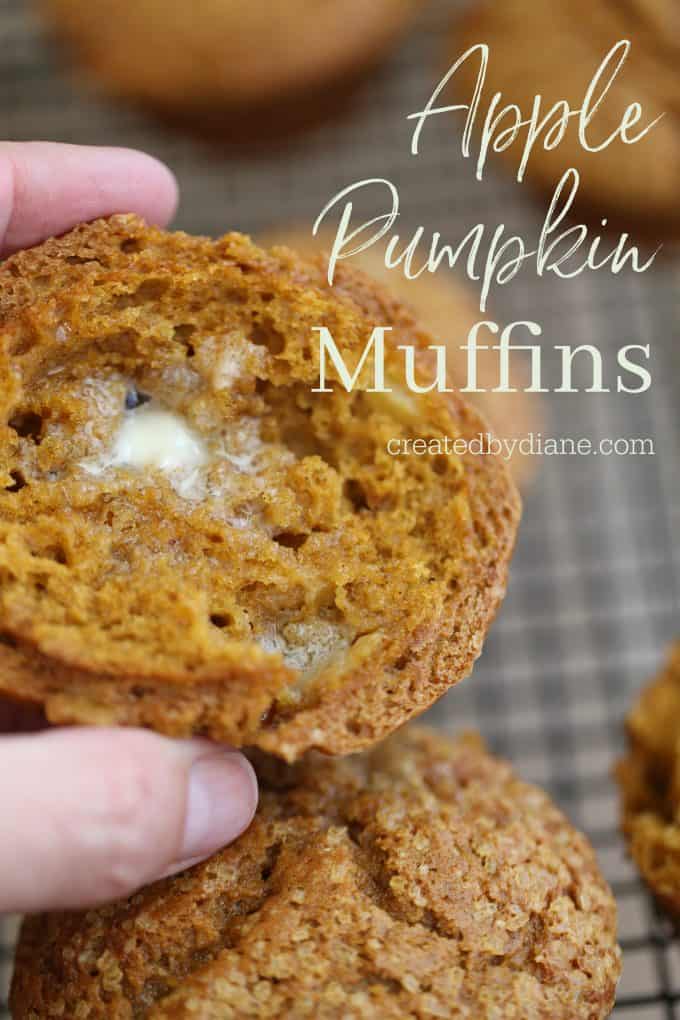 Apple Pumpkin Muffins
A fruit-filled pumpkin muffin to enjoy all year long with great pumpkin spice flavor. It's hard not to eat them all with butter while they're still hot.
Author:
Diane Schmidt, Created by Diane
Recipe type:
Dessert, Breakfast
Ingredients
1½ cups flour
1 teaspoon baking powder
½ teaspoon baking soda
½ teaspoon salt
1 cup canned pumpkin
⅓ cup oil (avocado oil or vegetable oil)
2 large eggs
2 teaspoons pumpkin pie spice
2 tablespoons molasses
1 cup granulated sugar
1 cup peeled, diced apple (1 large or 2 small apples) I often use Honey Crisp or Ganny Smith apples, any nice firm texture apple will work.
top with
1-2 tablespoons turbinado sugar
Instructions
Preheat oven to 350°
Line a muffin pan with 12 cupcake liners or spray the muffin pan with a baking spray so the muffins easily release from the pan.
In a medium bowl with a whisk blend the flour, baking powder, baking soda, and salt together.
Mix in the pumpkin, the oil, 2 eggs, the pumpkin pie spice, and sugar until well blended and smooth.
Stir in the apples.
Place 3 tablespoons of muffin batter into each area of the muffin pan.
Sprinkle top of the batter with turbinado sugar.
Bake muffins for 25-30 minutes, test with a toothpick, and bake until it comes out clean.
Allow muffins to cool for 5 minutes in the pan, then remove from the pan.