Mini Lemon Basil Bundt Cakes.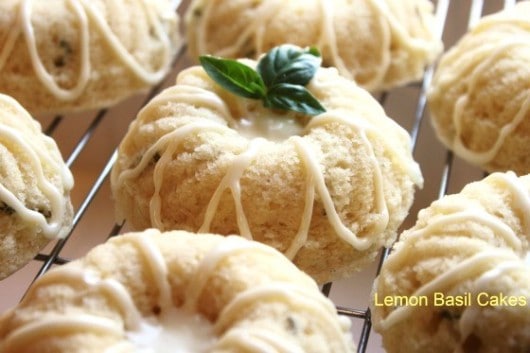 Don't you just love when you know you have important things to do but simply forget them.
It may not happen often, but when it does.
LOOK OUT.
I knew I needed printer ink, even though I don't recall any indicator reminding me that the ink was low. I figure it out all on my own, when the papers I was printing, were coming out BLANK !?
Really, now to on top of trying to figure out what items I just printing with the disappearing ink and remember all the pages I was supposed to print, but didn't hit the print button, because I so quickly realized THEY wouldn't print.
Luckily someone was on top of my laziness and emailed a reminder to print those papers and they are due tomorrow. So I jump up and install the ink and print the papers and then read them….well then it all goes haywire, I have a habit of signing then reading. I signed papers saying I agree to be somewhere and well, I won't be.
Simple as that!
Too many things going on, now I need someone to fill in for me. Who wants to be me for the night? I pay in baked treats???
How about some of these Lemon Basil Bundt Cakes?
They are wonderful if I do say so myself!
But really what lemon baked treat isn't yummy. I'm in love with lemon!!!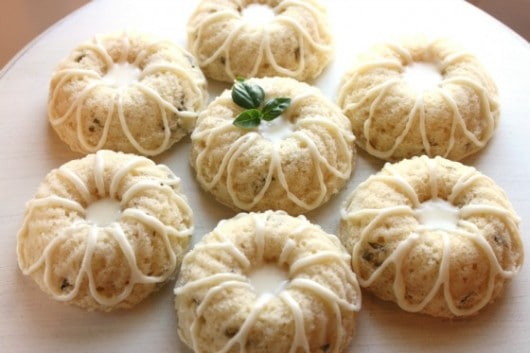 Lemon and basil are such a great flavor combination. I just love it. These cute mini bundt cakes are moist and delicious with a light refreshing flavor and the added lemon icing makes them, well OVER the TOP yummy!

Mini Lemon Basil Bundt Cakes
Ingredients
1 cup sugar
1/2 cup butter
1 egg
1 teaspoon vanilla
5 tablespoons lemon juice
3/4 cup milk
1 teaspoon lemon extract
1 teaspoon grated lemon rind
1 tablespoon (6 leaves) fresh chopped basil
1 1/2 cups flour
1 1/2 teaspoon baking powder
1/4 teaspoon baking soda
1/4 teaspoon salt
Instructions
Beat butter and sugar, add in eggs and vanilla. Measure out milk and place lemon juice on top of milk and let it sour the milk (2 minutes), then add to it the lemon extract, rind and basil. Add that alternating with flour mixed with baking powder, baking soda and salt to the butter and sugar mixture, until all combined.
Place 6 tablespoons batter into mini bundt pans and bake at 375 degrees for 20 minutes.
Lemon Icing: 1 cup powdered sugar, 1 tablespoon water, 1 teaspoon lemon extract. Mix until smooth and pipe onto cooled cakes.
Well if no one wants to be me, I guess I'll be stuck eating all these by myself 🙂 Don't feel to bad for me!
Now that summer is almost here it really has me thinking of making MORE lemon items.
I just LOVE this Lemon Pasta Salad with Feta Cheese.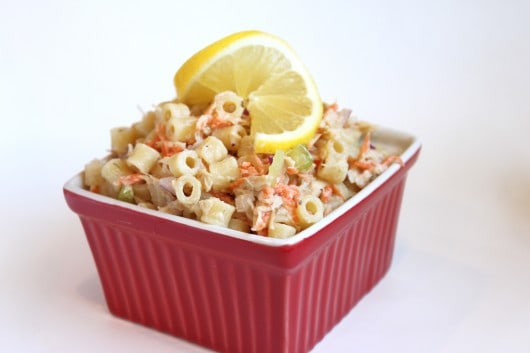 Lemon Tuna Pasta Salad without MAYO
*The Mini Lemon Basil Bundt Cakes can easily be baked into cupcakes if you don't have a mini bundt, if you do then I would only place three tablespoons batter into each compartment and bake them a shorter time.