A simple soup with glorious flavor of chicken broth flavored with tomato, vegetables, chicken, beans, and pasta. Comfort food in under 30 minutes, yes, please!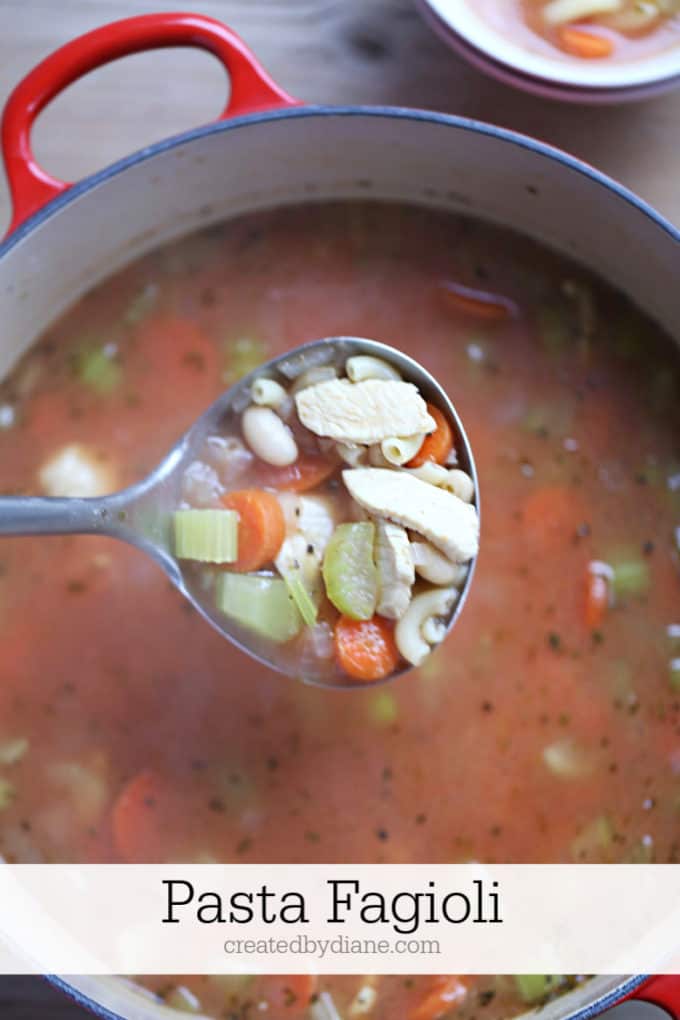 A delicious soup that is ready in under 30 minutes, filling and hearty the whole family will love.
Yes, please!
No better time for soup than a cool winter night.
Pasta Fagioli has always been a favorite around here.
I like that it's quick and easy to make and on the table in under thirty minutes.
The key for me to have this soup cook quickly is to be sure all the items are chopped up small enough to cook quickly, but not too small that they disappear when cooked. Ditalini or elbow noodles work well.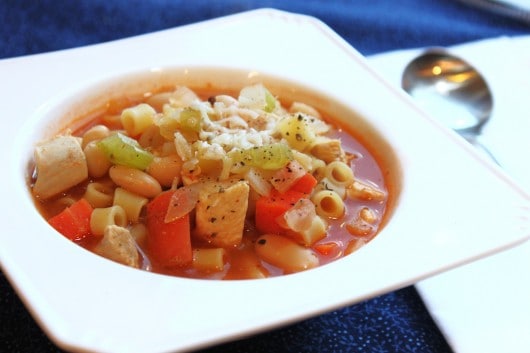 I've added Chicken to this Italian Classic soup.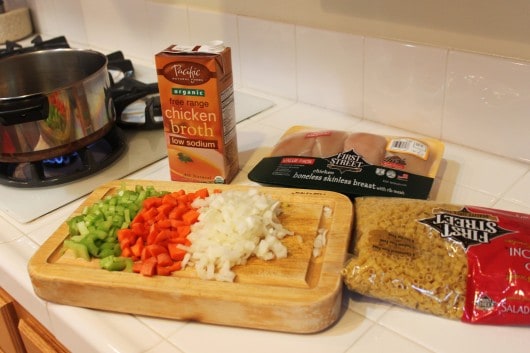 Dice carrot, celery, onion.
Place the vegetables into a 4 qt. stockpot and heat them on medium heat with a tablespoon oil.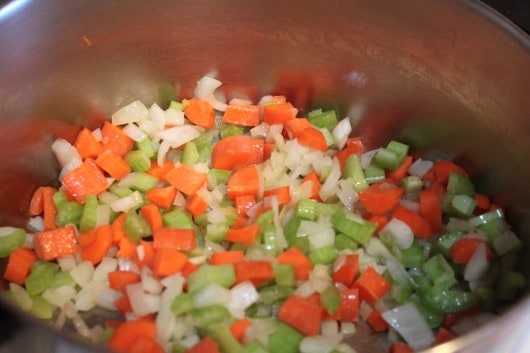 This is a Mirepoix. It's the base for a lot of soups and stews.
Saute the vegetables,
then add the broth and water,
next, add in the chicken,
then add in the pasta and cook for 5 minutes.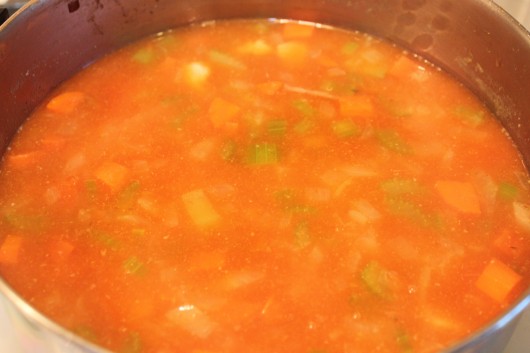 Lastly, you'll add in the tomato sauce, beans, along with oregano stir to combine.
Add salt, and pepper to taste.
Serve with grated Romano or Parmesan Cheese.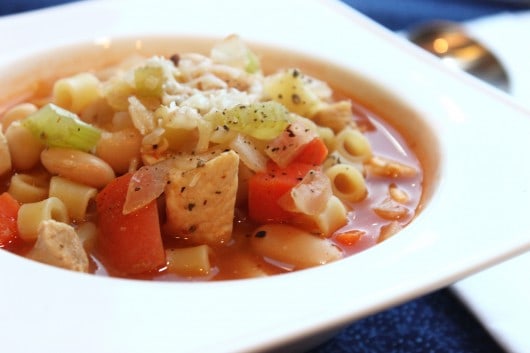 The pasta will swell up and absorb some broth if it sits in a pot on the stove,
if you want the pasta to stop cooking, portion it out for your servings,
then transfer any remaining soup to leftover containers and place them in the fridge.
What is pasta Fagioli Soup?
It's a hearty soup with a tomato based broth that can be made vegetarian with only the beans or add chicken like I have for a really delicious flavor combination.
What goes with pasta fagioli?
It's delicious with crusty bread, garlic bread it's great topped with parmesan or Romato Cheese and goes great with a salad. If you want it even more filling add ravioli instead of pasta.
How can I prevent the pasta from swelling up in the soup when their are leftovers?
There are a few options, you can cook the pasta separately, keep it separate when storing hte pasta so it doesn't over cook in the broth. You can add small pasta as as soon as it cooks in the broth, don't add all the chicken broth or water with bullion when you are cooking it, reduce it by 2 cups, then add 2 cups of cold water and boullion or cold chicken broth to the soup, to cool it quickly and prevent the pasta from over cooking this method is great if you're making the soup to have it in the fridge all week.
Pasta Fagioli in 30 Minutes
A delicious meal in under 30 minutes made with chicken, beans and a tomato-based broth.
Author:
Diane Schmidt Created by Diane
Ingredients
2 carrots
2 celery stalks
1/2 medium onion
4 cups (32oz) chicken broth
2 cups water
1 1/2 cups small pasta (DItalini)
1 cup Tomato Sauce (plain smooth sauce)
1 15 oz. can Cannellini beans
2 boneless skinless chicken breasts, cut ito 1-inch pieces or slices
1 tablespoon oregano
1/4 cup grated Romano Cheese
salt and pepper to taste
Instructions
Dice carrot, celery, onion.
Place the vegetables into a 4 qt. pot and heat them on medium heat with a tablespoon oil.
Add the chicken broth and water and bring it to a boil,
then turn down the temperature to medium.
Add the chicken, and simmer for 5 minutes.
Place 1 1/2 cups small pasta into the broth.
When it comes back to a simmering boil, stir well so the pasts cooks evenly.
Then after 5 minutes add 1 cup tomato sauce, beans, oregano, salt and pepper.
When the pasta is tender it's ready to serve.